After developing its Maison Landemaine bakery and pastry brand, its creator Rodolphe Landemaine and his wife Yoshimi Landemaine are now launching their new brand of a plant-based guest bakery.
It all started in 2014 when Rodolphe and Yoshimi became vegan. They then decided to put their talents as craftsmen and entrepreneurs at the service of the animal cause.
After a few years of research and development, they began to offer plant-based alternatives in the Parisian boutiques of Maison Landemaine. Until the day they decided to take their plant-based offer in a completely different direction.
Three years later, they created Land&Monkeys, with the challenge of offering a disruptive and innovative concept. The brand unveiled its face in February 2020, with its first Parisian boutique on Boulevard Beaumarchais.
Dream Fair, Eat Fun!
Land&Monkeys is the dream (DREAM) of a bakery of the future that does good without harming. A fair bakery (FAIR) for its customers, employees and suppliers, but also to the planet and to all living things. An offbeat bakery (FUN) that revitalizes the image of eating well (EAT) by applying its basic ingredient: gluttony!
Land&Monkeys is much more than a bakery. It is a place where people live and exchange, where we cross paths between generations and aspirations. It is a neighbourhood address, relaxed and open to the world. A guest bakery that welcomes and brings people together around a common idea: that of respecting the living.
Artisanal and committed
With Land&Monkeys, the basics of artisanal bakery are reinvented. The products are made on-site using traditional methods, using carefully selected natural ingredients. Seasonal ingredients sourced locally, 100% plant-based and respectful of animal welfare.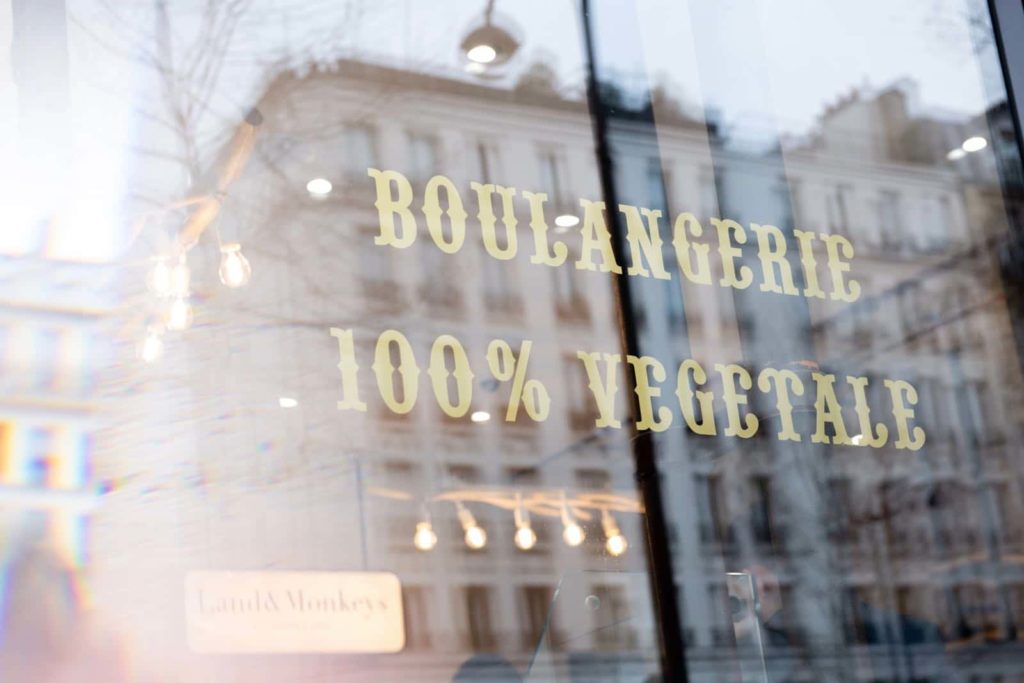 Beyond the technical challenge, the project required adapted sourcing to ensure a fully responsible approach. The partner producers respect a strict charter to meet the requirements of being 100% plant-based products. The Land&Monkeys creations include plant-based "cheeses" from New Affineurs, Tomm'Pousse and Jay & Joy. The vegetables are sourced from Au bout du Champ and the flour comes from the Moulins de Brasseuil.
A gourmet offer above all!
At Land&Monkeys, you will find a varied, gourmet and tasty range of products, which brings together all the worlds of bakery and pastry-making.
Bread made with organic flour and natural sourdough, bread from around the world, wheat-free bread and bread with various ingredients (turmeric, seeds, etc.).
From classic and creative pastries to plant-based puff pastry, vegetable brioche …
Fine pastries, cookies, cakes, muffins, pies and desserts.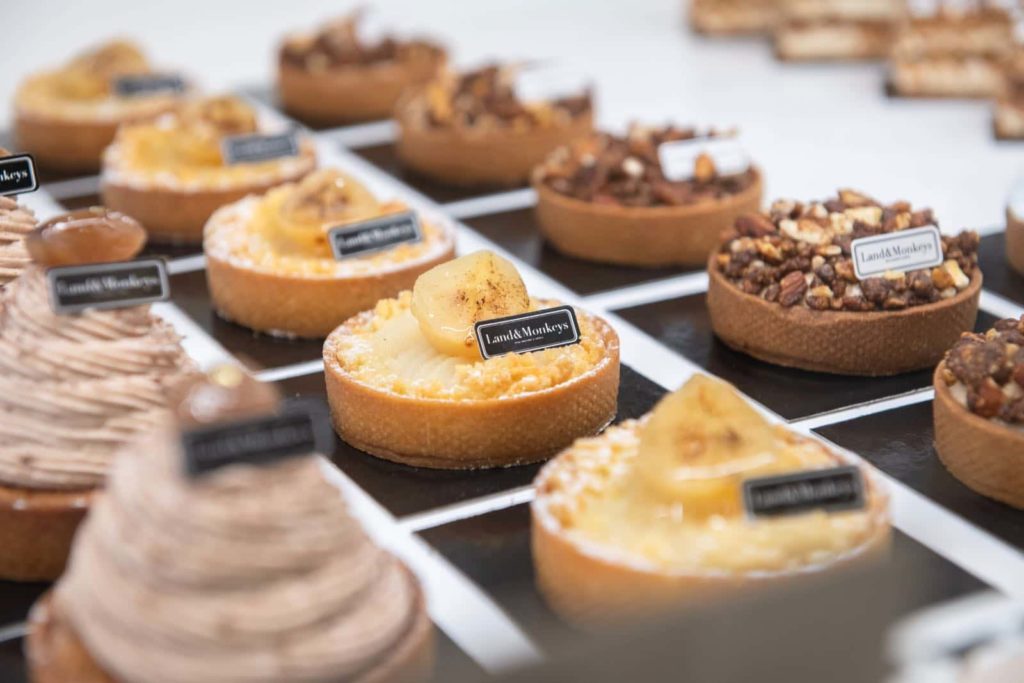 But also sandwiches, salads, tartines, homemade soups…; specialty coffees and teas, fruit juices, infused waters, organic ciders and local beers; and a grocery corner with chocolate, confectionery, vegetable butter, organic flours, preserves, organic cider.
A complete and varied offer, for all the pleasures of the day.
"Land & Monkeys is an incredible opportunity to write a new chapter in gastronomy. We have given ourselves the mission of keeping the best of the baking tradition from a new economy: zero ingredients from animal exploitation. The search for taste remains our driving force, we do not abandon anything of the French gastronomic tradition! " (Rodolphe Landemaine)
Positive impact on the planet and living things
Land&Monkeys is also keen to limit its ecological impact and is proposing a series of positive actions in this direction: recyclable kraft cardboard packaging, exclusion of single-use plastic, reduction of food waste.
Customers are also encouraged to come with their own packaging, benefiting from a 10% discount.
The brand is partnering with organizations to give a second life to its unsold products, whether in the form of donations or by transforming them into compost which will be used as a natural fertilizer for market gardeners in the Ile-de-France region. Land&Monkeys re also committed to donating 2% of its profits to associations for the protection of animals.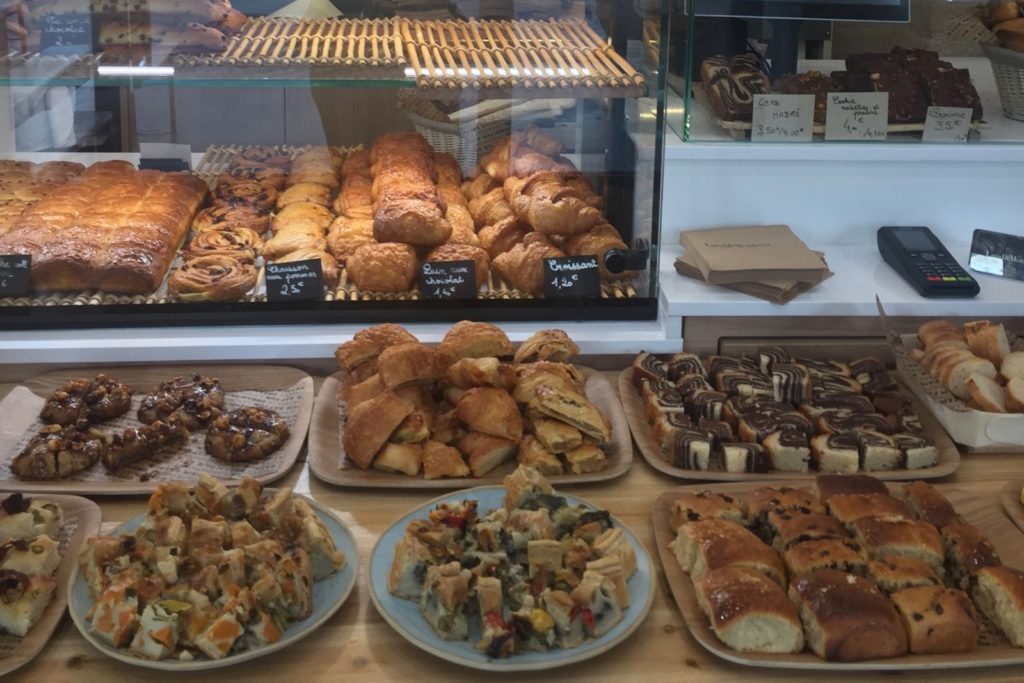 Land&Monkeys is a nod to the name "Landemaine" and a reminder to our ecological awareness. The message behind the brand is to preserve the landscape (Land) to better preserve the monkeys that we are (Monkeys).
Land&Monkeys' unique approach makes it the forerunner of the plant-based revolution in the bakery and pastry sector. With his new place, Rodolphe Landemaine wants above all to show that bakery and veganism are compatible and that together they constitute one of the simplest and most pleasant ways of consuming better.
A perspective that projects him into the not-so-distant future since he aims to open five stores in Paris and five franchises in the provinces and abroad by 2025. A nice future…
Translated by Malvika Kathpal