Between Marseille and Aix-en-Provence, Vert La Table offers instruction in plant-based cooking, through training courses for the public at large and professionals.
It is in Roquevaire that Florence Lappen created this training organization dedicated to plant-based, organic and allergen-free cooking, bringing together professionals who are experts in this culinary dimension.
The school of plant-based, organic, healthy and allergen-free cooking
Vert la Table was born in September 2014, from the desire to share a passion for cooking and healthy eating.
By creating Vert la Table, its founder, Florence Lappen, wanted to embody four main principles of healthy cooking:
Plant-based : To learn how to vegetalize one's own plates and the clients' ones, because plant cooking requires specific know-how and knowledge.
Organic : To protect biodiversity, relocate our production and promote farming methods that respect the seasons and the rhythm of nature.
Healthy : Because knowledge of the chemistry involved in cooking is essential for healthy cooking. To provide our body with good nutrients and learn to find the right balance.
Allergen-free : To learn how to replace allergens and adapt to everyone so that we can share a convivial meal together.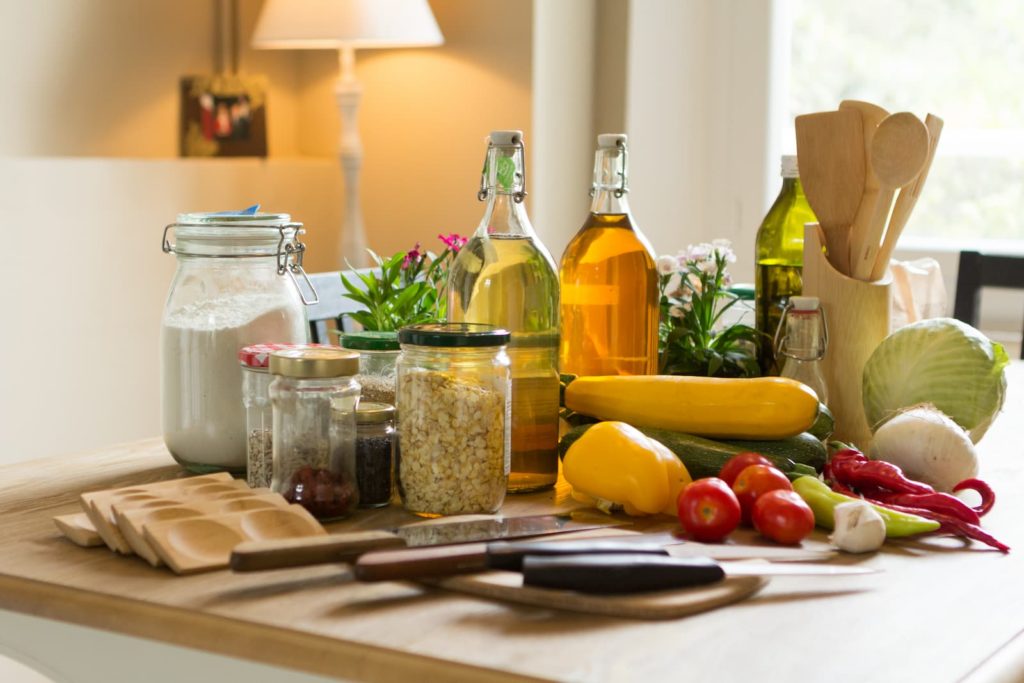 Introductory workshops to plant-based cooking
Vert La Table offers a series of workshops for people wishing to learn the basics of plant-based cooking.
The MasterClass
During one day, the speakers deliver a MasterClass. Ideal for perfecting or deepening your knowledge of cooking or pastry-making, the MasterClasses are an opportunity to share a creative and convivial moment while discovering professional techniques. Dressing, topping and sauces, gluten-free snacks and desserts, the topics covered are diverse to satisfy all types of audiences.
Group workshops
Lasting 3h30, the group workshops allow participants to discover healthy cooking in a warm and fun way, around 5 recipes (4 savory and 1 sweet) and a given theme. At the end of the workshop, the guests eat the meal prepared together and leave with lots of ideas, techniques and nutritional advice!
Private workshops
Alone, with friends, with co-workers or with girlfriends for a bachelorette party, private classes are flexible. From 1 to 100 people, they can be adapted to the event. They are an opportunity to discover healthy cooking and to spend a pleasant and participative moment, while getting your hands dirty!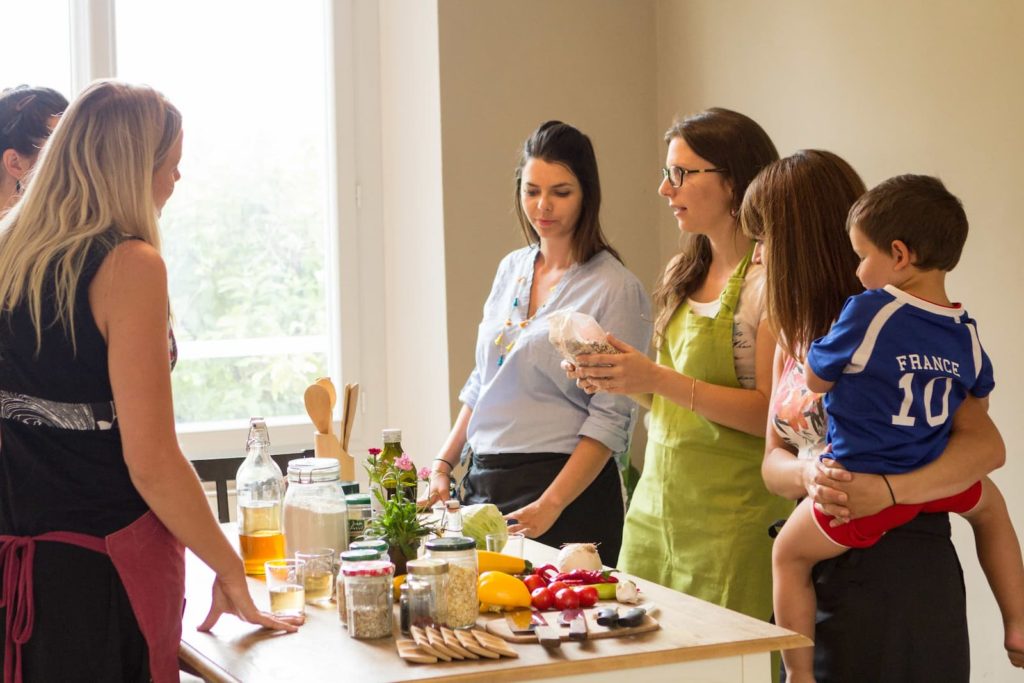 Vert la Table workshop
Vert la Table also offers advanced training for professionals.
The basics of plant-based cooking
Open to anyone wishing to learn the basics of plant-based and allergen-free cooking, this training is ideal to be at ease in this culinary dimension. It is an introduction to the techniques of cutting, cooking, seasoning and nutrition in order to make vegetable and allergen-free culinary preparations.
5 days (38h) face to face, 12 hours of theory – 26 hours of practice
Plant-based and allergen-free cooking
Open to anyone wishing to be professionally trained in vegetarian cooking, this accelerated training course allows you to independently prepare vegetarian and allergen-free food in compliance with hygiene and safety regulations, and to learn the main cooking, cutting and seasoning techniques adapted to healthy cooking, while preparing a complete and balanced menu from appetizer to dessert.
15 days (108h) over 3 weeks – 24h of theory – 84h of practice
Vegan pastry
Open to anyone who wishes to be professionally trained in vegan pastry, this training allows the students to autonomously make basic pastry and bakery preparations, vegan and allergen free, in compliance with hygiene and safety regulations, in a professional context.
3 days (24 hours) in person.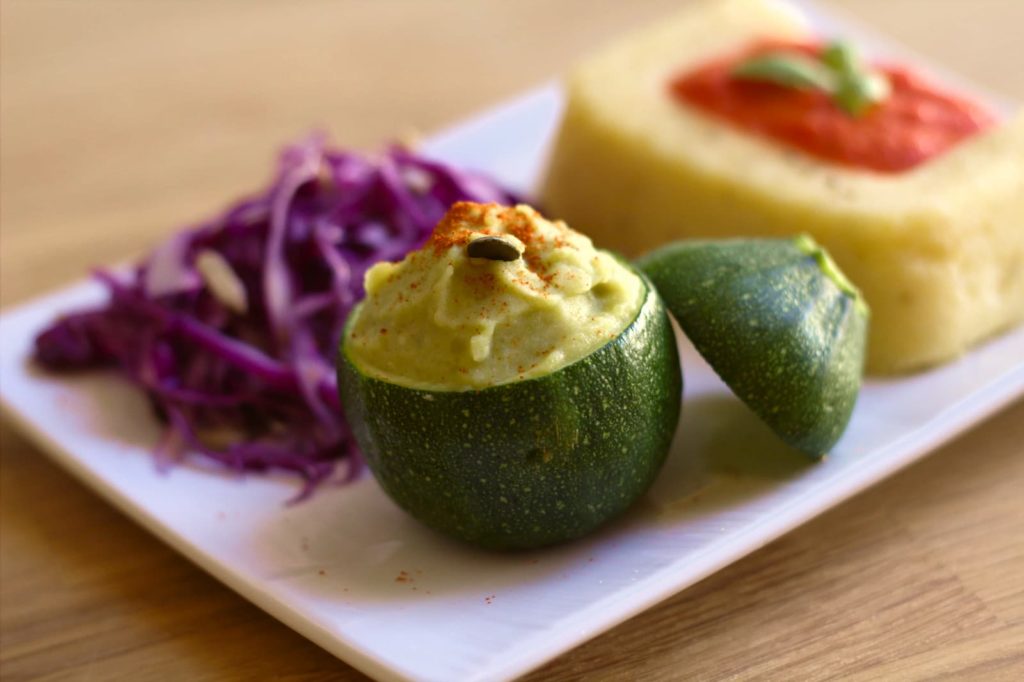 Experts in plant cuisine
At the helm of the workshops and trainings, we find speakers, confirmed in their culinary field.
Among them, we will find Quentin Béchard who will lead the 3-day "Vegan Pastry" training. Pastry chef and chocolate maker, Quentin created L'Instant V, an ethical vegan pastry shop in Aix-en-Provence.
Willy Berton leads the training course "Plant-based and healthy cooking for professionals", which lasts 15 days spread over 3 weeks. Willy proposes to recreate traditional dishes in a vegan version.
We will also find Clara Onuki, Eva Zink, Audrey Laubert, Julienne Hugy and Ariane Roques, Sébastien Galon, Evelyne Baelde, Aurélie Roustan, Pierre-André Aubert, Jimmy Hébert… Independent trainers who offer specific modules related to plant-based cooking.
A course booklet containing recipe cards is given to each participant. An online platform with documentary resources is also available to trainees.
Participants will be able to measure their level of knowledge through regular questionnaires and a final situation with an evaluation of the degree of mastery of the knowledge and techniques learned. And to better monitor progress, a questionnaire is sent one year later to evaluate the long-term impact of the training.
---
Learn more :
Vert la Table – Facebook – Instagram