In this month of May, among the many workshops offered, it is the one dedicated to plant-based cheeses that we went to test. And it is with Jay&Joy that Claire inaugurated this first cheese workshop.
Plant-based cheese
With a wide range of plant-based cheeses, Jay&Joy is the first French plant-based dairy. Created by Mary Carmen Iriarte Jähnke, the brand has become a reference in the world of plant-based cuisine.
Mary and Claire hosted this plant-based aperitif dinner, featuring five plant-based cheeses, paired with three 100% grape wines.
Joy Prairie, Jeta frais, José Cumin, Jack Pimenté, Joséphine, … Jay&Joy cheeses allow to explore the possible pairings with natural wines and make people aware of their gustatory interest.
Mary tells us with passion about her craft and reveals the cheese-making techniques used to produce her cheeses. It is a real labour of love and patience that insists on the need to produce little to produce well.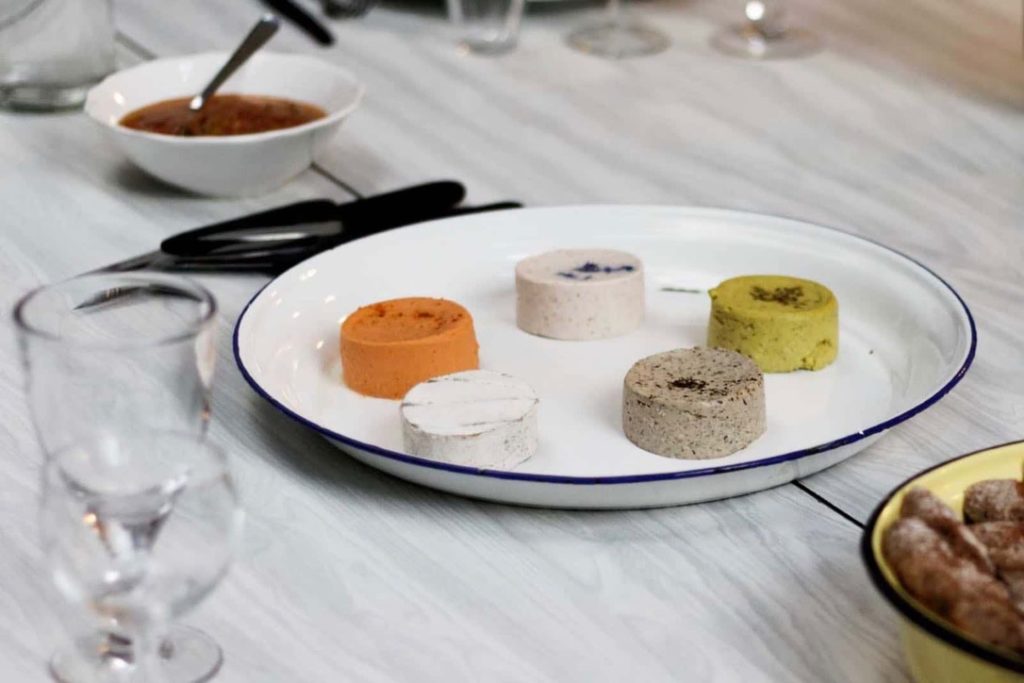 100% grape wine
For this tasting, Claire proposed three wines with very poetic names, coming from several French wine regions:
Causse toujours, from Domaine Causse Marines (Gaillac)
Trinqu'âmes, from the Grange Tiphaine (Loire)
Balten'bulles, from Domaine Clé de Sol (Alsace)
During this workshop, Claire provides a lot of information about wine making and puts a special emphasis on organic, biodynamic and natural wines.
The estates and wines presented are chosen according to several criteria:
The wines produced must be free of animal products added during the production process.
The wines must contain as few chemicals and sulphites as possible. They are therefore organic "a minima" (with or without certification) and very often biodynamic and/or natural.
The chosen estates are committed to an environmental approach to protect and enhance the fauna and flora.
The estates protect and/or revive forgotten grape varieties, thus contributing to the defence of biodiversity.
Another approach to wine is thus possible, favouring naturalness and quality. An approach that makes you want to readjust your taste to go for better things.
Homemade plant-based cuisine
In her workshops, Claire also offers her culinary creations. Homemade, organic, local and seasonal, Claire's plant-based cuisine is always original and tasty.
Depending on the season and the theme of the workshop, in the Double V evenings you will inevitably be able to taste green beans with sesame and black olives, butternut squash pie, carrot velouté or garlic confit, shallot tarte tatin. And for sweetness, it could be a pear cake, chocolate mousse, black sesame cream, almond cake, or cantuccini with cocoa and black olives.
And to accompany all these delicious dishes, the wine list will reveal some little-known grape varieties. Sauvignon, Sirha, Alicante Bouschet,… the wines selected by Claire are always surprise guests that deserve to be discovered.
Whatever the menu, the Double V evenings are a real moment of sharing and pleasure. An opportunity to discover beautiful and gourmet plant-based cuisine in harmony with pure wines, to make room for new flavours and to open your palate to new sensations.
Translated by Malvika Kathpal