Born in the heart of the plantations of Madagascar, Amatika 46% expresses the identity of its soil, like all Valrhona pure origin chocolates.
The result of a collaboration between sourcing agents, cocoa producers, innovation and sensory analysis experts, as well as Pastry Chefs from the Valrhona School, Amatika 46% is made from selected cocoas to offer an exceptional chocolate to the plant-based pastry world.
The first plant-based grand cru with aromatic potential
Pure origin vegan grand cru, Amatika 46% stands out among chocolates by its unique aromatic profile. Its melting texture reveals notes of cocoa, toasted almonds and a touch of acidity, which invite to a gourmet break in the peaceful atmosphere of a Madagascan garden. Amatika goes perfectly with aromas of orange blossom, Grand Marnier and jasmine. It also goes very well with fruits like banana, peach, lemon or with almond paste.
Here is a chocolate that combines strength and fondant thanks to the sweetness and smoothness of almond and the power of cocoa. The balance between cocoa, fat and sugar makes it possible to obtain a texture suitable for all classic pastry applications, in a vegetable version. In particular, it brings an extraordinary creaminess to ganaches and mousses. Its taste and texture meet the requirements and creativity of pastry Chefs.
Amatika is an inspiring chocolate, with multiple uses, that has everything to facilitate access to plant-based pastry.
"Amatika 46% is a masterpiece of audacity and know-how of our gourmet engineers. With its airs of true gourmet semblance, it combines all the sweetness, delicacy, smoothness, and the warm colour of milky chocolate, to offer you this chocolate… without milk. "(Frédéric Bau)
Amatika is certified vegan by the Vegetarian Association of France. This labelling guarantees the absence of products of animal origin in its composition and in all stages of its production.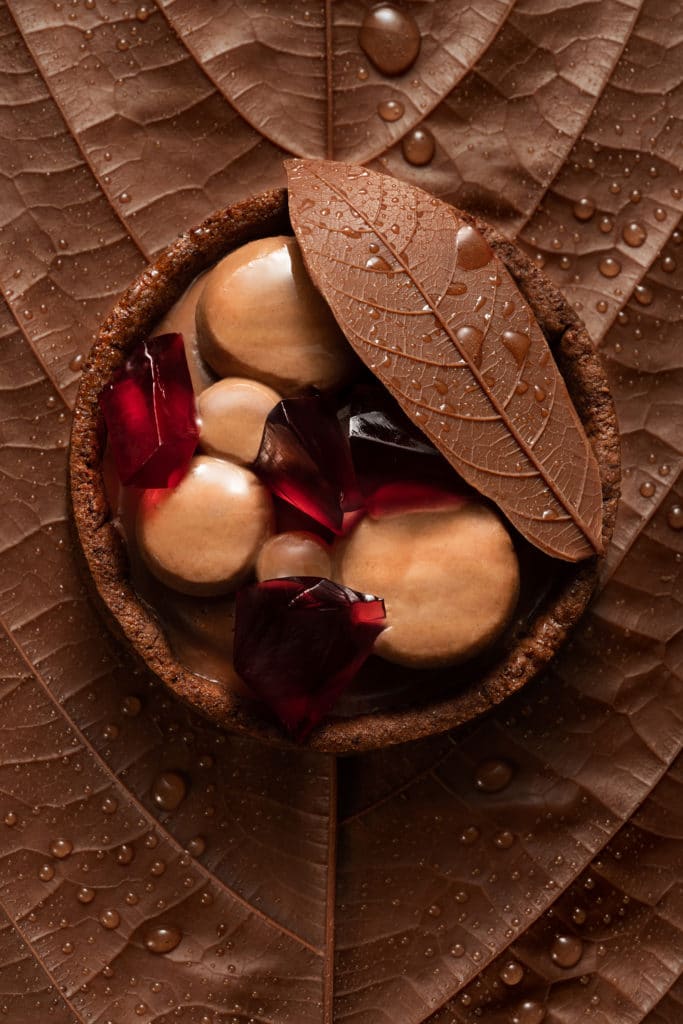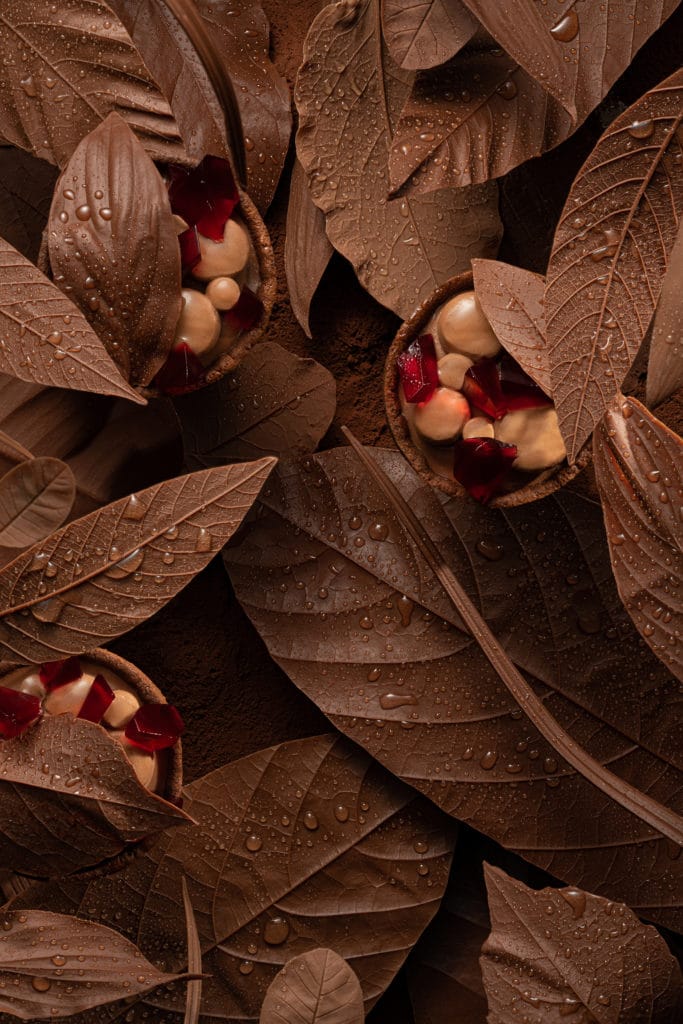 Plant-based pastry, a new gourmet playground
The plant-based trend has made its way into all spheres of consumption to become a real way of life. Of course, it has also conquered gastronomy, thanks to the audacity of Chefs, more and more forthcoming to enter this new playground.
With Amatika 46%, Valrhona invites taste artisans to make the plant-based pastry a new source of inspiration and a new way to differentiate themselves. This new coverage offers them an additional opportunity to invest in a booming market while enriching their know-how and their pastry-making technique.
The plant-based pastry is not a 'no' or 'less' delicacy. It is time to put aside the received ideas. On the contrary, it opens up immense potential for creativity and flavours. In line with the expectations of lightness and pleasure of today's consumers, vegetable pastry embodies values ​​in tune with the times.
It is a gourmet pastry, which stimulates creativity and deliciously surprises thanks to new taste sensations. An uninhibited and daring pastry, which seduces with its assertive taste, its modernity and its natural colours. A healthier and more conscious pastry-making process, which favours plant-based, quality and seasonal ingredients, therefore better for the body and the planet. An accessible and open pastry shop, which attracts a wide variety of profiles and allows you to savour the pleasure of dessert without any ulterior motives or guilt.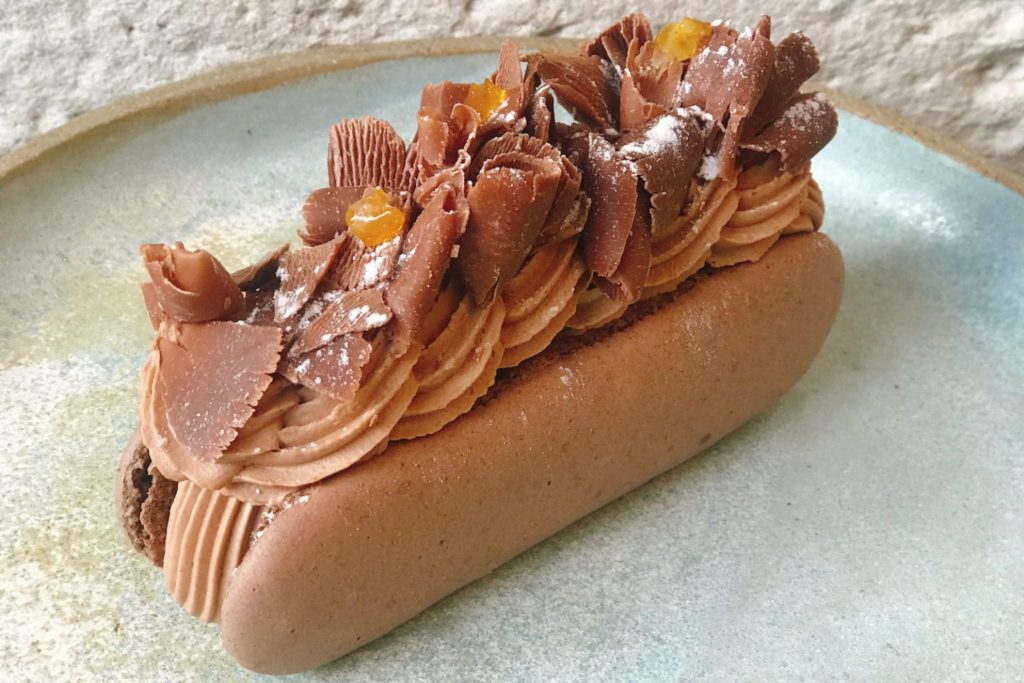 Valrhona supports taste craftsmen towards plants
Committed for many years to the gastronomy of good, beauty and healthy, Valrhona supports craftsmen towards more responsible practices on a daily basis.
The plant-based pastry is fully in line with this vision of gourmet pleasures with a positive impact on people and the planet.
For pastry Chefs, it is a real challenge, which requires questioning traditional techniques and proven know-how to reinvent themselves. The pastry Chefs of the Valrhona School are there to guide them towards success, always at their side to meet the challenges of the future.
On the occasion of the launch of Amatika 46%, Valrhona worked on a very wide range of Plant-based Essentials, calling on experts in this field. In each country, a benchmark pastry Chef has devised a recipe; in France, it is Chiharu Kaneko, head of Land & Monkeys.
Starting in 2021, internships will be organized at the Valrhona School on the theme of alternative desserts, so that professionals can renew their sources of inspiration.
Translated by Malvika Kathpal