In 2015, he decided to devote himself to writing his book Végan : Le livre de cuisine végétalienne. From then on, he travelled the world in search of the best Chefs to find the greatest inspirations in plant-based cuisine.
In 2017, he joined the Blue Lotus plant-based cooking school in Hua Hin, Thailand, where he teaches courses for professional Chefs.
I interviewed Jean-Christian and I am delighted to share with you this exchange which consists of two parts. Here is the first part…
Jean-Christian, how did you become a Chef?
I am above all a Chef specialising in concepts. Before developing my plant-based cuisine, I created very avant-garde concepts for European customers over 20 years. I think I was one of the first Chefs in London in the 2000s to create 'fusion' menus mixing Japanese, Indonesian and Thai cuisine. From Brazilian 'churrascaria' to modern American cuisine, I had a lot of fun creating menus that are still benchmarks for the hospitality industry today.
Tell us about your restaurant 'La Mano Verde', which you opened in Berlin
In my restaurant, I trained vegan cooks for 8 years and turned conventional cooks into plant-based cooking specialists, also giving classes to Chefs who wanted to experience plant-based cuisine at the gourmet level. For years I have been treated as the 'job center' of plant-based cuisine, many restaurateurs have come to hire members of my team. In 2007, I was the only vegan restaurateur in Berlin, in 2015 we were 43 and 21 of them were trained in my kitchen.
Why has the restaurant closed since then?
I decided to close 'La Mano Verde' because in 8 years of hard work, becoming the market leader in plant-based catering, I was spending 14 hours a day in my restaurant, my life was dictated only by work and my private life was suffering. My health was deteriorating, I managed without outside help to position Berlin as the leader of the vegan world ahead of San Francisco, Los Angeles and New York. My first signed vegan cookbook project and the prospect of being able to travel again and spread my knowledge were the trigger. My rent contract needed to be renewed and upgraded; I was tired and stressed. I decided at 61 to start living for myself, my health, for my daughter and my friends, I moved to Los Angeles which became my base. From there I have been travelling since October 2015 to write my plant-based cookbooks.
You've just released Végan : Le livre de cuisine végétalienne. What is the purpose of this book?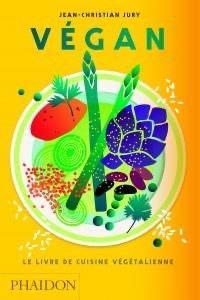 For me, writing cookbooks represents the link and openness to the plants world which has been lacking inspiration for too long.
The aim of the book is to give cooks, even beginners, the opportunity to enjoy simple dishes with very few ingredients that are easily found. It is a journey of cooking that reflects my journey from India to Latin America, in search of original plant-based dishes, trying to keep the authenticity of the recipes but also trying to globalise the ingredients to make the recipes accessible everywhere on the planet.
Whom is it aimed at?
It is aimed at everyone, from beginners to experienced cooks. A cookbook does not have to be followed to the letter. I always advise my students to use their imagination, fantasy and experience to transform or personalise the published recipes. I am a big fan of South Korean and Indonesian cuisine, because on the table, around the main course there is always an impressive collection of spices, fresh plants, sauces and sides that allow each guest to personalise the dish. A meal should be a shared one, a conversation around taste, a special moment between relatives and friends, a break from our hectic lives.
Some ingredients may seem impossible to find or too expensive, how can you help people find their way around?
I advise everyone to take the time to look for and buy the ingredients directly from the market gardeners. No excuses. In France, we are only supposed to work 35 hours. This leaves enough time for the cook on duty to go out and hunt for ingredients. Buying organic is great, but there are still a lot of market gardeners who can't afford the organic label and they offer better prices than the certified one. France is indeed lagging behind the Italian or Spanish markets, but things are moving. I meet more and more young people who settle in the countryside and take up market gardening in decline for too long. I would like to commend the supermarket brand, which for several weeks now, has decided to reintroduce fresh regional products, which are produced by small market gardeners outside the Syngenta, Monsanto and Dupont-Pioneer circuit. We must encourage this approach, the prices are much better and the products are fresh.
You have joined the Blue Lotus, a plant-based cooking school based in Thailand. Tell us about this school.
In its current form, Blue Lotus was created in 2016. The hotel group that houses the plant-based cooking school approached Christophe Berg, a French Chef specialising in plant-based cuisine who developed the Blue Lotus project in a very professional way. I have known Christophe since 2008, he visited me at 'La Mano Verde' in Berlin when he came to run the marathon and we became good friends. When Christophe offered me in early 2017 to participate in the project and give courses for professional cooks, I did not hesitate for a moment and I joined the ranks.
What is the aim of the school?
It is to allow novice or professional cooks to familiarize themselves with the cooking based on plants. They can learn all the techniques of plant-based cuisine, they have at their disposal the best tools, instruments and equipment available on the market. The training team is professional and well-trained, nothing is left to chance and the courses are of academic standard and a certificate is issued at the end of the class. I often teach classes for hotel groups who want to add a plant-based part to their menus, from Hong Kong to Shanghai, Beijing, Tokyo, Zurich, Mexico City, New York. I travel a lot, but the biggest problem I face during my classes is that I am working on the territory of the Chefs who are too often distracted by internal issues. By taking them out of their territory I can much more easily get their attention and run much more effective classes in an ultra-modern environment with exceptional accommodation for a plant-based cooking school.
When will there be a plant-based cooking school in France / in Europe?
I hear about many projects, most of them do not come to fruition for financial reasons or because of lack of professional supervision. I dream of a plant-based school in the south of France, in Provence, amid Mediterranean herbs and spices, the cradle of healthy cooking. Geographically, it is certainly the most suitable place, with access to major wine-growing regions, North Africa, Italian cuisine… But it is necessary to arrive with a substantial investment. European laws and regulations applied in cooking schools are expensive and difficult to follow and implement. But I seriously think that many future students would be delighted to study plant-based cuisine in France, especially the Americans.
The rest of our exchange is available on this article. We discuss in more detail the question of plant-based cuisine in France and the advice that Jean-Christian would give to Top Chefs.
Translated by Malvika Kathpal