Although the vegan way of life in France is still recent, there are already pioneers, pillars, those who have become references in plant-based food and who are recognised in their profession. And then there are those we are discovering with joy, whom we can't wait to discover because they have just started their activity. In terms of food, the VeggieWorld brings together the actors of the gastronomy whether they are vegan or not, because we come there not only to meet our peers but also to discover new talents. Here's a quick overview.
At Le Potager de Charlotte, Chef David Valentin was there to serve us his signature dishes that can be found in his restaurant. On the savoury side, we could taste the avocado with hard-boiled eggs or the rice-chickpea and cashew cream crepe with fine herbs. On the sweet side, a homemade rice-almond crepe with cocoa-hazelnut cream delighted my taste buds. A real pleasure, as always!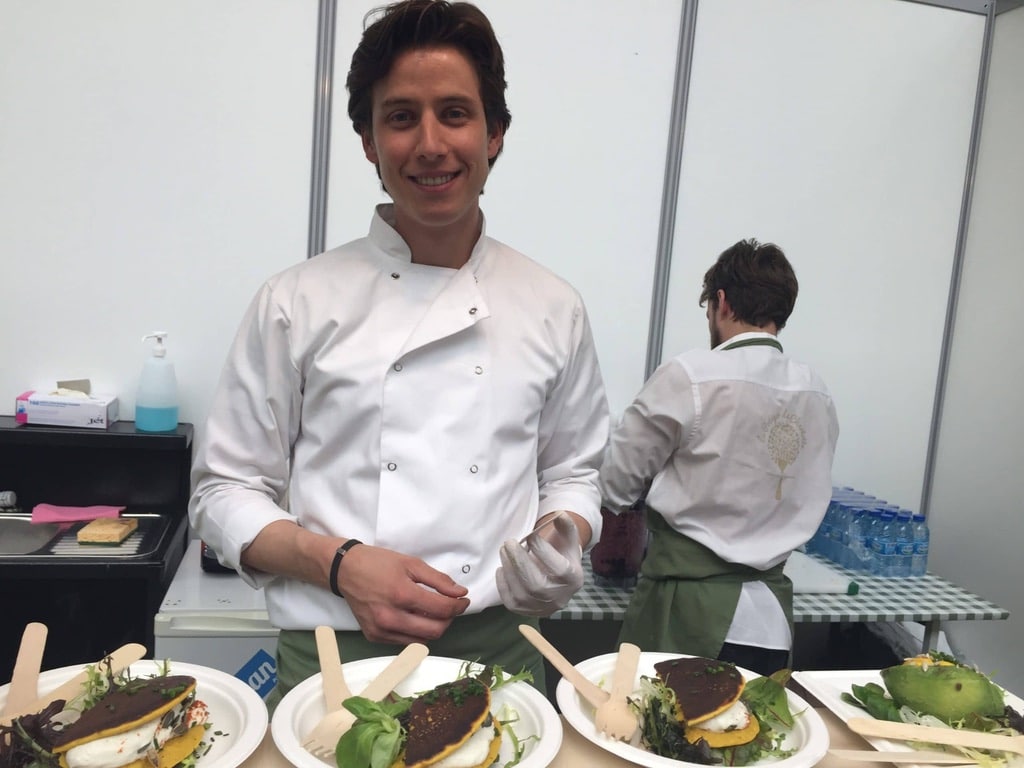 Healthy's is a great team of young, passionate Chefs who are trying out the plant-based adventure by adapting recipes "à la française"… and even more! Sweet or salty, they have fun with new trends, research, invent, innovate and share with us their passion for this new healthy cuisine for all.
For those who like prepared products, Le Boucher Vert is the place to go. A very nice team that runs a nice brand of legume-based vegetable alternatives from Lyon. Steaks, meatballs, nuggets… in green lentil, flageolet bean or chickpea versions, for both young and old, make your choice! The brand is expanding its activities in the catering industry and in organic shops.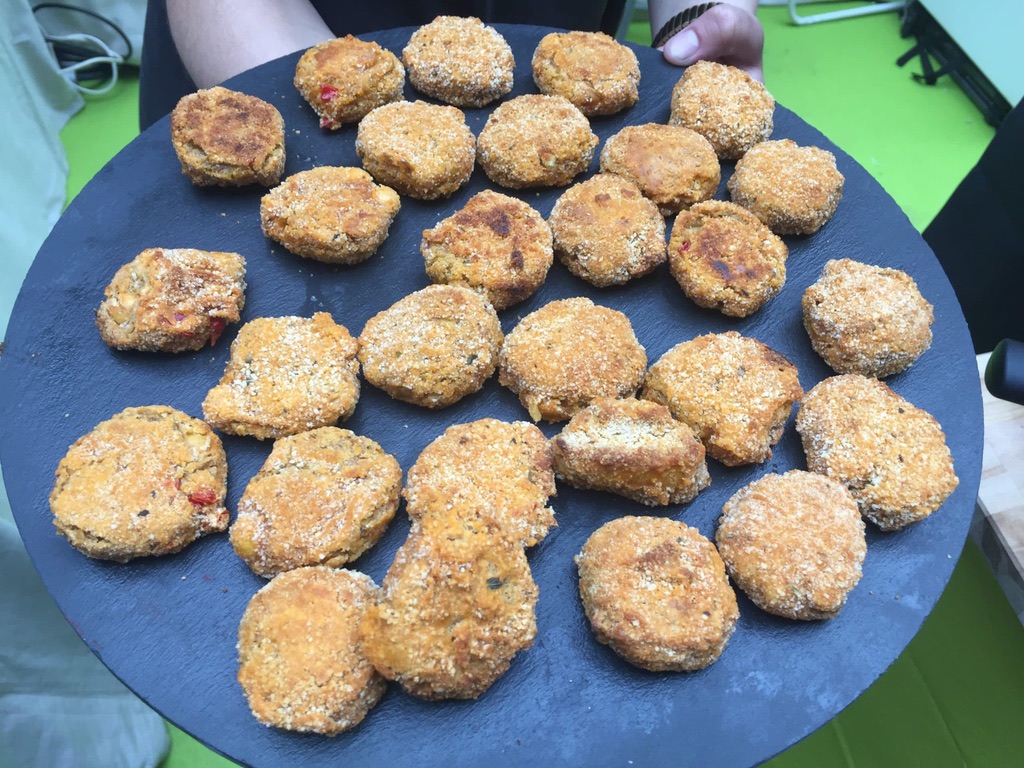 As for cheese, Oona Bee introduced us to its raw cheeses or "Crudivins" frawmgis. The "Walnut", a plant-based cheese with cashew nuts and walnuts, is a real treat. There is also Mary from Jay & Joy, who has come a long way, notably with the opening of her Parisian plant-based creamery where you can find vromages, joyourts and jeesecakes. Her stand at VeggieWorld is always busy with her growing success, reflecting what she has achieved since the creation of her concept.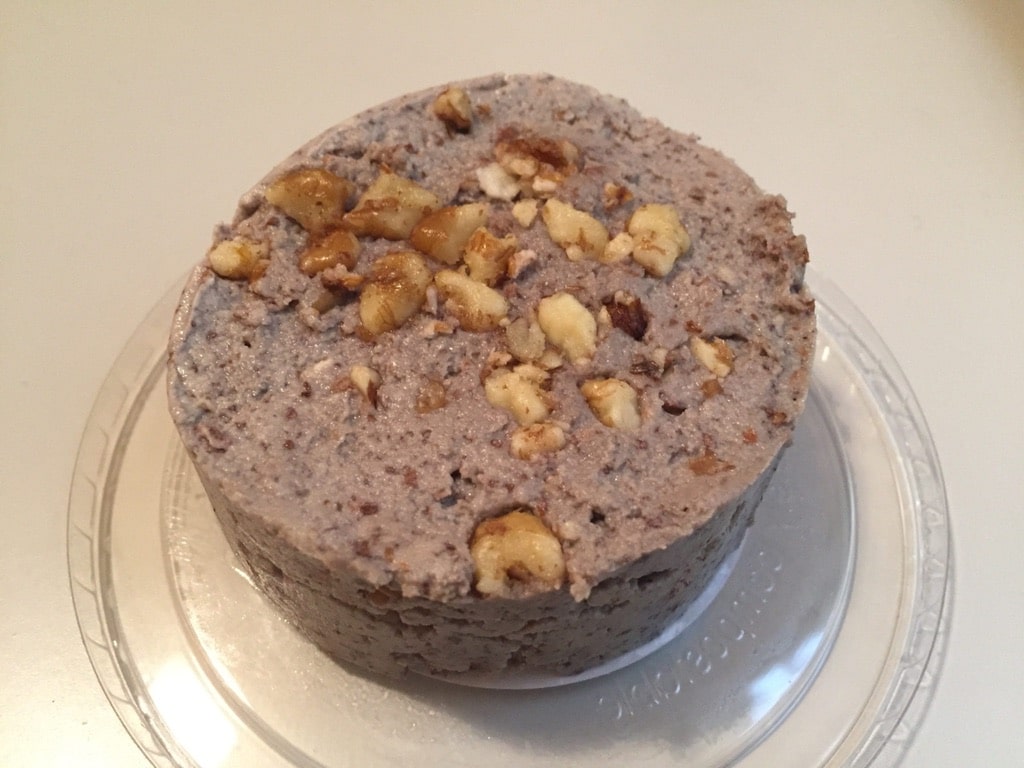 If you like street food/junk food, Hank Vegan Burger and Paulette in the truck are a must. With Hank's burgers and pizzas, or Paulette's wraps and kebabs, you will be dripping all over.
When it comes to pastries, everyone was waiting for VG Pâtisserie to arrive at VeggieWorld, but you had to get up early to find what you were looking for. Bérénice's stand was sold out in no time and this brand new plant-based patisserie continues to break records. The plant-based pastry is finally on its way and it is a real hit.
I could go on and on about raw chocolate, hummus chips, acai juice, moringa, or happy crackers… There is so much more to say about what you can find at VeggieWorld. And every edition is different because we always discover new products or new brands that reflect the food evolution of our society. The world of gastronomy is really transforming.
VeggieWorld is a real breeding ground and a must for Vegan Chefs who want to exchange with their peers, but also for Traditional Chefs who can come and be inspired by new trends and find innovative products.