In these moments of adversity, our lives transform and adapt, nimbly and quickly. We are capable of many things and the survival instinct often takes over.
A freeze frame
Going to the supermarket one last time before the President's speech gave us all a glimpse of the first signs of the profound change that was to come. Some customers already scrupulously respect the few instructions announced, while others hardly take them into account and continue their life as if nothing had happened. Carelessness, lightness, unconsciousness?… Deep down, we do not know very well what is going on inside us in these so particular cases.
Beyond the health crisis we are experiencing, this unprecedented situation allows us to freeze-frame and reflect on our ways of being and doing. We could almost believe in a cry of alarm sent to us to stop everything.
(Re)learning
The confinement offered to us today is perhaps an opportunity after all.
We have more time to think, to cultivate ourselves, to take care of ourselves and our loved ones. It's a great opportunity to unlearn what we have taken for granted, and to relearn what seemed obvious to us.
When it comes to cooking, it's about getting back to basics and doing the best with what nature gives us. We have all had a food preservation reflex, instinctively expressing our fear of running out. But now that we are starting to find our senses, it is time to reorganize.
It's time to learn to eat less and eat better, to teach your children to recognize seasonal fruits and vegetables, to cook new recipes, to vary the pleasures with ingredients that we did not have the time to consider.
Eating vegetables strengthens our immunity by providing the vitamins and minerals we need. Fruits, vegetables, cereals, legumes, seeds, spices, herbs… Raw, cooked, in soup, in juice… Plants offer us a multitude of possibilities. Let's look at it from another angle, because with it, a new virtuous circle could start.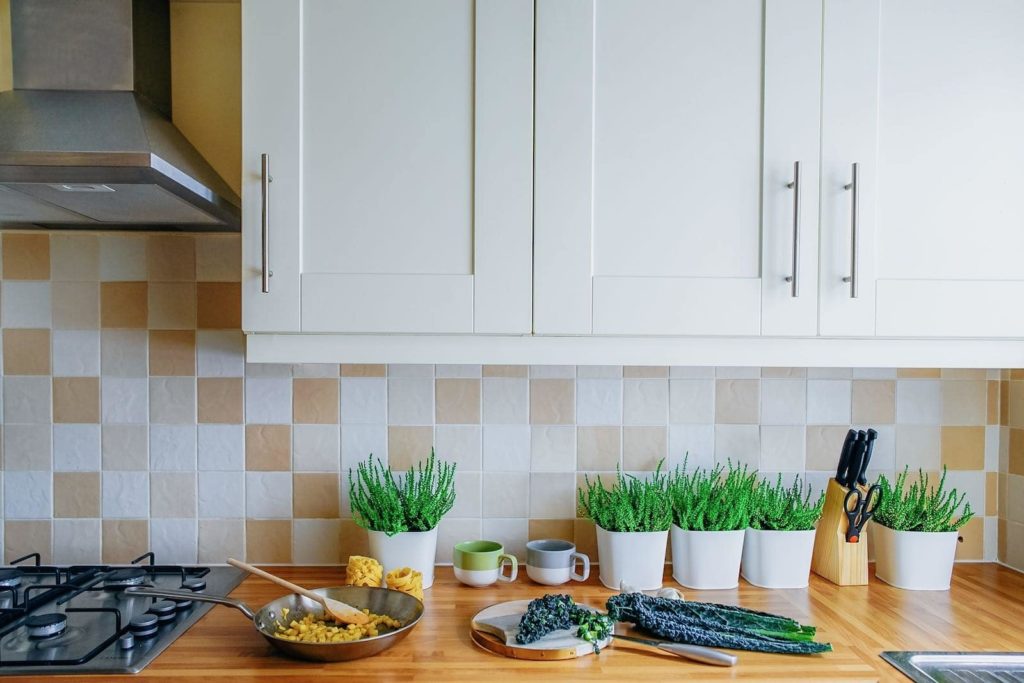 The solutions
It is therefore for us to take this imposed time to review our ways of consuming.
And because human beings are capable of organizing themselves individually and collectively, solutions are gradually being put in place. Home delivery will have its moment of glory. Digital will be king. The two together will do wonders to serve us in times of adversity.
Let's thank the professionals who are working tirelessly to provide solutions to our daily dietary needs.
Think of the deliveries of fruit and vegetable baskets. The Mon Panier Bio platform makes it possible to find delivery solutions for organic baskets anywhere in France.
Think of organic and veggie boxes, to order online, like those proposed by Rutabaga.
Let's not forget our usual organic stores, Naturalia, BioCBon … which exceptionally offer free deliveries.
As for plant-based pastry products, the artisan-producers go out of their way to maintain the availability of their services. In Paris, the Land & Monkeys bakery remains open as well as the Les Petites Pâtisseries Raw & Vegan boutique (three days a week).
The e-shops for their part remain open on the side of Jo & Nana Cakes and Linnolat.
For the French in England, Chef Clarisse Flon offers a range of plant-based "French-style" pastries and viennoiseries on her e-shop The Sunny Spoon.
Other local initiatives are gradually being set up, with producers who are more united than ever.
Stay in touch from home
As consumers, we have a key role to play in this health crisis. For us, it is a question of enhancing the efforts of our producers, creating or maintaining contact with them, but also of enhancing our plant-based terroir to give more meaning to what we eat.
For Chefs, it is a question of taking another look at catering to create a new gastronomy, to open up new fields of possibilities and to test new recipes, with a return to basics.
This matter concerns us all and we have many possibilities to contribute to it.
Let us not forget that a crisis is always an opportunity for transformation. It is up to us to learn the lessons and extract the best from it. This virus that is changing our lives requires us to learn again, and to pass on what we have learned from it in another way. We can start by keeping the connection while staying at home.
Translated by Malvika Kathpal