They have many resources and help to comfort our coldest seasons. Squashes have many assets and offer a wide choice of varieties to satisfy all our palates. Zoom on these cucurbits!
A story of squash
Cultivated and consumed in Central and South America by natives for more than 8000 years where they are called the 'fruit of health', squash were introduced in Europe by Christopher Columbus who made their discovery in Cuba in October 1492.
If they took a few centuries to be adopted by the French, since we have been consuming them more widely since 1980, squash are now an integral part of our recipe books. With more than a thousand varieties listed, they form one of the most important food families. Mainly on the stalls in autumn-winter, some squashes are available in summer or even all year round, such as zucchini.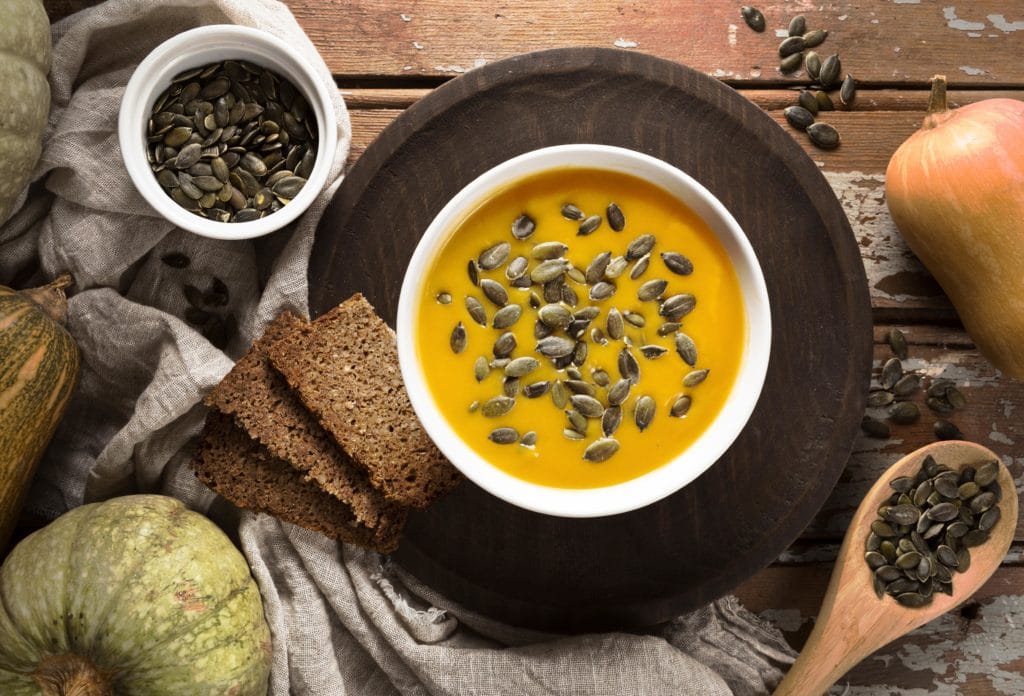 Vitamin seeds
From the Cucurbitaceae family, squashes are fruiting vegetables. The seeds they contain make them fruits, but we cook them mainly like vegetables.
Rich in vitamins and low in calories, they are composed of 92% water and contain vitamin A, beta-carotene and many trace elements – iron, calcium, zinc and even magnesium. Enough to boost our immune defences in winter!
Note that the majority of their seeds are edible and delicious, in addition to being very interesting from a nutritional point of view since they are an excellent source of protein, omega-3, antioxidants, minerals and fibre. Sprinkle them on your soup or on your salads, add them to your granolas or simply eat them as a snack.
Our favourite: brown them in the oven with smoked paprika, a pinch of salt and maple syrup!
Palette of tastes and colours
Although the varieties of squash are counted in hundreds, we find and consume only a dozen different varieties throughout the seasons. Note for example:
Butternut squash (or butter): probably the most appreciated by the French for its lightness and sweetness, it is very versatile and will be on the shelves from September to February.
Red kuri squash: its little taste of hazelnuts and chestnuts will also seduce you from September to February.
Pumpkin: you will mainly find the Jaune Gros de Paris and the Rouge Vif d'Etampes. It is also a squash widely used during the Halloween party as a decoration since it is particularly available in September and October.
Provence butternut squash: needing heat to grow, this squash is grown in the South of France to be picked in the fall before the frost and can be stored for several months.
Zucchini: easy to prepare and light, you will welcome this sunny vegetable all year round on your plates. It is used more and more as a dessert to make 'well-being' cakes.
Other varieties of squash are also worth knowing, such as:
Spaghetti squash: it owes its name to the famous Italian pasta since its flesh, when ripe, forms long threads that just need to be removed with a fork. Use it as spaghetti, in salads, in donuts, in a gratin or in pancakes.
The patidou: it will dress up your kitchen with its original and elegant appearance. However, do not forget to take advantage of its fine, sweet and subtle taste that will delight all palates. As an anecdote, our neighbours across the Channel, who call it 'sweet dumpling', make sorbets and even jams.
The christophine: also called chayote or darling, comes from exotic countries and is characterized by its pale green colour and its very sweet flavour. The stems of the plant, once dried, were used by the Reunionese to make the famous straw hats chouchou.
To make your mouth water, we offer you two 100% squash recipes from Chef Aude Richard from The Greenquest blog and Chef Fanny Mijon from The Friendly Kitchen restaurant.
Pumpkin and tofu nuggets, by The Greenquest
Serves 4 – 30 minutes preparation time – 1 hour waiting time – 10 minutes cooking time.
Ingredients:
500g steamed pumpkin / 60g finely chopped onion / 70g tofu / 2 tbsp. chickpea flour / 1 tsp. soy sauce / 1/2 tsp. sugar / 1/4 tsp. garlic powder / optional: a few drops of liquid smoke / aquafaba (chickpea juice) / breadcrumbs.
Recipe:
In a frying pan over medium heat, add a tablespoon of oil and the onion. Cook it until it is translucent. Then add the crumbled tofu, soy sauce, sugar, liquid smoke and garlic powder. Meanwhile, in a large bowl, mash the squash with a fork. Add the cooked onions, tofu and chickpea flour. Season with salt and pepper. Form balls, place them on a plate and refrigerate for 30 minutes to 1 hour. Finally, prepare 2 bowls: one with breadcrumbs and one with aquafaba or a water-chickpea flour mixture (1 tablespoon with 60mL of water). Roll the balls in the dough then in the breadcrumbs. They are ready to be fried (in a pan or fryer).
Roasted pumpkin with dukkah, by The Friendly Kitchen
Serves 4
Ingredients:
For the recipe: 1 pumpkin (about 1kg) / 2tsp cumin powder / 1tsp coriander powder / 1tsp paprika powder / 1/4 tsp garlic semolina / 4tbsp olive oil / 1tbsp agave syrup / salt, pepper / 1 small can of drained chickpeas.
For the yogurt tahini sauce: 200gr of plain soy yogurt / 30gr of blond sesame puree / 20gr of lemon juice / salt, pepper.
To serve: 1 handful of fresh herbs (coriander and parsley) / 1 small pomegranate / 4tbsp dukkah (house recipe below).
Recipe:
Wash the pumpkin and remove the seeds. Cut it into slices 2/3 cm thick.
Mix the spices, olive oil and agave syrup in a bowl. Take a tablespoon of the mixture for the chickpeas and mix. Add the pumpkin slices to the rest to coat them well and place them on a baking sheet. Add salt and pepper and bake in the oven for 10 minutes at 180 degrees. Add the chickpeas and cook for another 10 minutes (the pumpkin slices should be tender). Meanwhile, mix the ingredients for the yogurt sauce and deseed the pomegranate. Serve the sauce with the pumpkin and chickpeas. Sprinkle with fresh herbs, pomegranate and dukkah.
For the homemade dukkah: 40gr of blanched pistachios / 40gr of almonds / 40gr of peeled hazelnuts / 30gr of sesame seeds / 2tsp cumin seeds / 2tsp coriander seeds / 1tsp paprika / 1/2 cc of salt / 1/4 tsp of pepper.
Roast the pistachios / almonds / hazelnuts / sesame mixture in the oven for 15 minutes at 180 degrees (everything must be golden). In a dry frying pan, quickly toast the spices (1 to 2 min max). In a food processor, combine the spices and oilseeds, salt and pepper, and mix briefly. Store the dukkah in an airtight jar (several months).
Translated by Malvika Kathpal