From Pierre Hermé's Fleur de Cassis log to the Sÿba's frozen log, including Le Mont Blanc by La Maison Landemaine, discover our selection of logs for a Christmas 2020 as sweet as possible.
Welcome to the Celestial Fairyland of Pierre Hermé
What we love about Pierre Hermé is his gift of surprising us. For these festive 2020 creations, has the Pastry Chef been inspired by the stars? Maybe… Welcome to the Celestial Fairyland collection! Eyes riveted to the sky, illuminated by the Milky Way, Pierre Hermé takes us into an ethereal, fascinating universe, strewn with magical logs, constellations of macaroons, mystical stars and luminous galettes. In this collection, the Chef signs a new magical and poetic creation. Based on the aromatic variations of blackcurrant and Pure Origin Belize chocolate, the Fleur de Cassis log is presented in a luminous case recreating the sparkling imprint left by these stardust. Notes of blackcurrant pepper crumble (with geranium aromas), we slide towards the bitterness of a blackcurrant compote tamed by a touch of redcurrant while the lemon juice highlights its acidity. Its chocolate shell is adorned with a constellation of shooting stars, subtly inviting to travel.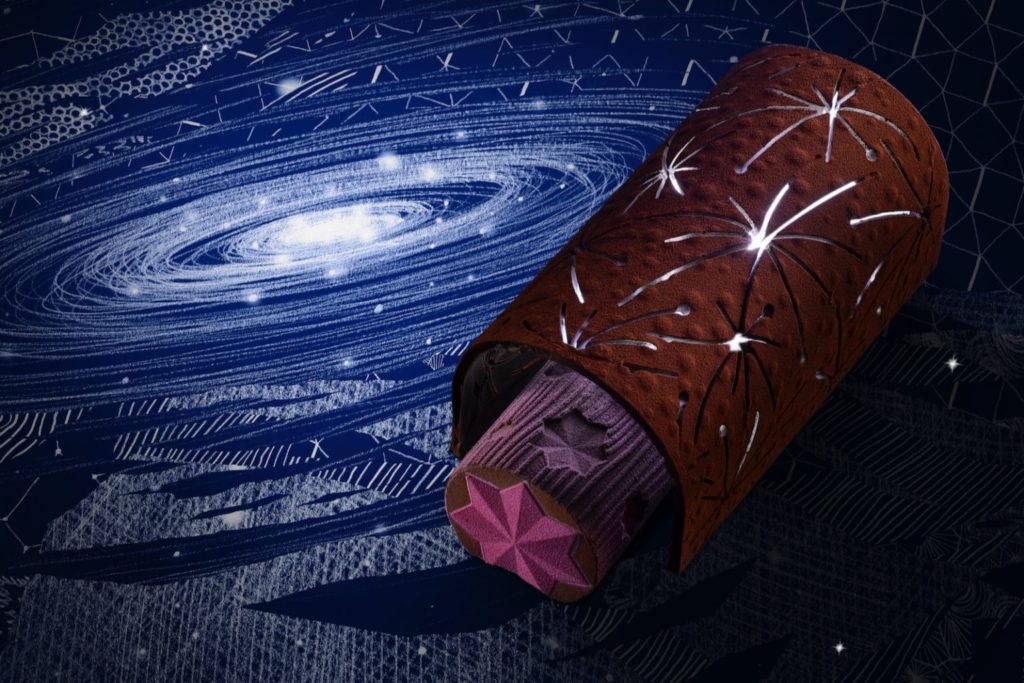 👉 Find out more:
Signature log available from December 19 to 25: 120€
Exception log (with illuminated box) available only on order from December 22 to 25: 250€
The Fairy Star of a Artisan Passionné
A for Aurélien Trottier, A for Artisan Passionné, A for Angevin…
Aurélien Trottier is a passionate craftsman. In Angers and Cholet, his shops, with the eponymous name, reflect the image of this creative pastry Chef. At Artisan Passionné, the magic of Christmas has festive colours, delicious flavours, crisp, soft, creamy textures… which awaken our senses and make our sweetest dreams come true. Welcome to the magical world of Artisan Passionné.
Taking the codes of its first plant-based dessert, Mango Vegan, which was a great success last summer, Artisan Passionné has added a winter touch by revisiting the iconic black forest. The fairy star has never lived up to its name so well, with its variation of deliciously contrasting textures. Close your eyes and imagine… The softness of a chocolate and hazelnut biscuit expertly contrasted by a crunchy texture; a compote of raspberries and morello cherries melting into a creamy texture and dark chocolate mousse from Madagascar, and you'll never touch the ground again!
A nice idea to note: In December, an individual portion in finger format will be offered to the curious and other impatient.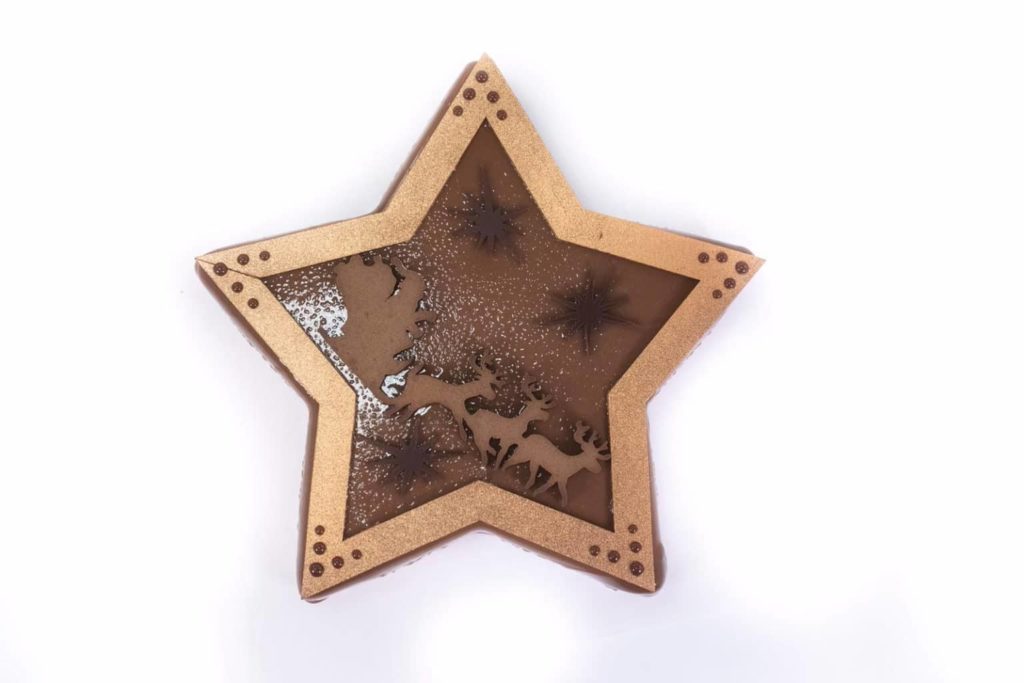 👉 Find out more:
The fairy star is a limited edition (200 pieces) and will be available in stores and for delivery (near Angers) from December 15, 2020.
One size: 6 people. Price: 40€
Gluttony and daring for the Mont-Blanc log by Maison Landemaine
Like every year, the Pastry Chefs of Maison Landemaine have imagined alongside the traditional chocolate log and vanilla log with red fruits, two gourmet and daring creations, one of which is 100% plant-based. With the Mont-Blanc log, Maison Landemaine honours the richness of tastes from nature. Having become a staple of the House by embodying the commitments of its founders for a more respectful diet, this log consists of a crispy almond, a blackcurrant and blueberry confit, a chestnut paste and mousse and a Mona Lisa biscuit… all without eggs, milk, cream or butter. From the very first bite, the sweetness of the almond and chestnut contrasts with the tangy taste of berries! Enough to satisfy the palates of lactose-intolerant people, vegans… and all food lovers!
👉 Find out more:
Orders are available from December 18 to 30 on the Maison Landemaine website or in stores.
Logs available in 4 sizes: 4 people (26€), 6 people (39€), 8 people (49€).
The Diana Log by Samuel Pannetrat
The Bûche Diana is vegan and gluten-free, but not without gluttony!
Samuel Pannetrat is an accomplished Pastry Chef. After several experiences in prestigious houses, he started to create his own pastry shop. His goal? To offer pastry for everyone, with nuance and balance.
For Christmas, Samuel created the Diana log, based on a brownie and crunchy chocolate with fleur de sel. A vanilla caramel, as well as a chocolate cream and a tonka bean chocolate mousse, come to glide under a delicious rock icing. Made with Pure Origin chocolate from Chocomada, the Diana log can be discovered from December 10 in the Chocomada's pop-up shop.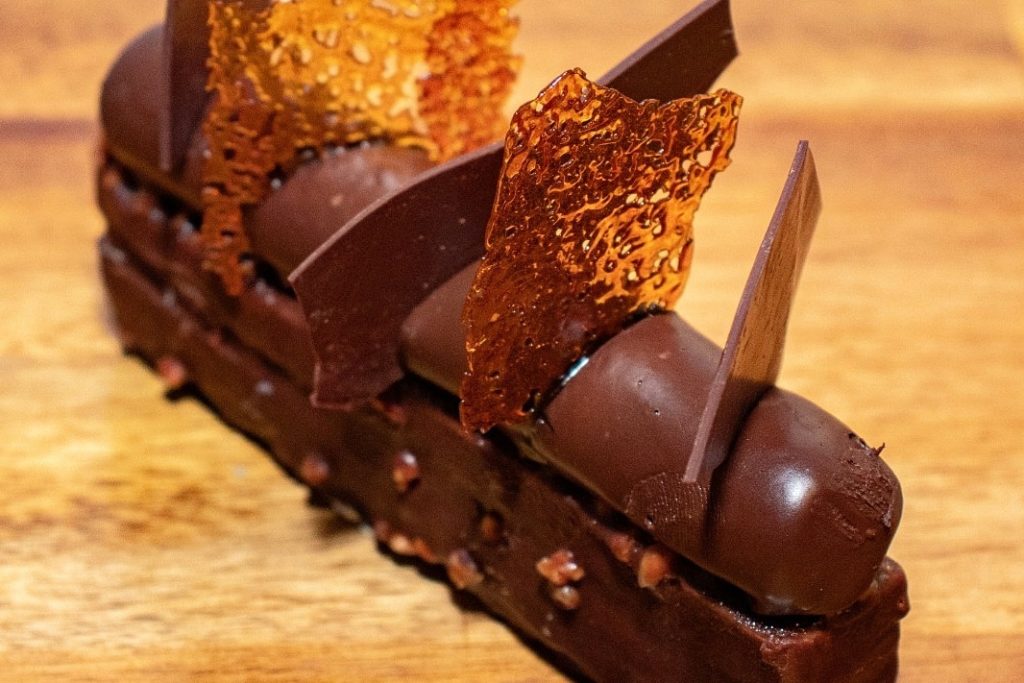 👉 Find out more:
For any order, send your request to Samuel Pannetrat's Facebook page.
Orders can also be made at the Chocomada store:
17, rue La Vieuville – 75018 Paris (Metro Abbesses)
Les Ateliers de la Veggisserie: the gourmet trio!
Imagine a log with a chocolate brownie cookie, topped with caramelized chips. This year, the Ateliers de la Veggisserie unveil their new organic Christmas log, 100% plant-based and gluten-free. A log that will thrill the taste buds with a gourmet combo par excellence: Chocolate – Vanilla – Caramel.
The Ateliers de la Veggisserie (formerly La Veggisserie) have gone to great lengths to concoct this new light, gourmet and full of flavour creation. A flawless creation for chocolate lovers, which will appeal to young and old alike.
Easy-going, this pastry is sold frozen. It is therefore possible to organize yourself in advance since it retains its flavours for up to 48 hours after defrosting.
The advice of the Ateliers de la Veggisserie: to impress your guests with ever more greed, you can combine this pastry dessert with the artisanal and vegetable ice creams proposed by the Ateliers de la Veggisserie.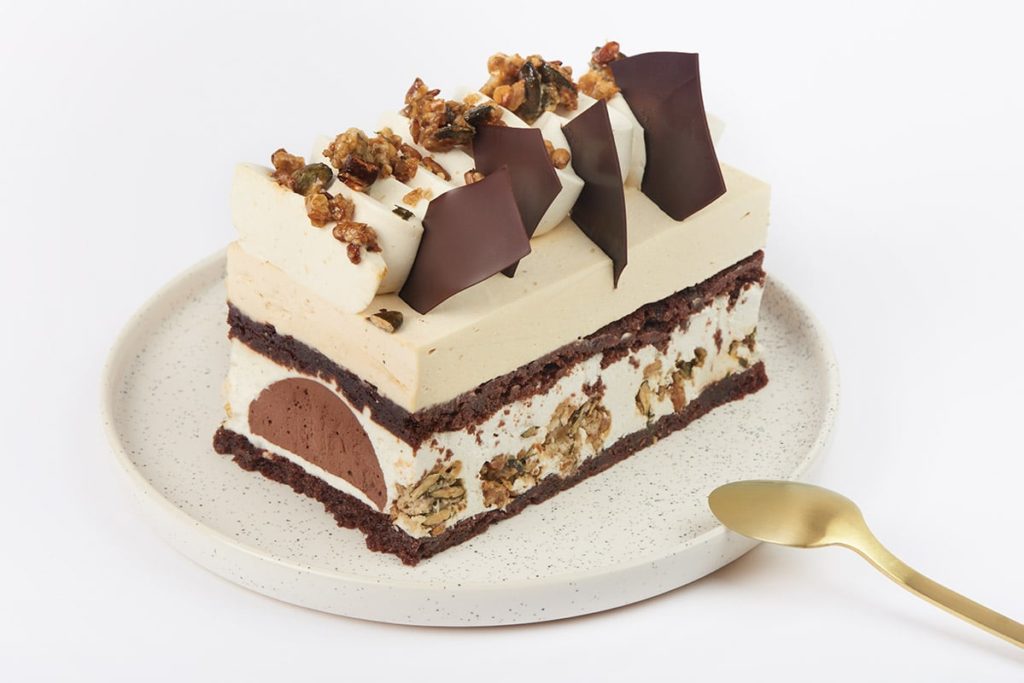 👉 Find out more:
Orders are to be made on the website Les Ateliers de la Veggisserie
Neo-gourmet holidays at Sÿba!
A 100% plant-based frozen log made with conviction, this is what the Avignon-based artisanal ice cream brand Sÿba offers us with its frozen version of Mont-Blanc. Combining organic PDO chestnuts from Ardèche with Provence almond lightly flavoured with Tonka bean, the log cheerfully plays on the alliance of textures, chestnuts chips and a vegetable meringue made from Yumgo– 100% plant-based egg white substitute. Everything is carried out with the purest respect for the raw product, each ingredient is 100% of natural origin, colouring-free or gluten-free, because at Sÿba we advocate a new way of consuming: healthier (Nutriscore B), more sustainable, but always so just as delicious. A log that will delight gourmet palates and sweet taste buds for the end-of-year celebrations.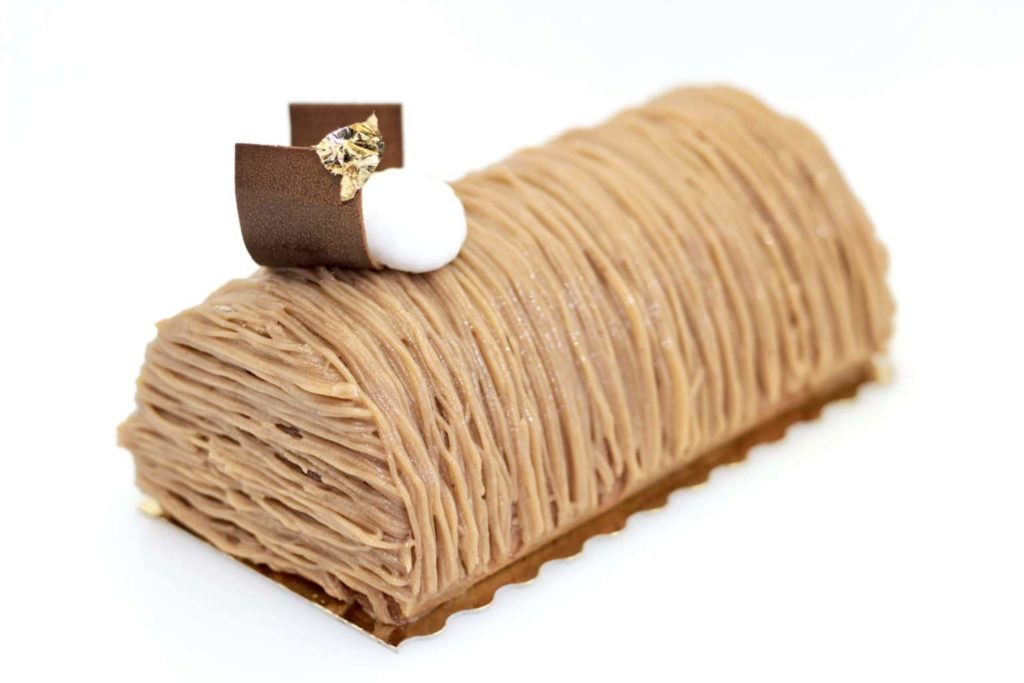 👉 Find out more:
The logs are on sale on the brand's E-shop:
Express shipments throughout France thanks to Chronofresh – orders via the Pour de bon website.
Locally around Avignon, you can collect your order directly from the workshop or choose 100% green delivery by bike.
Also available in some La Ruche qui dit Oui (Villeneuve), Le Petit Pot (Avignon), Mon Epicerie (Paris) points of sale.
Available sizes: 6-8 portions at the price of 36€ incl.
A trio of logs at Les Petites Pâtisseries Raw & Vegan
For the 2020 edition, Violaine Bergoin is offering a trio of raw, organic and plant-based Christmas logs in her Parisian boutique Les Petites Pâtisseries Raw & Vegan, in the 11th district of Paris.
On the menu for this season, Violaine has prepared three original and unique creations, with a raw chocolate log citrus heart, tangerine zest, a Marron Vanille log and a plant-based Yule log Cru roll. These creations are 100% plant-based, gluten-free and without refined sugars.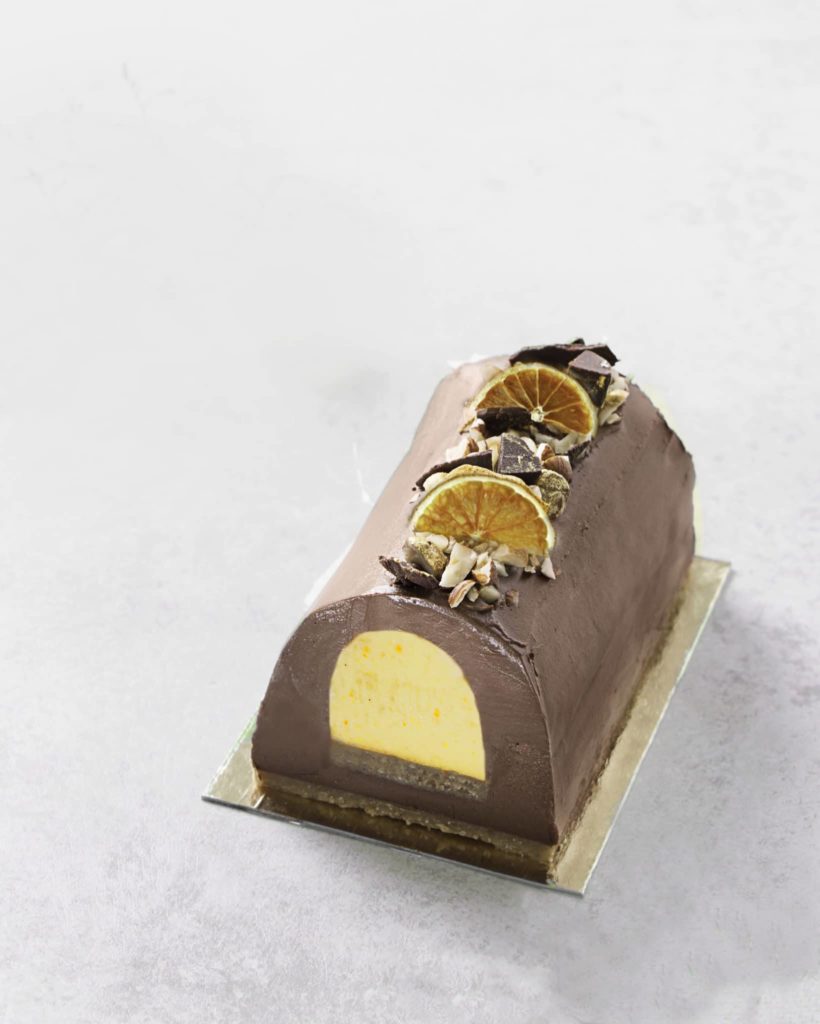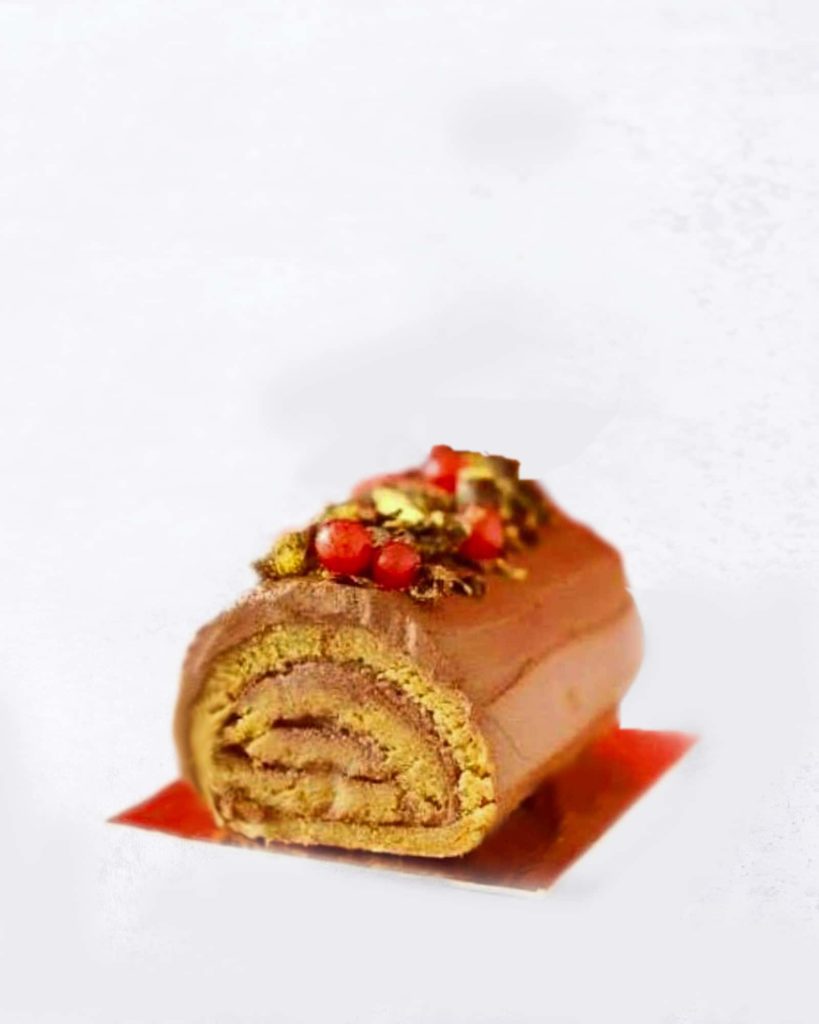 👉 Find out more:
For any order, send an email to contact@lespetitespatisseries.com. For a pick-up in-store at "Les Petites Pâtisseries Raw & Vegan – 44 rue du chemin vert, 75011 Paris (usual opening hours Monday to Sunday 12pm-5pm, except Sunday 12-4pm. Closed on Tuesdays and Fridays. Exceptional opening of the shop on Thursday, December 24 from 8am. to 11am. for withdrawals).
Orders can be received until December 18, 2020.
Delivery is possible throughout Paris and Île de France.
The logs are priced at 37€ per unit, in a 4 to 6 person format, and 6.50€ in log size.
Rebecca Baues's logs
Rebecca Baues is a committed young woman, concern with the use of raw materials from organic and seasonal farming. She is also creative and inventive… This year "La Pâtisserie de Rebecca" offers us not one, two, three but four logs that are more delicious than ever.
The chocolate-orange log is already caught our eye. Composed of crunchy cocoa, a soft chocolate biscuit, a chocolate ganache, and winter-scented orange marmalade and an orange mousse and chocolate icing, this creation is the first of the collection.
Are you more of a speculoos fan? Let yourself be tempted by the pear-speculoos log with a soft speculoos biscuit, a pear compote insert, a pear mousse and a cinnamon glaze.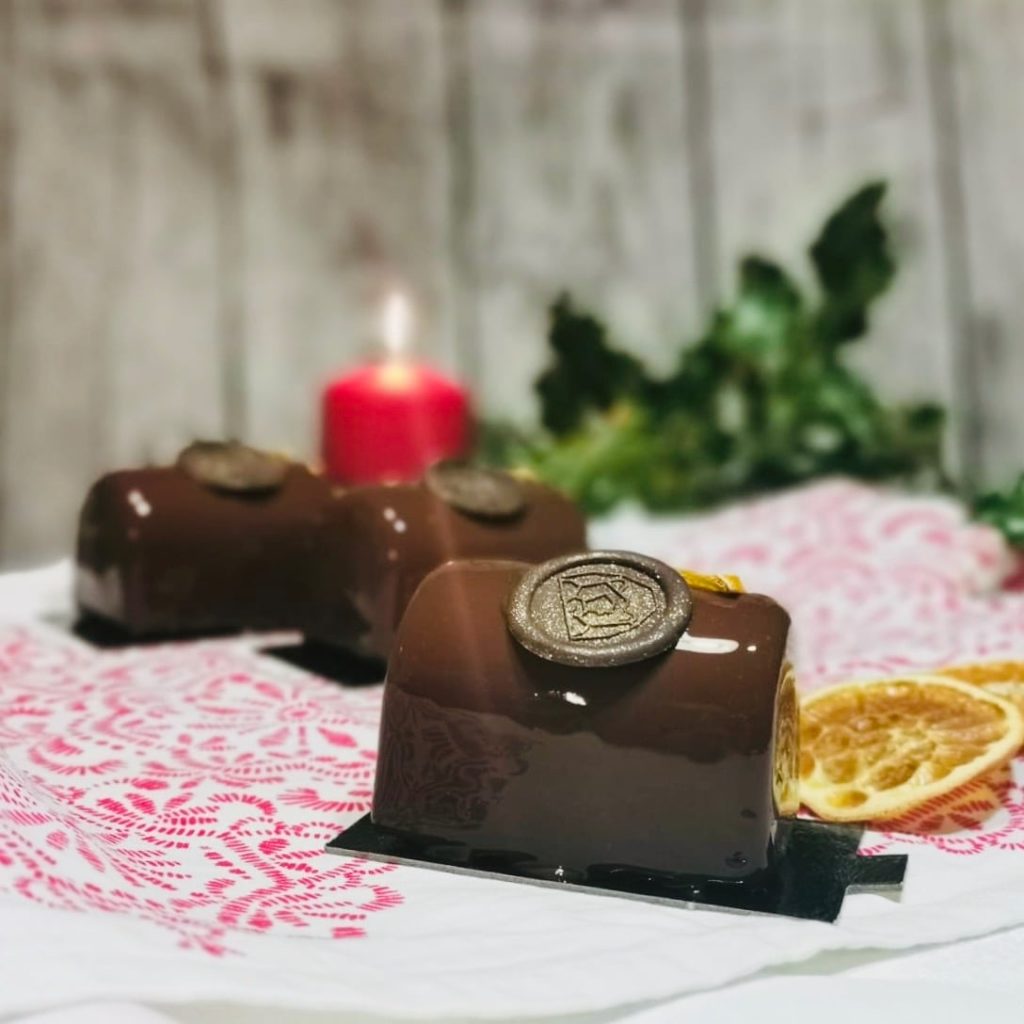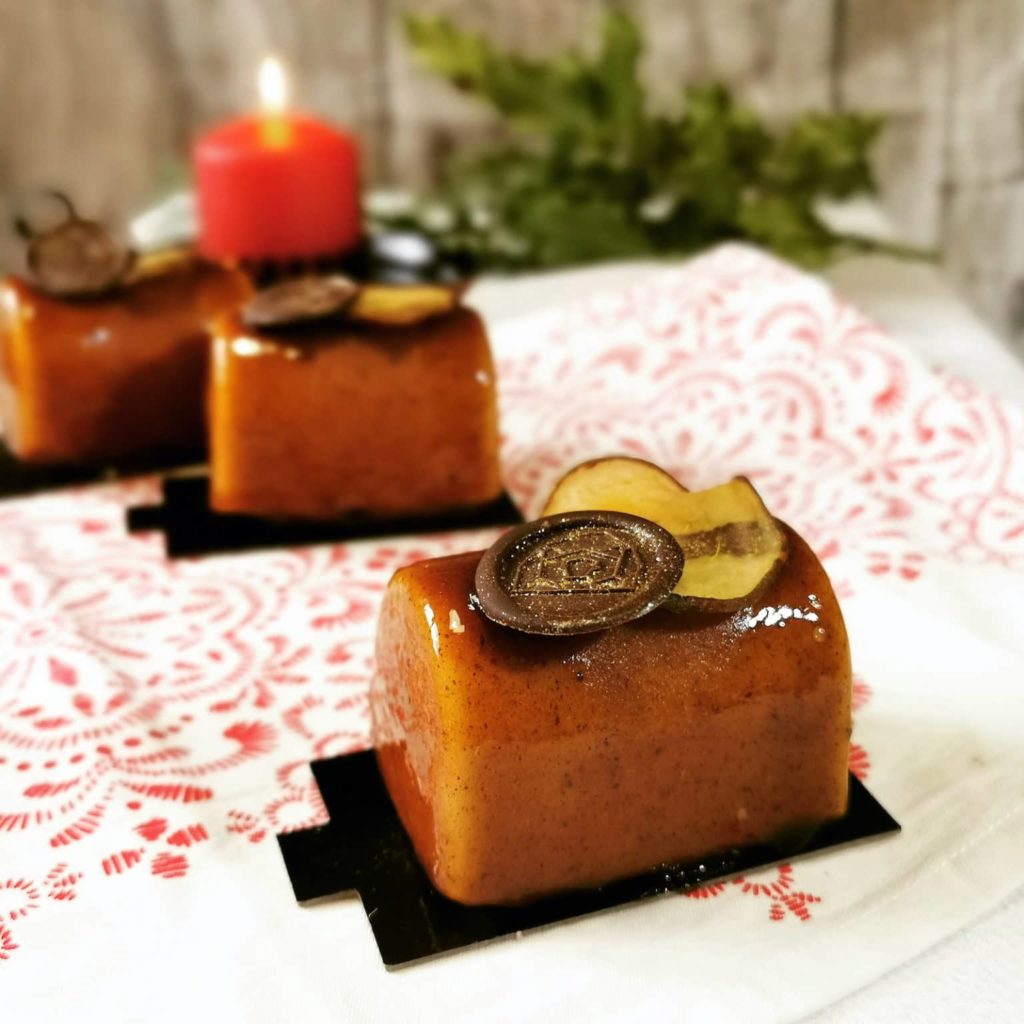 Red fruit lovers will melt in front of the almond-raspberry log, with its crispy almond, its soft almond biscuit with an insert of raspberry compote and Timut pepper, its mousse and raspberry icing.
The last one is the apple-hazelnut log which brings an autumnal touch. With its crunchy and soft hazelnut biscuit, its roasted apple insert, its hazelnut mousse and its apple glaze, this log is also gluten-free.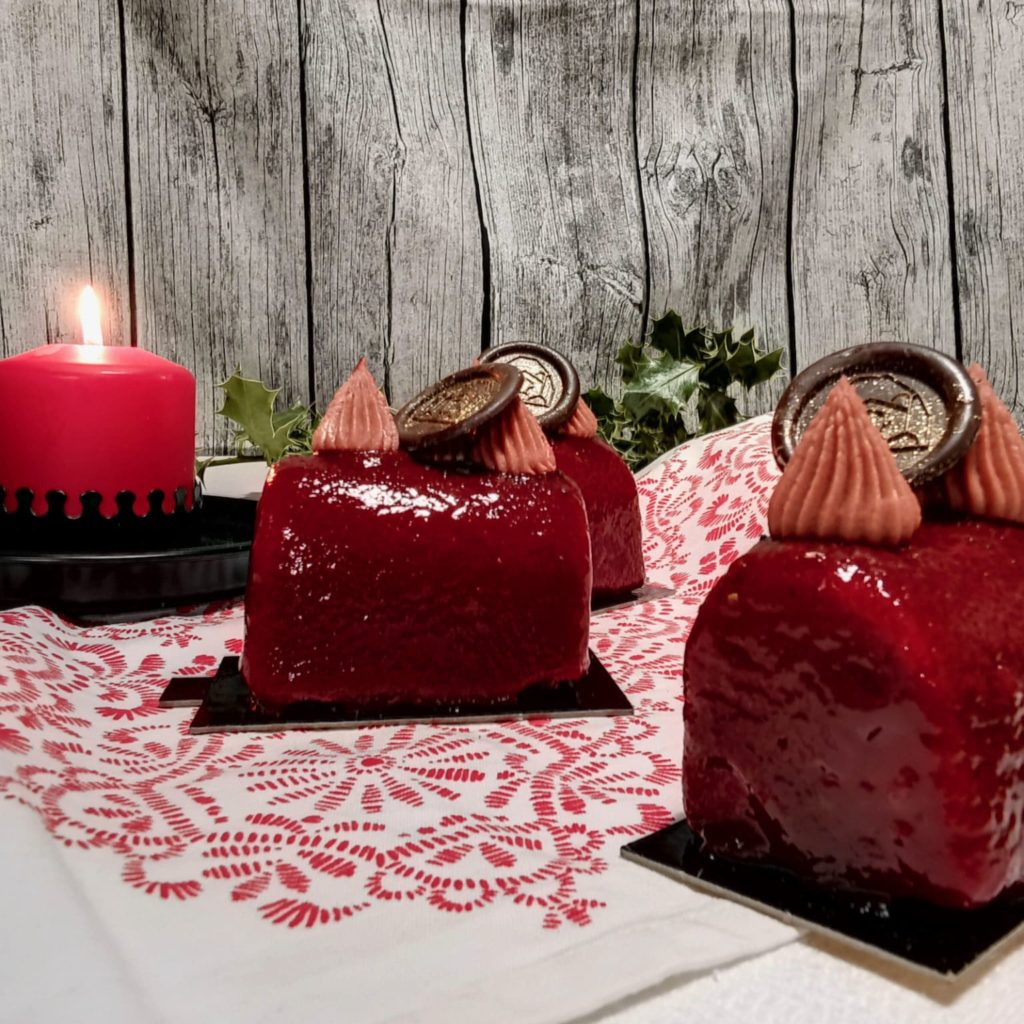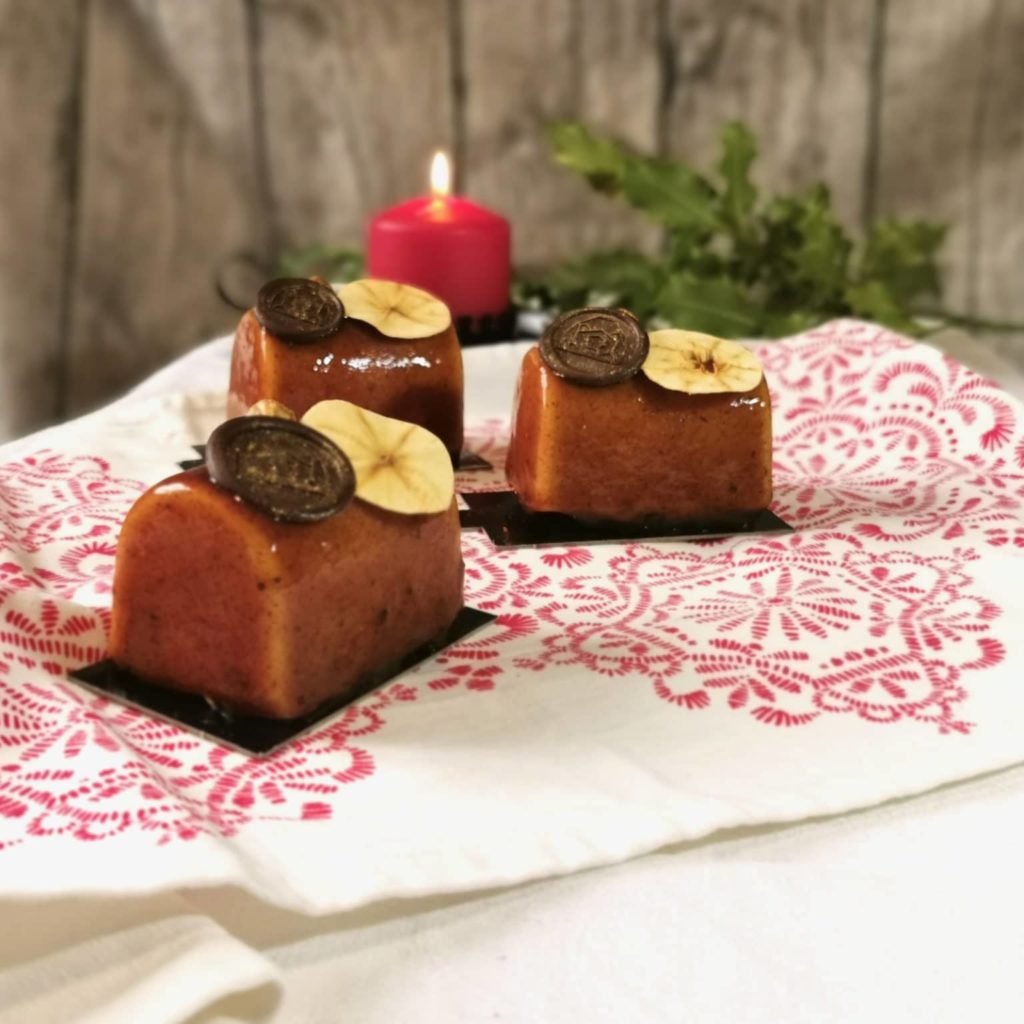 👉 Find out more:
The logs can be ordered at the Dourdan market on Saturday mornings and at the Massy center market on Sunday mornings. They are also available directly at Rebecca's workshop by ordering by e-mail at lapatisseriederebecca@gmail.com or by phone (+33 6 95 35 34 12).
So what about this 2020 grand cru? The choice will be difficult, but one thing is certain: everyone will be able to find what they are looking for among these creations from genius pastry houses. The sweet touch of your festive meals will definitely be tasty and will probably have a "wow!" effect. Do not hesitate to send us your feedback. Until then, we wish you happy gourmet holidays!
Translated by Malvika Kathpal