In a Parisian brasserie atmosphere, the Chef proposes a timeless cuisine inspired by French culture, and traditional dishes are revisited to bring a touch of modernity to this place steeped in history. This is how plant-based dishes are on the menu alongside more traditional dishes, in all humility and discretion.
The plant-based menu
On the menu of the Brasserie d'Aumont, there is therefore a daily plant-based choice from starter to dessert. And we are far from clichés, since this is a thoughtful and successful menu, in addition to being tasty and delicious.
In the starters of the winter menu, you will find the cream of parsnip and Jerusalem artichoke with rice milk …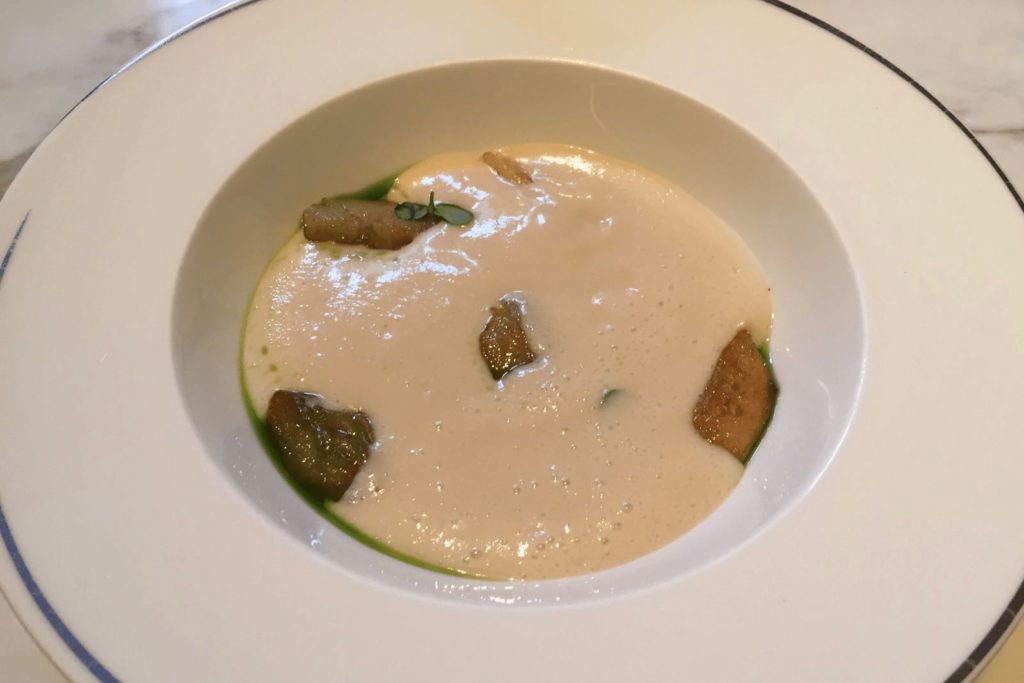 … And a floralie of vegetables, vanilla cauliflower mousseline, or depending on the season, zucchini-style risotto with lemon verbena.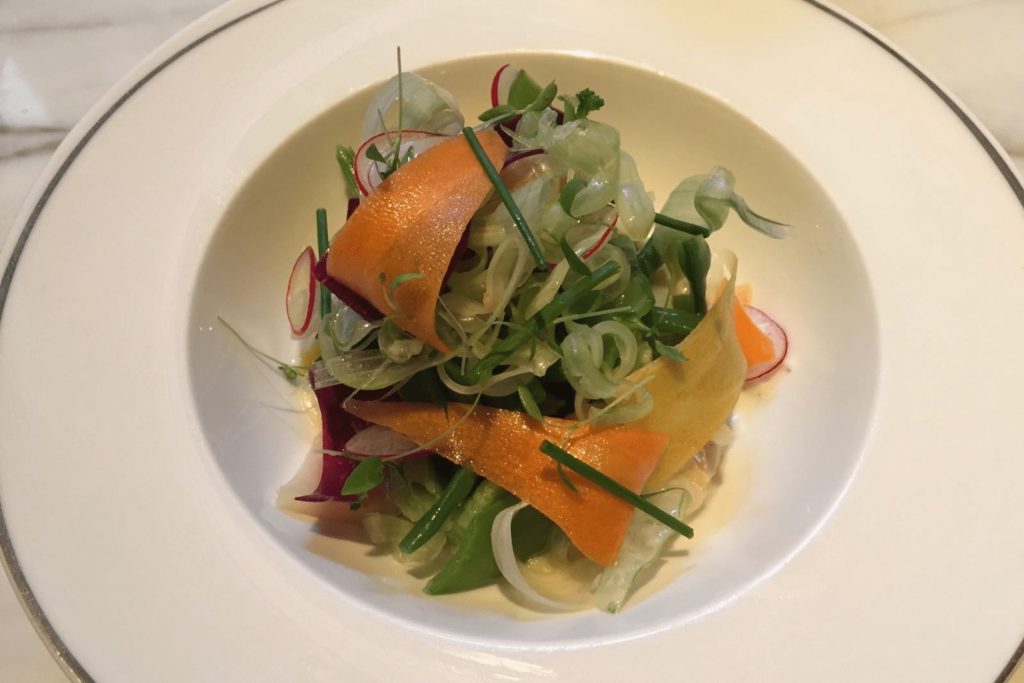 The main course can be chosen in the 'Healthy' section between celery, potato risotto and the stew of coral lentil with chickpeas and turmeric emulsion.
At the table, the bread offered is organic, made with buckwheat flour, and comes from the Moisan bakery. As for the wines, they are mostly organic.
For dessert, the chocolate mousse with aquafaba and praline heart is a pure marvel. Finally, a real gourmet 100% plant-based dessert, which allows vegan customers to fully enjoy the sweet moment at the end of the meal.
A flexi rather than vegan clientele
The Chef assumes the use of the term "vegan" to identify the plant-based dishes on his menu, clearly accompanied by a green logo.
However, the menu is mainly aimed at a flexitarian clientele looking for trendy and healthy dishes, even if the approach of a plant-based cuisine also made for vegans is well underway.
For this offer to be completely adapted, it would be necessary to go a step further, by giving the vegan customers the opportunity to access a global culinary experience. This would involve, for example, a proposal of plant-based appetizers and sweets, and adapted wine pairings.
Without forgetting the service in the dining room which must ensure that the customer who orders these dishes in particular, is indeed vegan, and thus pay attention to details to avoid any odds.
In this historic place where tradition meets modernity, Chef Justin Schmitt shows us that it is quite possible to take the best of both worlds and move towards a cuisine of the future that pleases everyone.
By making this effort of creativity and by proposing elegant and refined plant-based cuisine, he shows that with hard work and a certain open-mindedness, it is possible to go beyond certain codes. The Hôtel de Crillon could thus certainly become an example to follow.
Translated by Malvika Kathpal
Learn more :
Brasserie d'Aumont Website
Brasserie d'Aumont Menu
Chef Justin Schmitt profile on Facebook and Instagram
The Jardin d'Hiver at the Hôtel de Crillon also offers a plant-based dessert option with the possibility of requesting old-fashioned hot chocolate with vegetable milk. Advance booking is recommended.