At the corner of rue du Sentier, The Hoxton reveals itself at the end of the inner courtyard of an 18th-century building. A chic and contemporary hotel, opened in 2017, which houses a speakeasy, a lounge bar and the Rivié restaurant.
A chic and trendy menu
You immediately feel at home in this warm and welcoming place, where you can easily spend time to have a drink with friends, to work or to eat.
At the Le Rivié restaurant, Chef Ludovic Bonneville sets the tone with a trendy menu, which is concerned with the quality of the products. The dishes are prepared with local products. However, they are not necessarily seasonal and it is not specified whether the ingredients used are organic.
Many vegetarian options are available and there are two plant-based dishes, symbolized by a small green leaf, listed at the bottom of the menu with the mention 'Vegan'.
Identified plant-based dishes
On the lunch and dinner menu, during the week, the Rivié offers as a starter: a gazpacho of tomato, strawberry, and crouton. As the main course: green asparagus risotto with hazelnut butter, peas and spinach espuma, as well as summer quinoa with almond purée, seasonal vegetables and truffles.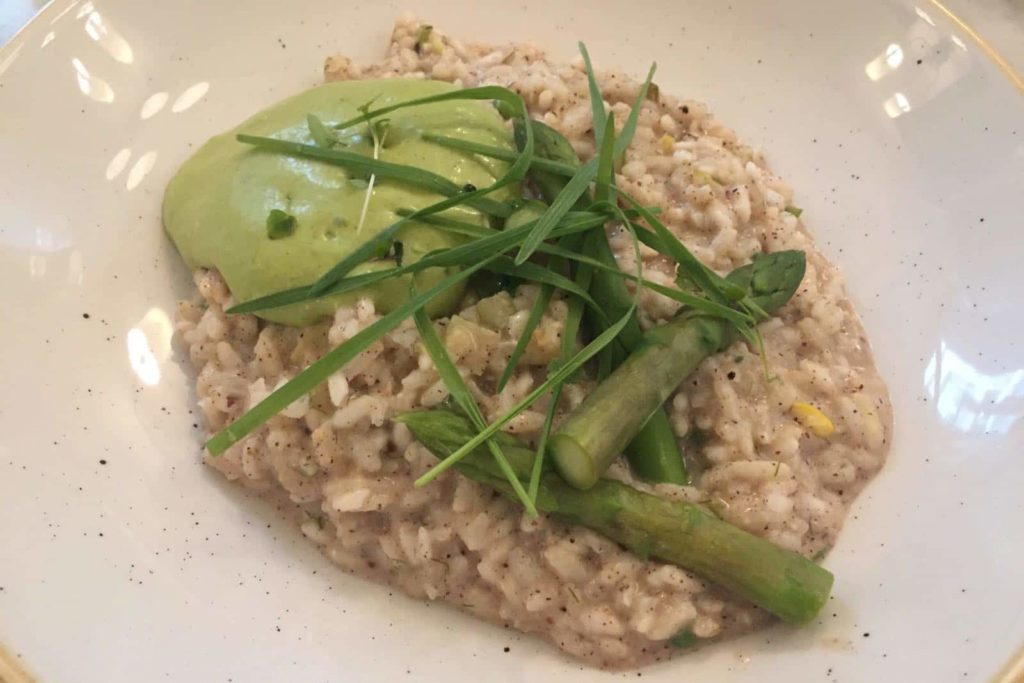 On weekends, brunch is the predominant dish with gazpacho and quinoa as the plant-based dish. The mushroom tartine can be adapted by removing the poached eggs.
Relatively simple dishes, but tasty and hearty enough.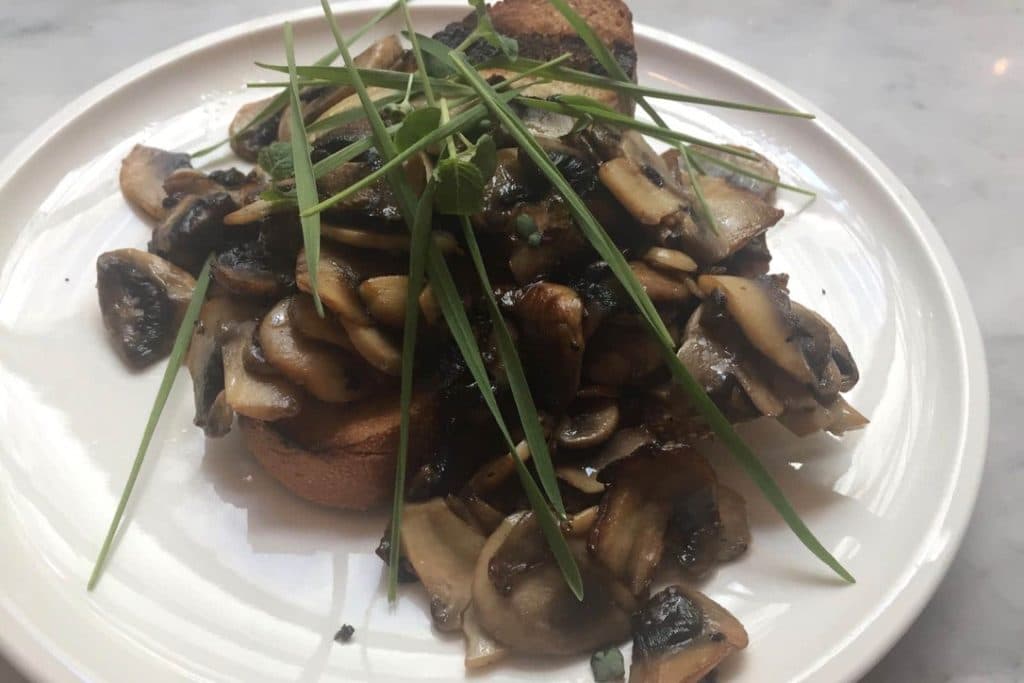 Organic and plant-based wines
The menu has the merit of also including organic wines, some of which are biodynamic (Sancerre Tournebride – Vincent Gaudry) and a plant-based wine (Côtes de Provence – Domaine Sainte Marguerite).
In particular, there are twelve labelled wines, one wine with High Environmental Value and three wines from sustainable agriculture. With a few exceptions, the wines come from independent estates, which is a good point.
The wine list is well thought out and varied, but it would be worthwhile to explain the reason for these wines to the customers.
Organic wines are symbolized by the little green leaf, while plant-based wine is symbolized by the letter V. The green leaf found on the menu is the same as that of the organic wines. This symbol is therefore not affixed in the right place and is confusing for the uninformed.
Some errors are also to be noted in the names of some wines and beers as well as in certain references which are not precise enough.
A confused but promising menu
Like any traditional cuisine restaurant that offers a plant-based offer, the experience is designed to suit everyone… except vegan.
As an example, to keep us patient, the room staff bring us bread… and butter, without asking any questions and without trying to find out whether the customer is vegan or not.
Regarding the mushroom tartine that we ask to be adapted, it is offered to us without the poached egg. But it is a pity not to offer a replacement of the egg by something else, especially since the final price remains the same.
As for the dessert, apart from the classic fruit salad and sorbet, no gourmet plant-based dessert is available. And when it comes to brunch, it is not at all elaborated to satisfy plant-based customers.
Details confirm that these menus are still confusing and clearly not intended for vegan or plant-based customers. However, at Le Rivié, the term 'vegan' is openly used and this is a major advantage over other restaurants which do not always take good care of their plant-based offer.
This is a contradiction that is still too present in these restaurants, which are surfing above all on a trend, without understanding the real issues of plant-based cuisine and without really knowing the clientele that is most concerned.
Modern and assertive, Le Rivié would however lend itself to a real plant-based menu. The place deserves a more accomplished plant-based cuisine, with in-depth work on plant-based dishes, more appropriate plant-based food and wine pairings and a real VG menu from starter to dessert, which would please to everyone … including vegan customers.
A menu full of promises, therefore, to which the plant would be particularly suitable.
Translated by Malvika Kathpal