As an attentive and committed Chef, Frédéric provides access to new experiences in corporate catering, by offering his customers simple and delicious plant-based cuisine. To celebrate the arrival of Christmas, a plant-based menu was offered to customers for the first time, in addition to the traditional menus. I interviewed Frédéric about his experience with plant-based cuisine. An interview with a festive feel.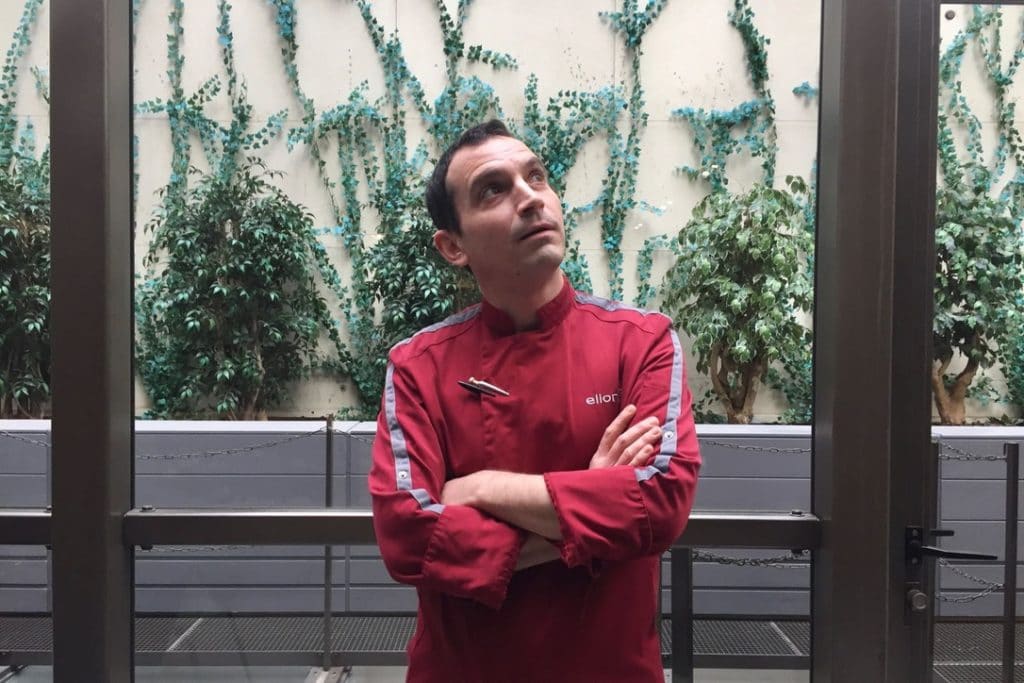 Hi Frédéric, where did the idea to offer plant-based options in this company restaurant come from?
When I arrived on the site, I had very little experience of plant-based cuisine. I thought the concept was quite trendy but I had never really been interested in it. It was through you and other food conscious people that I became aware of the importance of changing our eating habits, for us and for our children.
Can you give us some examples of the plant-based dishes you offer on a daily basis?
For starters, in addition to raw vegetables and soups, there is always a tub of lentils or chickpeas available, especially for the protein intake.
For the main course, we offer plant-based options once or twice a week. This can be tofu ravioli, lentil or chickpea patties, or home-made vegetable and starch casseroles.
For dessert, we always have soya yoghurt. And sometimes we have made chocolate mousse with aquafaba!
What was the plant-based menu for the Christmas meal?
As a starter, we prepared a polenta with wild mushrooms.
We made the polenta in water and added the juice from the sautéed mushrooms, as well as spices (curry and paprika) to spice it up. Before baking, we added the mushrooms to the mixture. Once cooked, we removed the polenta from the pan and served it on a warm plate with a salad.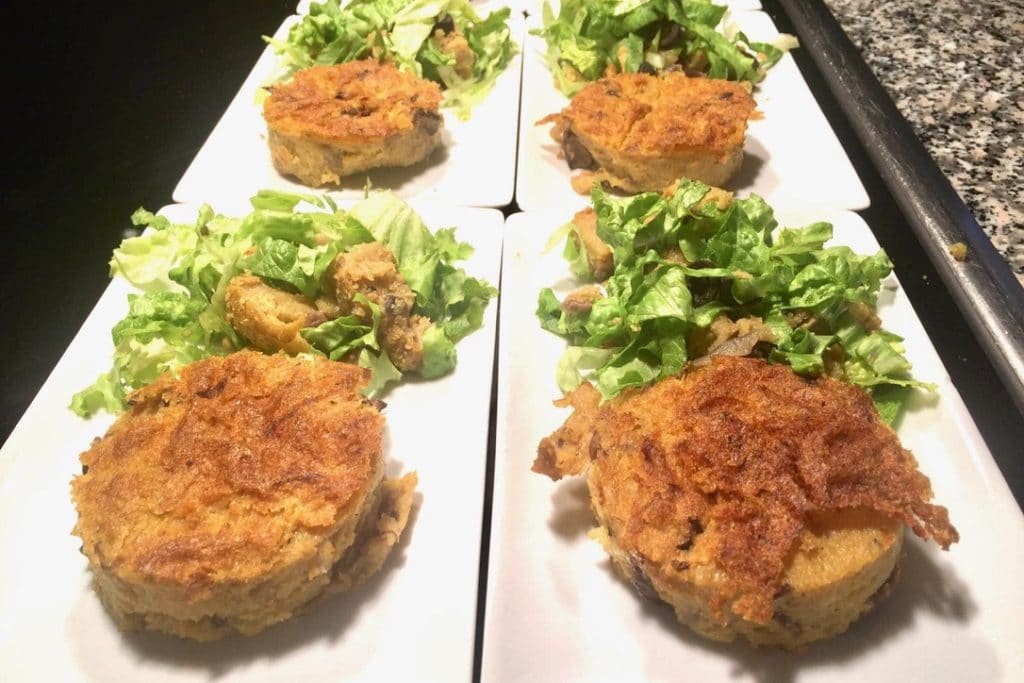 For the main course, we prepared a seitan "Pot Pie" inspired by a recipe from Marie Laforêt (100% Plant-based). Her book "Noël Vegan" helped me to build the plant-based menu and gave me lots of other ideas.
What is the feedback from customers on the plant-based offer in general?
On the whole, customers are pleasantly surprised by this offer. As long as it doesn't change their eating habits too much, they like to try different things and some are even interested in the concept of plant-based cuisine.
What possibilities does the Elior Group offer to support this approach?
We can already order organic and local vegetables thanks to the partnerships we have set up with market gardeners, greengrocers and local farmers. However, this has a relatively high cost and depending on the customer, it is not always possible to offer these quality products.
As for the catalogue of plant-based products, it is still very limited, even if some plant-based product companies are starting to be listed, such as Hari&Co or Naturdis.
Training in vegetarian cuisine is also offered to kitchen staff. I have suggested to my second in command that he attend it. The subject of plant-based cuisine is still very little covered in these training courses and Elior does not fully understand the difference between the concepts of "vegetarian", "vegan" and "plant-based". It would certainly be necessary to call on experts in the field to build a suitable training offer.
What do you like most about plant-based cuisine?
The fact that I only work with vegetal food bothered me a little at first. I thought it was empty. But I soon realised that it was just a matter of habit. You can be completely full after a good plant-based meal, and I discovered that with you, Karine!
What I like most of all is to be able to work with the raw product from start to finish, it's so pleasant.
What would you like to learn more about cooking with plants?
I would like to learn how to create the right combinations of products and to work with those that I haven't yet mastered. I don't know everything about seitan, tofu,… and I would like to be able to combine them with other things.
For the moment, I'm content to follow the technical sheets because I lack experience and I don't want to go too far off the beaten track. I'm still in my infancy and I still have a lot to learn about plant-based cooking.
What would it take to facilitate the introduction of plant-based dishes in the company catering industry?
Clearly, Elior's clients should demand this in their contracts. As long as this is not written in black and white, I think that the approach will remain marginal. So we need more committed customers.
What advice would you give to the Chefs of Groupe Elior?
To forget the fact that, without meat and fish, there is no possible meal. I say that when your appetite is good, everything is good!
Thank you to Frédéric and his team for their attentiveness and their efforts in developing the plant-based offer in companies. Thank you for this end-of-year interview!