A pioneer of fine pastry making, Pierre Hermé gave the macaroon its nobility, by imagining original associations of tastes, a signature of his pastry style. The flagship product of the House, the macaroon is for Pierre Hermé an inexhaustible source of inspiration and creativity.
Experimental and unconventional, the Chef gladly approaches the plant universe as a new field of expression and a real opportunity to imagine a one-of-a-kind plant-based macaroon.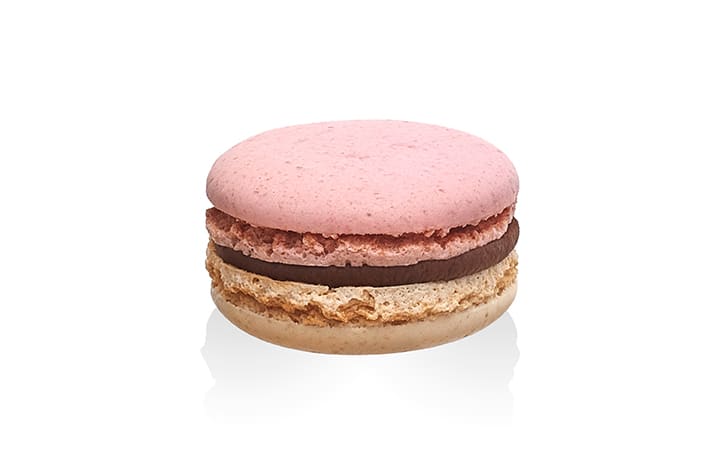 "Rose des Sables" Macaroon
Following the plant-based pastries created last spring – the Fleur de Cassis and the Rose des Sables – Pierre Hermé takes on the challenge of making a macaroon without any ingredient of animal origin.
Inspired by the 'Rose des Sables' cake, a subtle combination of toasted almonds and almond milk chocolate with rose scents, he created the eponymous macaroon. A creative approach whose starting point is always uncompromising taste and emotion.
To achieve this feat, each ingredient is chosen with the requirements that we know at Maison Pierre Hermé – proteins of plant origin (seaweed extract and potato proteins), oat milk and almond milk chocolate. Thus, from the first moment, the sweet and caramelized notes of roasted almond mingle with the aroma of the rose-scented milk chocolate ganache to reach the quintessence of taste.
Infinitely Macaroon
For Pierre Hermé, working with plant-based pastry allows him to explore new territory in terms of ingredients and creation. Plant-based pastries differ from what the House usually does, but maintains the appearance of classic pastries, inseparable from taste and pleasure.
"It's a new line of work for me, an opening towards the pastry of the future. We had to learn new ingredients and new techniques to make a delicious macaroon identical to traditional macaroons in every way." – Pierre Hermé
On the occasion of the release of the book 'Infiniment Macaron', in which he reveals the recipe for the vegan 'Rose des Sables' macaron, Pierre Hermé invites us to discover this creation, exclusively, from October 9 in his stores.
Plant-based and gluten-free, this new macaron is above all, infinitely good!
Translated by Malvika Kathpal