It is in Lyon that Mathilde and David created nüMorning with the idea of ​​transforming our breakfasts into a special moment.
nüMorning was born in September 2017 with the desire to make no compromise between gourmet products, good for the body and environmentally friendly.
While there is almost any offer of cereals for breakfast that is at the same time healthy, gourmet and varied, Mathilde and David have decided to start the adventure by creating a box of granola, to be distributed monthly.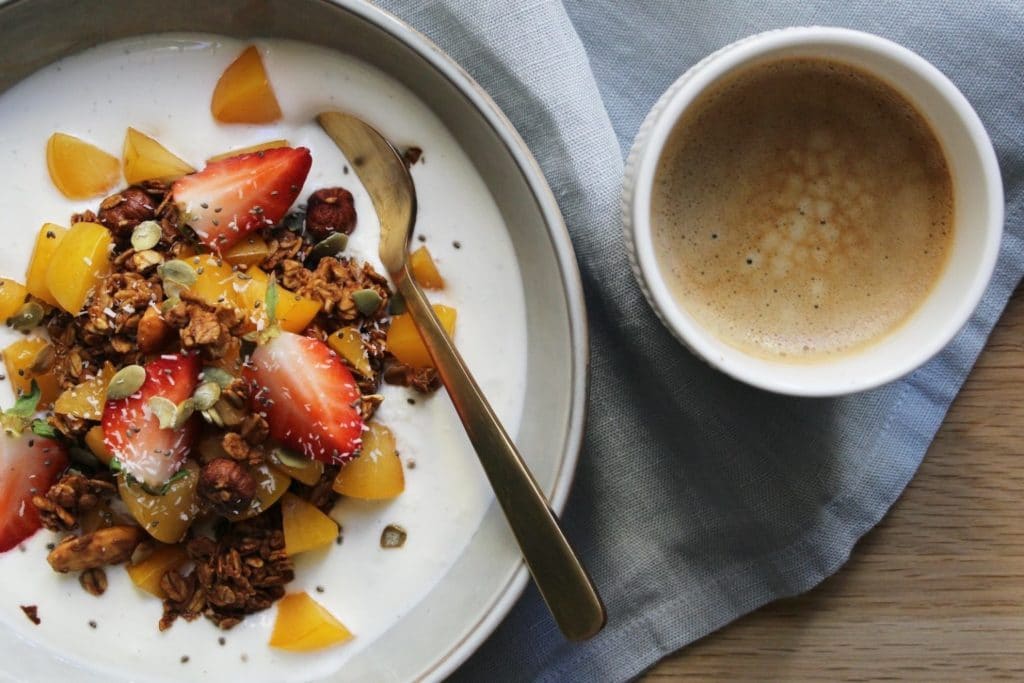 At the origin of nüMorning
Mathilde is an agricultural engineer by training. This background allowed her to develop a particular requirement in terms of nutritional quality and transparency towards consumers. The idea came to her after years spent in English-speaking countries, where oats are commonly eaten for breakfast, in granola, muesli, porridge …
David, also an engineer, is sensitive to a balanced diet, but he remains a great foodie, refusing to choose between taste and quality.
The brand name unites their two universes. From the nutritional aspect to the travel inspirations, with a reference to the Scandinavian countries, very attached to the moments for oneself, nüMorning wants to show that a 'new morning' is possible.
Granola, muesli, porridge … a variety of recipes
nüMorning offers natural, balanced and gourmet recipes around three main ranges: granolas, mueslis and porridges.
The granola range
Traditionally eaten for breakfast in Germanic countries, granola consists of cereal flakes, nuts and seeds, according to recipes. Tasted as a topping on a yogurt accompanied by fresh fruit, it brings crunch and something sweet to breakfasts, desserts and snacks.
In the nüMorning range of granolas, we find:
The Original: with almonds, hazelnuts, seeds and cinnamon
Choco Boost: with cocoa and whole sesame
Lala Lemon: with lemon and dried raspberries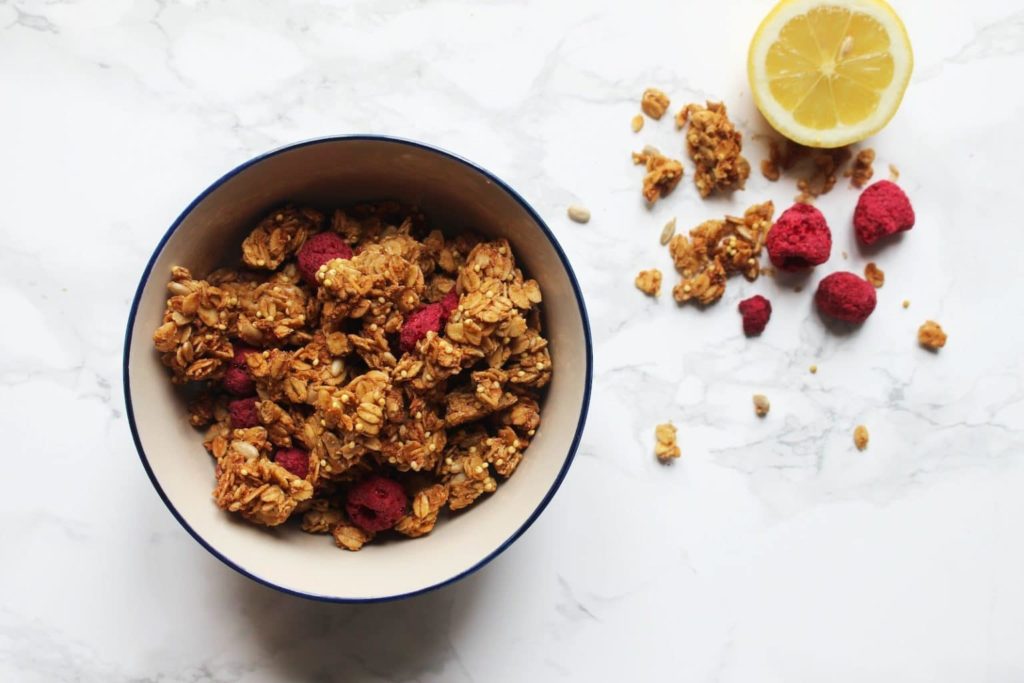 The muesli range
NüMorning mueslis contain 20% vegetable protein, provided by the cereal flakes and nuts they contain. They allow you to energize yourself and have no added sugars.
In the range of nüMorning mueslis, we find:
the Chocohuète: with chocolate chips and roasted peanuts
Forever Nuts: with slivered almonds, toasted hazelnuts and walnuts chips
The porridge range
The perfect ally for full breakfasts, porridge is rich in fibre and quick to prepare. Composed mainly of oatmeal to mix with milk and to cook, nüMorning offers it in two very tasty recipes:
Choco Coco: with cocoa and coconut
Almond Bliss: with roasted almonds
Morning Latte
A whole new range was added in February 2020 with the Morning Latte. Powdered preparations for making nutritious and gourmet drinks, by adding hot or cold milk. These preparations can also be used in pastry-making, in addition to a recipe. The range offers three variants: Original Chai, Pink Chai and Cacao-Maca.
A new spread
Since September 2020, a new product is slowly making its comeback. The arrival of the spread is built around three flavours: plain granola, choco granola and speculoos.
All the benefits of oatmeal and flax seeds are combined in this new spread which contains natural sugars in reasonable quantities and healthy products.
nüMorning has chosen to package its spreads in compostable and biodegradable jars, made in France from sugar cane fibres. This spread, therefore, marks the beginning of a healthier, greedier and more responsible consumption.
For this launch, nüMorning carried out a crowdfunding on Ulule in order to test the interest of its community for this innovation. Internet users were thus able to support the project.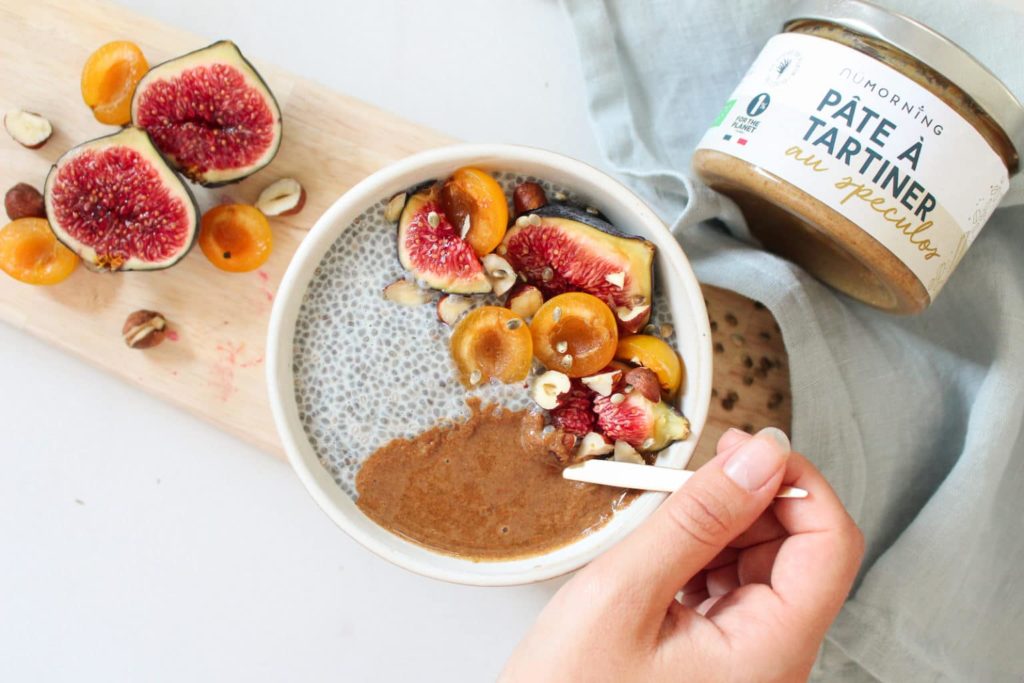 The eco-responsible breakfast
Each range of products displays both nutritional and eco-responsible commitments. All recipes are certified artisanal, organic, 100% plant-based and free from refined sugars, packaged in zero plastic packaging.
Because nüMorning places as much importance on what it puts in its recipes as its container, it has just launched a brand new 0% plastic packaging. It is a cardboard box to be recycled as well as a vegetable fibre bag to be composted.
nüMorning is also a member of the '1% for the Planet' association and is committed to donate 1% of its turnover each year to environmental associations. It thus joined an international network of entrepreneurs committed to a new economy, more respectful of people and the planet.
The nüMorning breakfasts remind us that every morning is a unique opportunity to do yourself good while respecting the planet.
Translated by Malvika Kathpal