Originally from Lyon, Violaine studied Fine Arts in Bristol before embarking on pastry making.
Following weight problems, she became interested in other ways of cooking and discovered "Raw Food". It was turning point. Eating raw and plant-based seems to her to be the solution to many of today's health problems.
In England, she organizes parties to introduce people to Raw Food in her own way. Self-taught, she is inspired by her encounters and her discoveries, a long-term apprenticeship that opens her eyes to the nutritional value of raw cuisine.
When she arrived in Paris in 2013, she joined the 42 Degrés restaurant with the mission of offering new raw and plant-based recipes. And when she left 42 Degrés a year later, it was to join Sol Semilla, a restaurant specializing in superfoods.
Little by little, the desire to create her own pastry shop made its way. She collaborated with Betty Nu food (a vegan caterer in Paris), until the moment when she decided to leave everything to devote herself to her new project. Les Petites Pâtisseries adventure began.
Les Petites Pâtisseries Raw & Vegan
After three years of work, Violaine opened her tea room in rue du Chemin Vert. Inaugurated in July 2018, the place reflects the personality of the young woman in a contrasting universe made of white and gray where pastries and flowers bring colour.
The shop offers a sweet (pies, desserts, cupcakes, chocolates, etc.) and savoury (plant-based cheeses, crackers, tarts, soups, etc.) entirely raw and vegan.
With organic, seasonal and preferably locally sourced products, Violaine strives to offer quality products.
Eating raw is a state of mind. It's about eating as alive as possible. The combination of vegan and raw is all the more interesting as these two diets have many health benefits. The important thing for Violaine is that the customers don't sense any difference when they taste the little raw pastries, but that they feel energized after having experienced them.
High-end raw pastry
Violaine experiments with her recipes according to the seasons and is inspired by traditional French pastry. She plays on the culture of beauty and aesthetics, which is specific to France, to create a unique universe of fine raw and vegan French-style pastry.
To make the high-end plant-based pastry, drawing inspiration from tradition is essential. It is necessary, among other things, to play on qualitative details to make the whole thing prestigious.
The pastry Chefs that Violaine admires the most are Pierre Hermé, for the excellence of the French pastry that he embodies, Claire Damon for her delicacy and her refined style, but also Cédric Grolet, for his universe and his technicality – the work of a goldsmith, meticulous and simple at the same time, which reminds Violaine of her drawings at the Beaux-Arts and inspires her in her creations.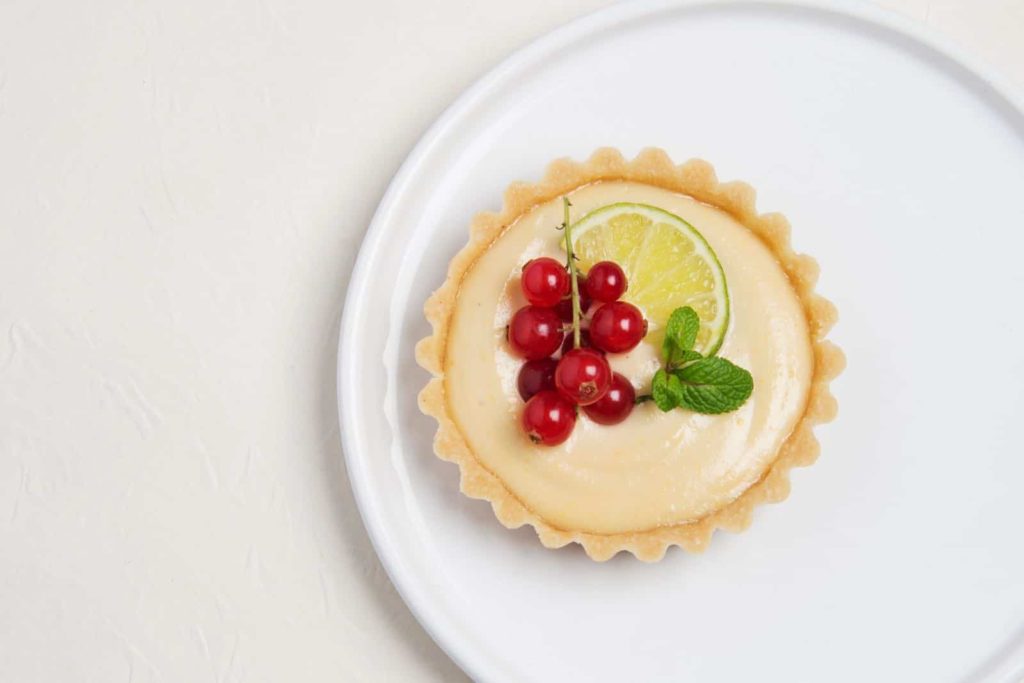 For traditional chefs who want to try raw pastry, the real challenge will be to remain objective and attentive. This is a major challenge, but one that will allow Chefs to discover the secrets of raw and plant-based food and make it more accessible.
With Les Petites Pâtisseries Raw & Vegan, Violaine Bergoin proposes a new tone and encourages professionals to come and try the experience.
Translated by Malvika Kathpal