Nour Akbaraly is an engineer by training. After an experience in consulting, he turned to food innovation. Passionate about plant-based food, Nour was inspired by innovative companies in Europe and North America to find his challenge. From his experience and his desires was born the idea of launching an initiative that brings together plant-based food and innovation.
Innovative cheeses
In 2016, Nour devoted himself fully to his project and realised that there was something interesting to be done around cheese alternatives. He learns about manufacturing methods, maturing processes, and works on the possibilities that would allow him to acquire an advanced technique to achieve excellence in taste and quality.
At the beginning of 2017, Nour joined the AgroParisTech Institute and the Food Inn Lab, the incubator for innovative start-ups in the field of food, which gave him the means to give shape to his project. Les Nouveaux Affineurs team was born. Today, it consists of five people who work closely with food industry professionals.
With research and development as its primary vocation, Les Nouveaux Affineurs is constantly working on new ingredients and product possibilities. The plant dimension provides a very broad field of research that allows the scientific literature in this area to be enriched. This is a new path to innovation that Les Nouveaux Affineurs is happy to take.
Refined products of character
The range currently consists of three products known as "affinés végétaux":
L'affiné d'Albert: with a bloomy rind tinged with rust and a spicy finish, this is a mature cheese with character.
L'affiné de Margot: with a white colour and a supple texture, this is a mild and delicate cheese.
L'affiné de Germain: golden and unctuous, with yeasty and subtly fruity notes, this is a mature cheese that smells like sourdough.
Without additives, preservatives or artificial flavours, the brand uses noble raw materials and quality products. The ripened cheeses are made with organic cashew nuts or soya, which are particularly interesting in terms of nutrition.
The desire of Les Nouveaux Affineurs is not to create an elitist product, but to guide the consumption of these products through taste.
For Nour, if taste is indeed one of the main ways to bring consumers towards another form of food, education and the trivialisation of the plant-based offer are also important. The current availability of plant-based products allows everyone to discover new products without having to look for them. The presence and character of these new cheeses are already changing the food landscape and encouraging us to take a new look at this key product of our gastronomy.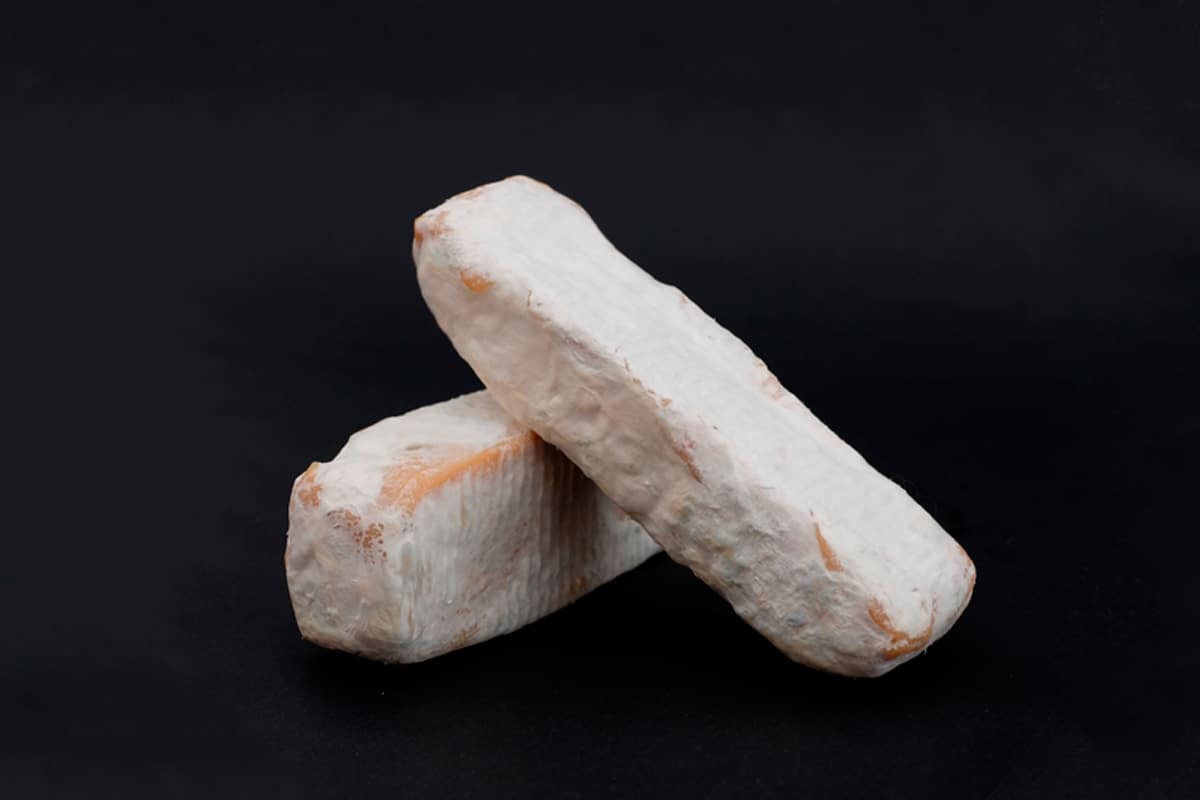 Serving gastronomy
Gastronomy, plants and innovation are the values that Les Nouveaux Affineurs stand for. A combination that allows them to follow the evolution of French gastronomy.
Traditional cheese is an emblematic product characterised by its great diversity. Les Nouveaux Affineurs seek above all to create hybrid products to complete the cheese offer by adding new references that respect the gastronomic standards.
While we are still wondering what the Top Chefs are missing to put plant-based cheese on the menu, Les Nouveaux Affineurs wish above all to accompany the evolution of French gastronomy so that it becomes a leader in plant-based food.
Because gastronomy is also a way to convince. Chefs can change mentalities by bringing innovation to the kitchen, and plant-based cheese is a great opportunity for them.
An expanding offer
It was at the 2018 Salon de l'Agriculture that Les Nouveaux Affineurs introduced their products to the general public, followed by the VeggieWorld Paris exhibition. A presentation of the brand to a varied audience with very positive feedback.
The next step is to use the distribution networks to sell the cheeses to the general public. Les Nouveaux Affineurs are continuing their adventure through a fundraising campaign on Ulule, to finance equipment adapted to industrial production.
With an ever-increasing demand, plant-based cheese is growing rapidly. In France, there are now about ten brands that are surprising people with new cheese offerings. Les Nouveaux Affineurs are already part of this growing family of plant-based cheese and their success will no doubt be in line with the new gastronomy they want to represent.
Translated by Malvika Kathpal