Near the mythical forest of Brocéliande, in Sixt-sur-Aff in Brittany, is the Amante Verte. Both creator and producer of exceptional 100% organic herbal teas and infusions, the concept is based on a shared passion for nature and taste.
An incredible diversity of aromatic and medicinal plants is spread over two hectares. Gastronomic herbal teas and infusions are created in an artisanal, ecological and virtuous manner.
A confidential production for high dimension tea
Claire and Adrien Poirrier are the creators of l'Amante Verte. Passionate about gardening and cooking, they wanted to take tea out of its medicinal and outdated cliché. From the day they met, was born a brand of teas out of the ordinary. And it's a success. Today, l'Amante Verte herbal teas offer the quintessence of their flavour to the great pleasure of gourmets.
And the great chefs are not mistaken. Organic, ultra qualitative, gastronomic, l'Amante Verte herbal teas can be found on the menu of prestigious hotels and restaurants, such as the Plazza Athénée by Alain Ducasse, Jean-François Piège's Clover Shop or in the restaurants of Eric Guérin, Anne-Sophie Pic, not forgetting the delicatessens.
Harvested from April to October depending on the species, the plants are immediately put through a high-tech dryer for an average of twelve hours at low temperature. This custom-built machine, which uses CFT drying/preservation technology, preserves all the organoleptic properties of the plant (colour, essential oils, benefits) so that it remains fresh when rehydrated.
Production remains confidential (250 kg of dried plants are obtained for 5 tons of fresh plants), which gives l'Amante Verte a rare effect.
The art of tuning a tea
Thymes, oregano, marjoram, rosemary, verbena, angelica, shiso, various mints, basil, sage, wild fennel, camomile, calendula, marshmallow, cornflower, yarrow… and other beneficial flowers…. Claire and Adrien are aromatic alchemists.
To compose their teas and infusions, they make taste matches, seeking the right balance between the top, middle and bottom notes, as it would be for a wine or a perfume. This is the work of a true artist, meticulous and patient in order to achieve, in the end, the perfect match.
Claire and Adrien offer a dozen blends, among which we find :
The "Ardente" infusion, made with cinnamon basil, savory, angelica and monarda.
The "Frisson" infusion with thyme, hyssop, elderberry, mallow and sunflower, powerful and balsamic.
The "Lâcher prise" infusion, made with verbena, camomile and eschscholtzia is relaxing and soothing, ideal for preparing for sleep. 
The "Vitality" herbal tea, made with nettle, bergamot mint, lemon thyme, yarrow and calendula, is a tonic blend that replaces tea or coffee. 
The "Légèreté" infusion is an airy, gourmet blend of oregano, spearmint, purple basil, fennel and marshmallow, to finish your meal in a light-hearted way.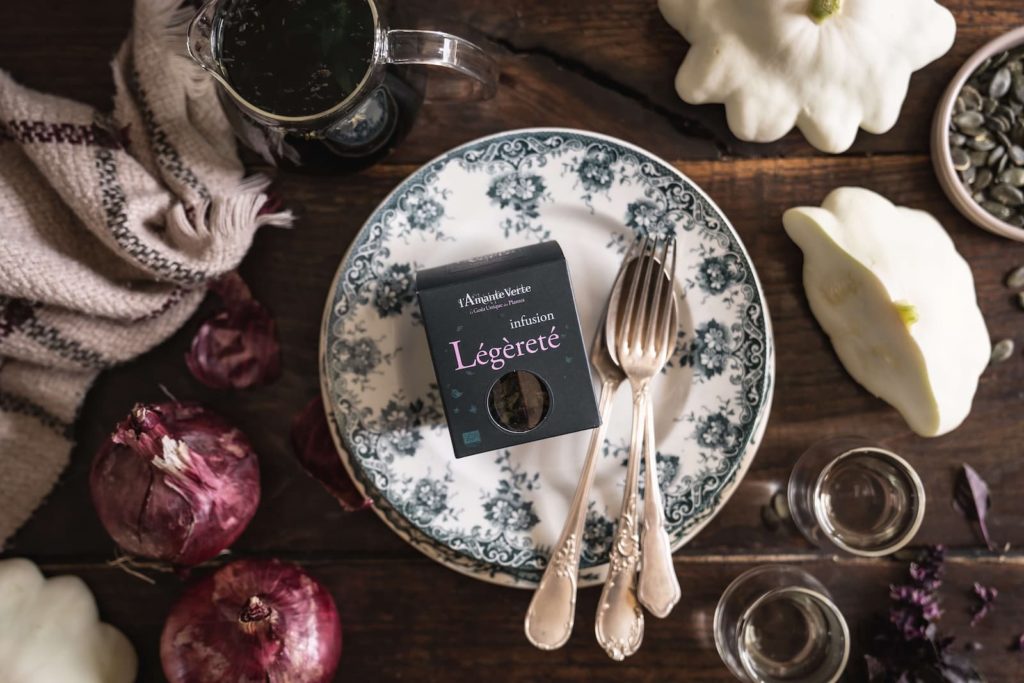 Tailor-made teas
L'Amante Verte also offers assistance in the creation of tailor-made gastronomic infusions as well as personalised organic herbal teas from a range of selected plants.
For hotel and restaurant professionals, L'Amante Verte also provides training in the specificities and art of infusion service, to enrich the customer experience. This is the perfect way to discover this unique world of natural scents.
Learn more :
Address : L'Amante Verte – 7 La Châtaigneraie des Landes – 35550 Sixt-Sur-Aff
Web site – Facebook – Instagram