Created in 2020 by Maëlle Allegrini, La Bourgeoise offers a range of pure origin coffees in beans or ground. The company works closely with small-scale producers and favors sustainable agricultural practices for an ethical and responsible specialty coffee.
At the head of La Bourgeoise, there is Maëlle. The story of her company began during a trip to Puerto Rico where she discovered specialty coffee. Immediately won over, she decided to make it her core business. After training with the greatest, through her travels in Colombia and Australia, she brought this know-how back to Marseille.
Specialty coffee, a guarantee of quality
La Bourgeoise works on 100% traceability for greater clarity. The coffees that the brand selects are what we call specialty coffee, a sector that is only about ten years old in France but in full maturity.
But what is specialty coffee? It is simply a high quality coffee (rated from 80 on a scale of 1 to 100) produced sustainably in accordance with nature.
Indeed, it is not only the great epicureans who are looking for the coffee of excellence, but thousands of people, companies, from the very small to the very large, luxury hotel chains, restaurants of all kinds, bakeries and pastry shops … lovers of very good coffee!
Fair trade and eco-responsible coffees
La Bourgeoise offers a selection of coffees from small cooperatives, from the four corners of the world, while following the seasons of the harvests. Brazil Daterra, Mexico Chabela, Ethiopia Zezalem, Colombia La Pradera… Maëlle works with local companies and selects its coffees in order to respect its values and commitments.
In bean or ground, from 250g to 1Kg, La Bourgeoise coffees are above all fair trade and eco-responsible.
They can be purchased alone or as a monthly subscription, according to your desires of the moment.
Maëlle pursues her approach to the end since all the coffee bags are 100% recyclable. She wishes to show that it is possible to consume good coffee, in a respectful way and to the heart of Provence.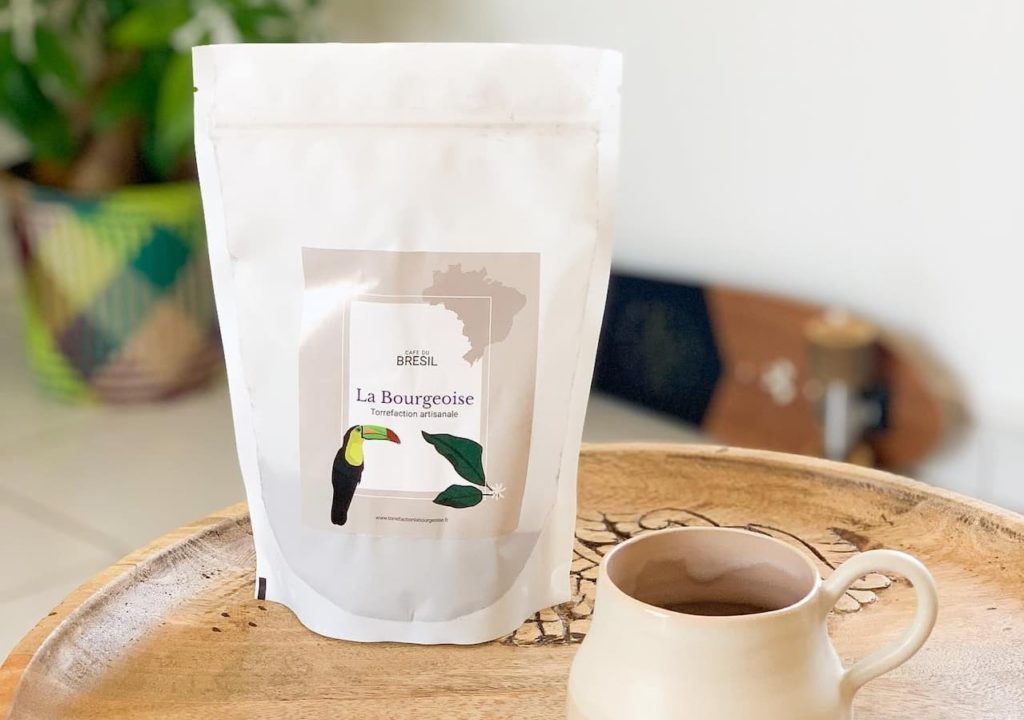 La Bourgeoise accompanies your coffee selection
Whether you are an amateur or an expert, La Bourgeoise accompanies you in the world of coffee with practical advice, to be read on the blog.
From the flavour chart to the roasting methods used, La Bourgeoise's articles are full of tips and information to help you learn more about the little roasted bean.
With all these cards in hand, specialty coffee will no longer hold any secrets for you!
---
Learn more
Website – Instagram – Facebook
The La Bourgeoise coffee range is available on e-commerce but also in some local stores.