For the Chef, this is a way to pay tribute to the vegetables he loves to work with, and to introduce a new style of cuisine in which he continues to be inspired.
100% plant-based dinner
For this February dinner, we start with a tarama of green lentils from Le Puy and seaweed from Pornic, accompanied by sesame crackers and a shot of cucumber. A sweet and light appetizer that sets the tone, all in freshness.
As a starter, we are served the first green asparagus from Piolenc, accompanied by small hints of cream with silky tofu, basil, coriander, rosemary and local lemon. A perfect marriage of flavours and textures.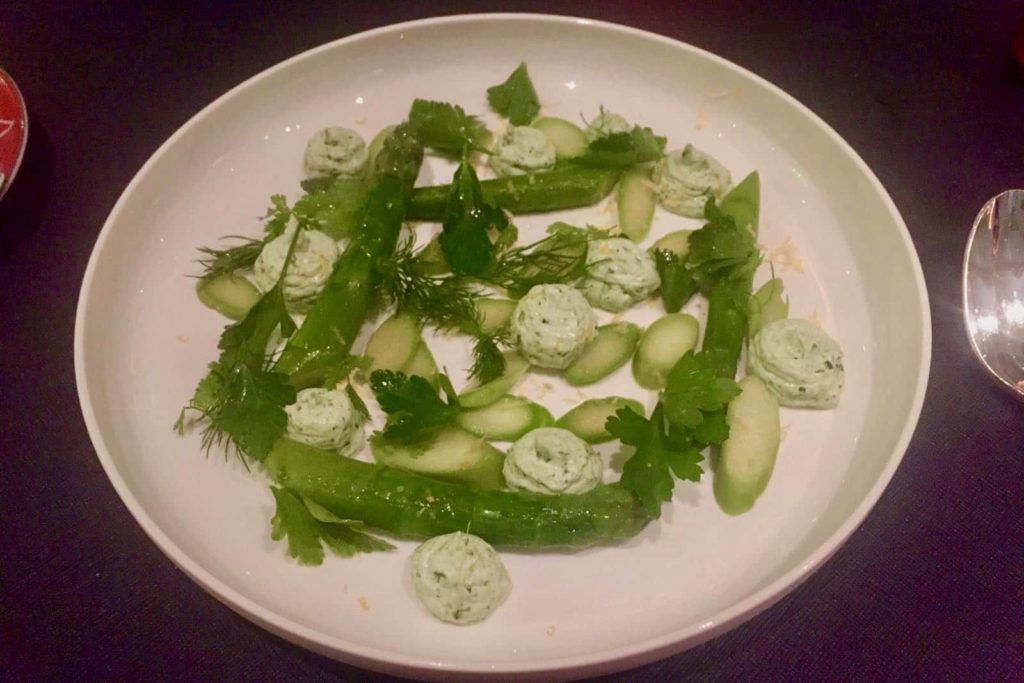 The next dish warms our hearts on this winter evening. With its simple appearance, the cauliflower velouté and its donut florets hide a pure wonder. At the bottom of the plate, we pick pearls from Japan, which gently melt into our palates. Time stands still, the tasting is long because every moment is precious in this unique dish.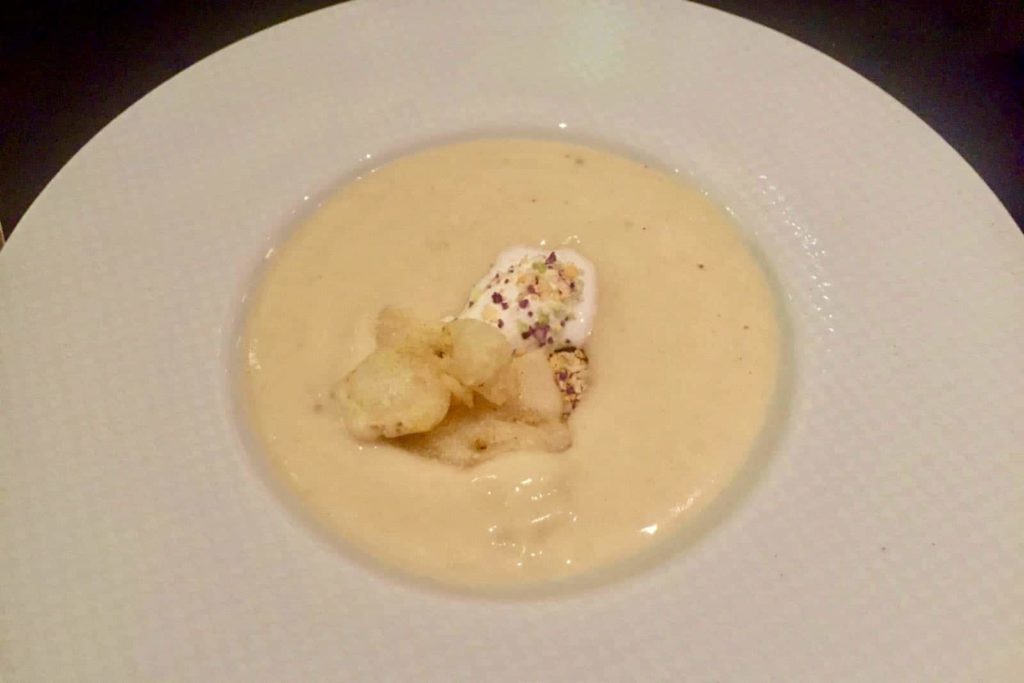 The black truffle pizza ends the delicious parade. Here, mushrooms are king. You can smell the raw product, the earth and the full flavors.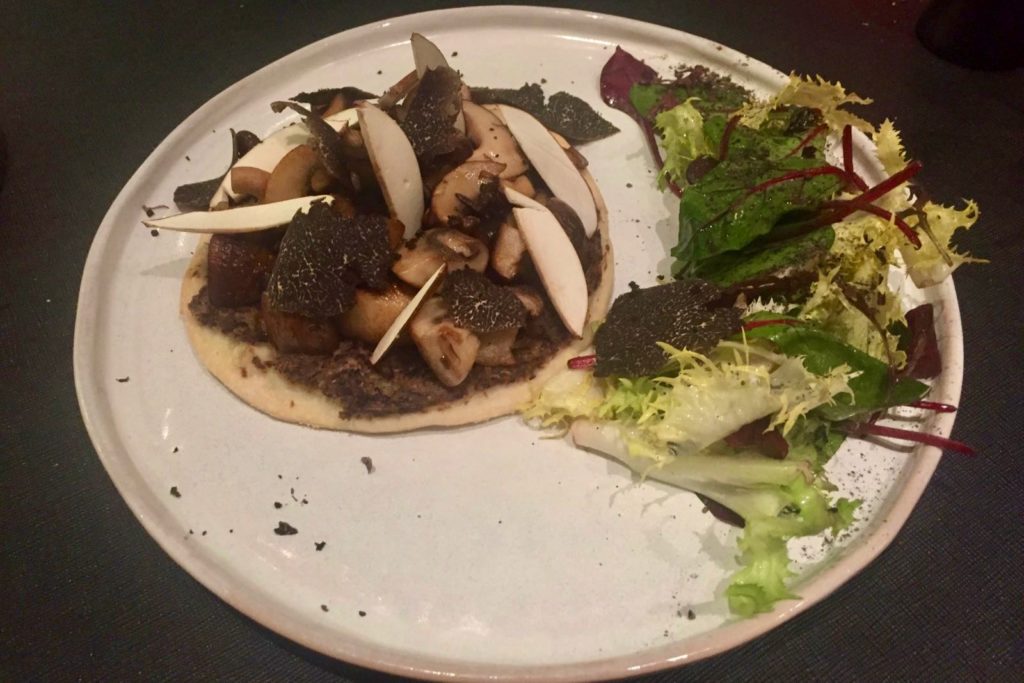 For dessert, it's an exotic vacherin that sweetens us, with an aquafaba meringue and a mango insert. The temperature at which it is served to us is ideal, since it provides the palate a perfect play of texture.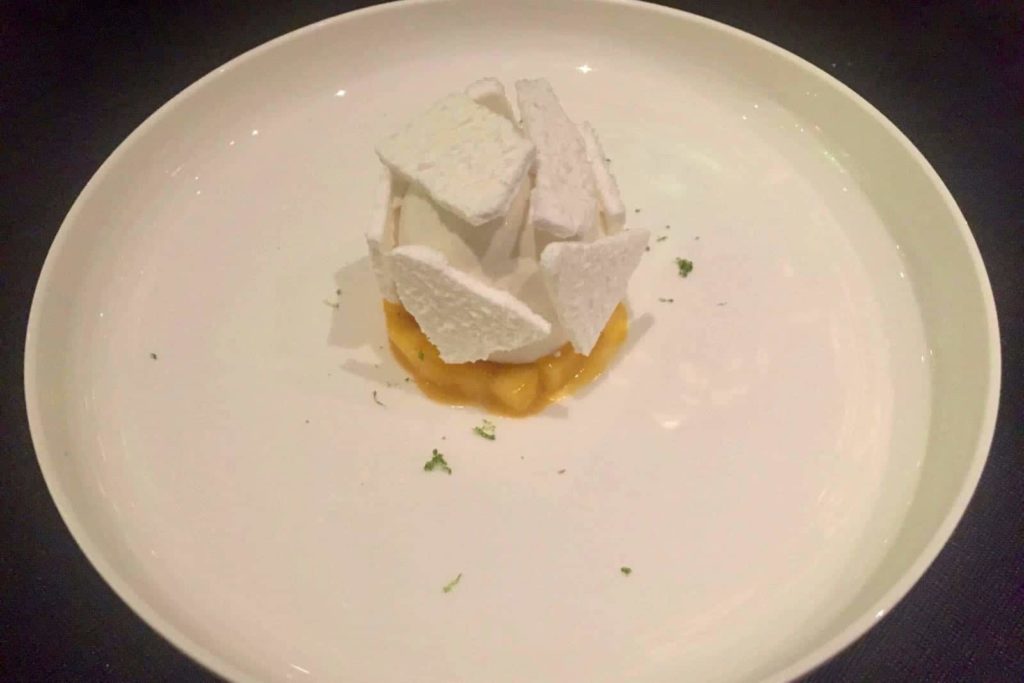 An elegant and committed cuisine
Christophe Moret is the first Michelin-starred Chef to have created the concept of 100% Green dinners every first Thursday of the month and a vegan afternoon teatime that quickly came to complete the offer.
The Chef is passionate about working with vegetables and has a deep attachment to the products of the earth. The objective of the Green dinner is to reconcile plant-based cuisine and pleasure, while bringing together the values ​​dear to Christophe Moret. There is no doubt that his work of excellence is felt at every moment in these elegant dinners. And although this is only the beginning of a new culinary style, the Chef has already figured out what it is all about.
Translated by Malvika Kathpal