Together, they decided to create a common project which was born in 2007. At just 25 years old, they opened the Artisan Passionné chocolate and pastry shop in the heart of Angers.
A story of passion
Very quickly the success is there and Artisan Passionné becomes an essential address in Angers for high-end pastry. Aurélien's gourmet creations combine authenticity and originality. He likes to play with textures to create delicate and balanced pastries.
In 2012, they opened a second establishment in Cholet and in 2016, they created a production laboratory in which Luc and Aurélien developed their new creations. The factory of Artisan Passionné was born.
The Vegan Mango
For the past five years, Artisan Passionné has been interested in "free" pastry (gluten-free, lactose-free). Aurélien has developed a range of cakes that responds to different intolerances. And this year, it's the turn of plant-based pastries to make their entrance.
Aurélien confides that he has carried out research and testing for several months to make this dessert a success. A challenge that he wanted to take up to meet growing demand from customer.
"We had to eliminate all products of animal origin and replace them with ingredients of 100% vegetable origin while maintaining the creativity and delicacy of the "Artisan Passionné "pastries. Almond milk has replaced cow's milk. At the tasting, we do not make any difference with the classic pastries of our range. The pastries are even lighter."
This cake called Mango Vegan is composed of a hazelnut crunch, a soft chocolate biscuit, an Alfonso mango confit (AOC), a creamy filling and chocolate mousse (Peruvian origin).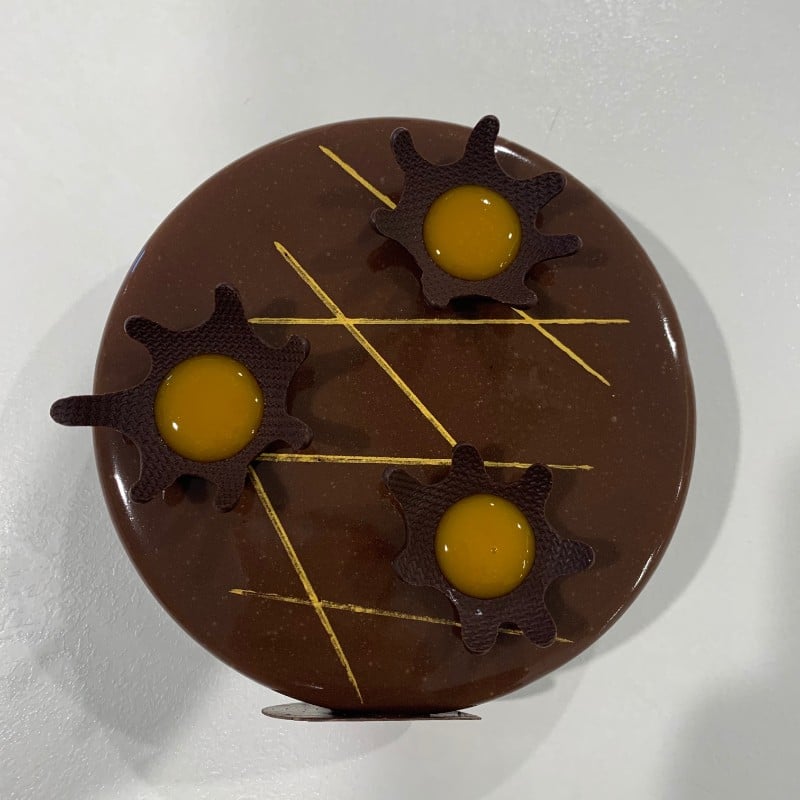 The Mango Vegan is available almost every day, in rotation with the other cakes in the store. Individually or as a cake format for 4, 6, 8, 10 people (and more if you wish!), Mango Vegan can easily be ordered in advance.
This new dessert naturally integrates the current range and is now an integral part of the collection.
A new turning point in pastry making
Artisan Passionné is part of the Haute Pâtisserie association "Relais Desserts" which welcomes around one hundred pastry Chefs around the world. Recently, the vegetable theme has been a regular topic of discussion, leading the Pastry Chefs to think about new techniques and to create original proposals.
Plant-based pastry is slowly gaining its place within traditional pastry shop and customers are happy! 
The first feedback on Mango Vegan is positive. People are generally curious about this novelty and pleasantly surprised by the taste. In Angers, restaurants are even starting to take an interest in the work of Artisan Passionné, to such an extent that some establishments are ordering Mango Vegan to integrate it into their dessert menu.
Aurélien would now like to develop the range of plant-based desserts and his next project could well be on the Yule log. We can hardly wait for winter to arrive!
Translated by Malvika Kathpal