The plant-based range
Launched in 2017 at Sirha in Lyon, the Délifrance plant-based range was nominated for the Sirha Innovation Grand Prix
and received rave reviews at the fair. Here is a quick overview of this very French and very plant-base
The spelt quinoa croissant

Made from spelt flour and wholemeal flour, this croissant has a soft crumb and is a source of fibre. Sprinkled with plain and caramelised quinoa seeds, its topping adds a sweet touch. A perfect croissant to eat for breakfast or as a sandwich. This croissant won the SIAL 2016 innovation award for its visual and taste quality.
The oat croissant

Made with wholemeal flour, this croissant is richer in fibre. The crumb also contains sunflower, poppy and brown flax seeds. The topping consists of oat flakes.
For both products, choices have been made to keep production as natural as possible and to respect the healthy aspect. Without any chemical additives, the plant-based croissant is also half as caloric as a classic croissant.
The gluten-free range
Also launched at Sirha 2017, the gluten-free range consists of a selection of breads and muffins. As gluten-free products are more sensitive to work with, Délifrance guarantees a dedicated production line without any cross-contamination.
The breads are made from rice, carob or buckwheat flours, and are available in two products: white bread with rice flour or carob flour, and bread with seeds and buckwheat.
The muffin range is made from rice flour and is available in four products: the classic plain muffin, the muffin with red fruit filling, the peach muffin and the cocoa muffin.
Lancée également au Sirha 2017, la gamme sans gluten se compose d'un assortiment de pains et de muffins. Les produits sans gluten étant plus sensibles à travailler, Délifrance garantit une chaîne de production dédiée sans aucune contamination croisée.
Les pains sont élaborés à partir de farines de riz, caroube ou sarrasin, et se déclinent sous deux produits : le pain blanc à la farine de riz ou farine de caroube, et le pain aux graines et sarrasin.
La gamme de muffins quant à elle, est élaborée à base de farine de riz et se décline sous quatre produits : le muffin classique nature, le muffin fourré fruits rouges, le muffin pêche et le muffin cacao.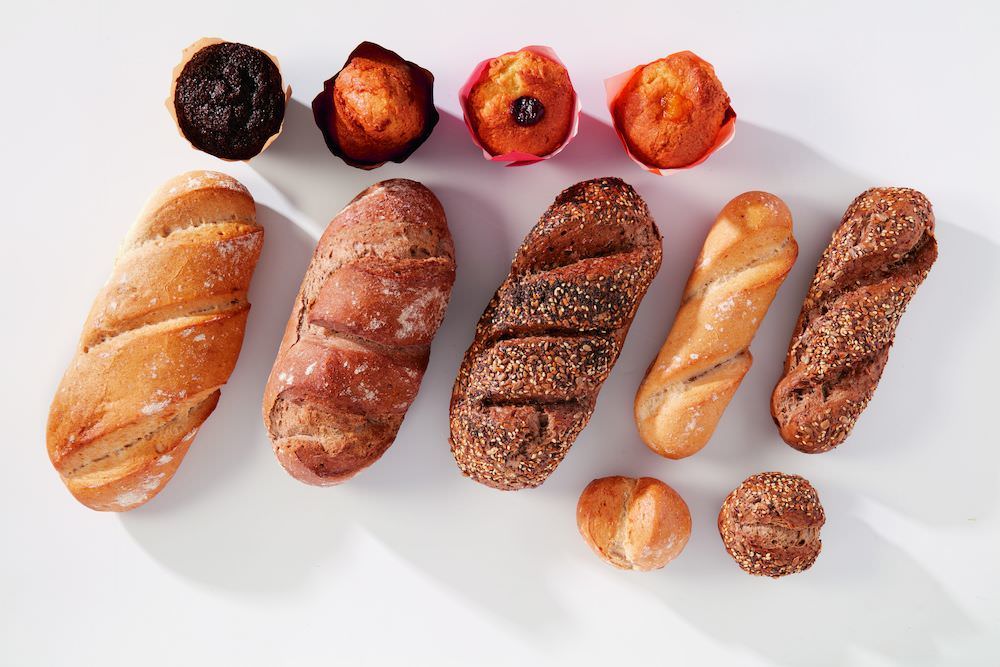 The healthy range
The plant-based and gluten-free ranges are part of the healthy range which includes many other products. A healthy range with the guarantee of less sweet and less fatty products.
In the healthy range, you will find baguettes rich in fibre and "Bleu Blanc Coeur" cakes rich in Omega 3 and an organic range consisting of a croissant, a pain au chocolat and breads using French organic flours.
What next?
For the moment, Délifrance does not have any other pastry projects for the gluten-free range. But new products are coming in the plant-based range. In a few months, we will be able to find a croissant filled with blueberries and a mini-croissant. The brand is also thinking about creating plant-based choux pastries and tarts, but you will have to be patient!
An interest from Top Chefs
Chefs are starting to take an interest in these new products, which bring food diversity to their customers and novelty to their menus. Délifrance is working with certain Chefs and Meilleurs Ouvriers de France (MOF) who are coming up with interesting ideas for accommodation.
So beware, informed consumers, you will probably see these new croissants in breakfast buffets and other catering outlets.
As for professionals who are interested, you can contact the person in charge of the "viennoiseries" category at Délifrance France on 01 49 59 29 23.