An elegant menu
Jérôme Clavel has been offering a plant-based menu, à la carte in his restaurant, since 2017. A choice he is proud of and that he assumes without hesitation.
The menu comes in five courses and begins with a spoonful of kiwi, spelled and coconut tartare. A pleasant composition on the palate where the crunchiness of the spelt mingles with the freshness of the fruit.
Next comes a verrine of guacamole, crushed tomatoes, small vegetables, accompanied by a breadcrumb of chickpeas and a spoonful of pea mousseline, Granny Smith apples, fresh herbs, yuzu pearls and Cubeb pepper.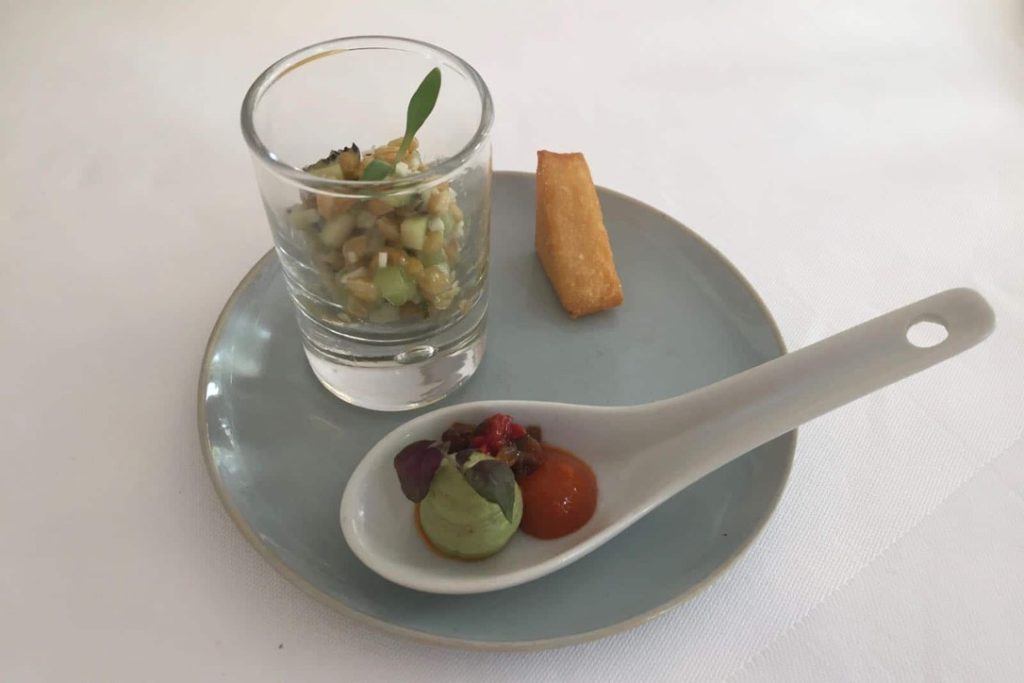 As a starter, the barigoule asparagus is placed on chickpea hummus pearls. This is a simple dish that nevertheless combines tastes and textures in a subtle way. Also noteworthy is the search for a nutritional balance with the contribution of proteins, important in plant-based creations.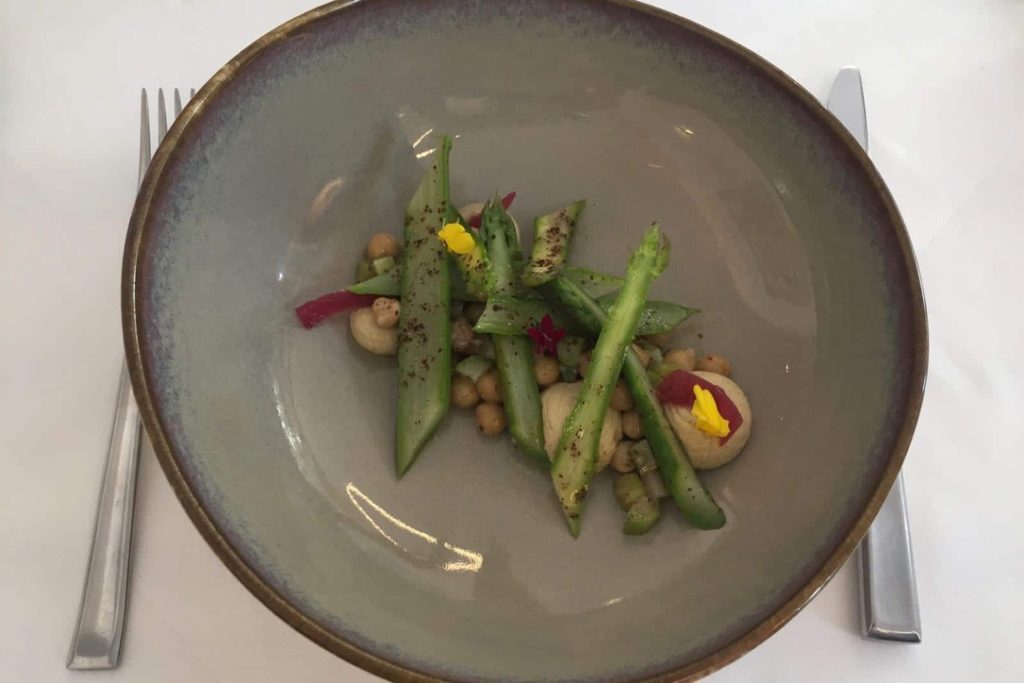 For the main course, the homemade gnocchi is mixed with a turmeric emulsion, and served with barigoule artichokes, baby vegetables and fresh sprouts.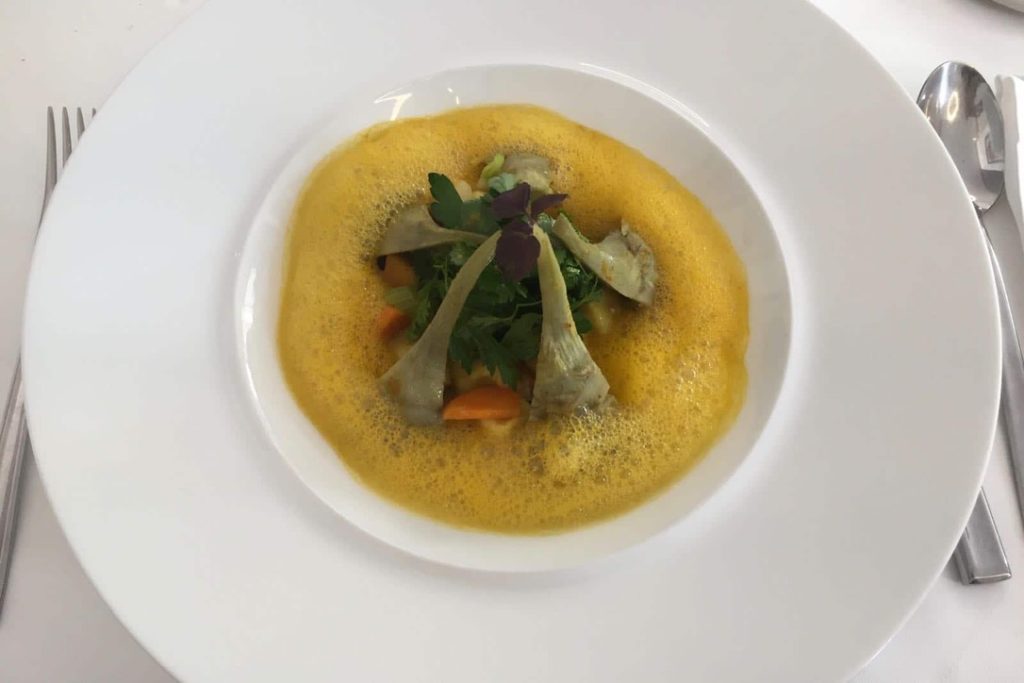 The broth brings a lightness to the softness of the gnocchi. The two elements blend perfectly and melt delicately in the mouth.
For the end of the meal, finally a real dessert on the plate, refined and gourmet. A rhubarb and red berry dessert, with raspberry jelly and rhubarb sorbet on an almond powder biscuit.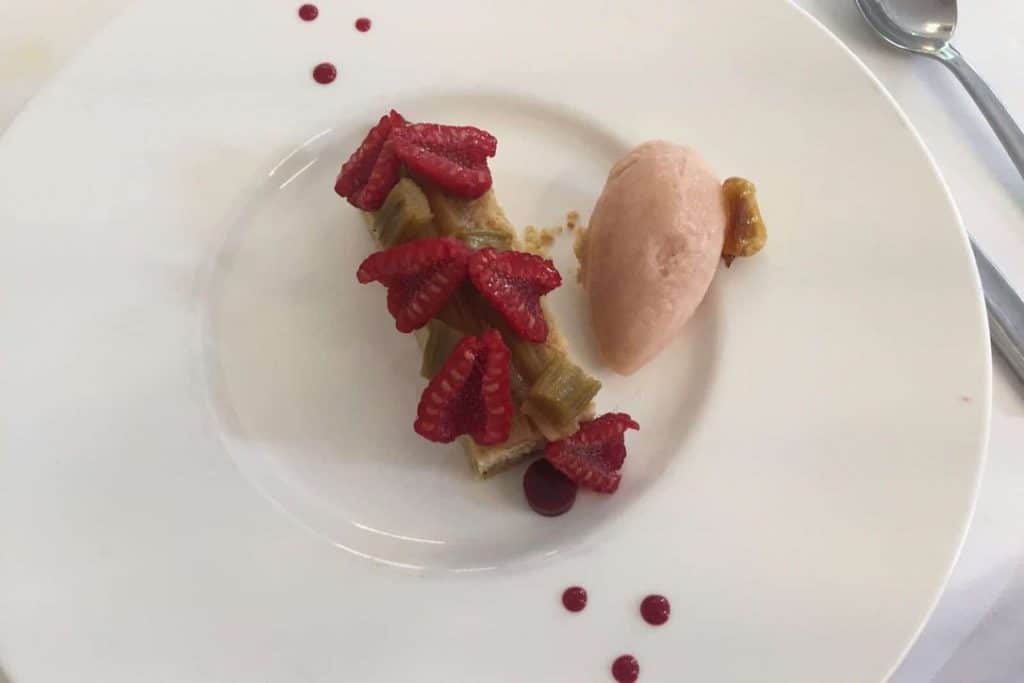 A plant-based menu assumed
For Jérôme, it was above all the challenge that pushed him to create this plant-based menu, but also the requests, which are increasingly numerous in the region.
It all started with American customers who asked the Chef if it was possible for him to make a plant-based dish. Jérôme took up the challenge and the feedback was very positive.
It was when Jérôme met Willy Berton (Chef of the Vegan Gorilla restaurant) at Etoiles de Mougins, a meeting that encouraged him to take the plunge and offer a vegan menu of his own.
An eco-responsible approach
At 44, the Chef has a global approach. Attentive to waste, it uses recycled or recyclable materials. He gives preference to local and seasonal products, from sustainable or organic farming as the case may be. As for the bread, it comes from the traditional Jean-Paul Veziano bakery, well known in Antibes.
As for drinks: the wines are mostly organic or biodynamic, with a selection of white wines and red wines from Sainte-Marguerite. The coffee comes from a local roaster "La Torref de Fersen".
No need for pageantry when you have the taste
"The Chefs have not taken the measure of the creative and economic potential of plant-based cuisine".
For Jérôme Clavel, a plant-based menu is not a constraint but a way to offer people something different. Chefs just need to take the time to understand this new cuisine and the customers who demand it.
"Before going into plant-based cuisine, you have to get the facts, do personal research, but also go and see what is being done elsewhere and talk to professionals who already have this knowledge". This is what Jérôme did. He understood that it doesn't take much to create beautiful things.
Today, the plant-based menu at 44 does not need any pomp because it is tasty, but also and above all because it is made with emotion, honesty and simplicity.
Translated by Malvika Kathpal