Vegan at heart, Louise started out in the world of traditional pastry making before embarking on her own adventure. After having studied communication and management, she decided to give a turning point to her career and passed her CAP Pastry.
Due to a lack of State-recognized diploma in plant-based pastry, she was forced to take this more conventional path before joining La Commune, in September 2018. This place, which she describes as "halfway between an incubator and co-working space " allowed her to make her first step in the field of plant-based pastry.
In July 2020, Louise decided to open her own establishment in the Lyon district of Croix Rousse. Zoï was born with the aim of reconciling ethics and gluttony. With this in mind, the young woman works mainly locally, organically whenever possible and with seasonal products.
Plant-based and gourmet creations
"I wanted to create an offer that could suit everyone because, as a vegan from Lyon, I had put a cross on pastry", Louise confides.
For her, pastry brings the French together. The Yule log, birthday cakes or even the 'galette des rois' are all convivial moments that we like to share together.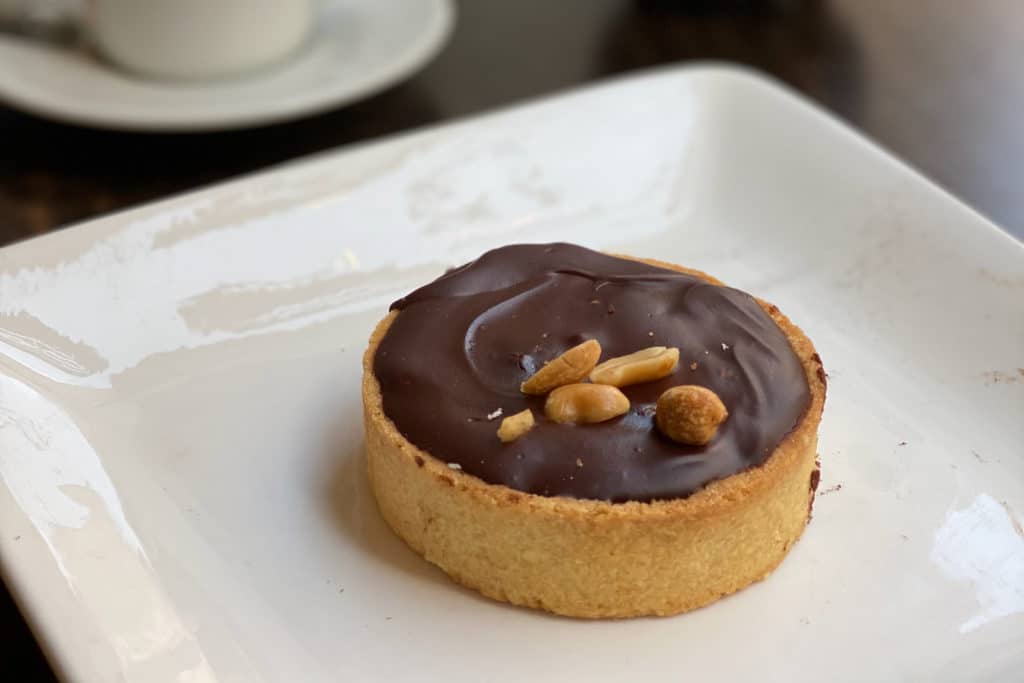 At Zoï, there is no question of stamping products with a vegan label. She wants to highlight their gourmet character without flaunting their plant-based origin.
"I don't want people to be influenced when tasting, I really want to get their raw feedback."
And precisely, at Zoï, what do we eat?
Originally, Zoï's menu was quite small, in order to give its founder time to develop the necessary techniques. She had to overcome a few challenges, such as choux pastry or shortbread, which gave her a hard time. Over time, Louise has perfected her know-how and today offers a wide range of pastries, each more tempting than the last.
One of her biggest successes is the tiramisu pie: more gourmet would be outrageous! Take a crunchy shortbread pastry, a cookie soaked in coffee, add a hazelnut praline (made by the local artisan) and a coffee mousseline (roasted on-site) and you will get this little wonder.
The rock is also a hit in the store. This cake is made from a sponge cake composed of a whipped cream of cocoa and a "runny-crunchy" hazelnut insert, all topped with a chocolate shell garnished with roasted hazelnut chips.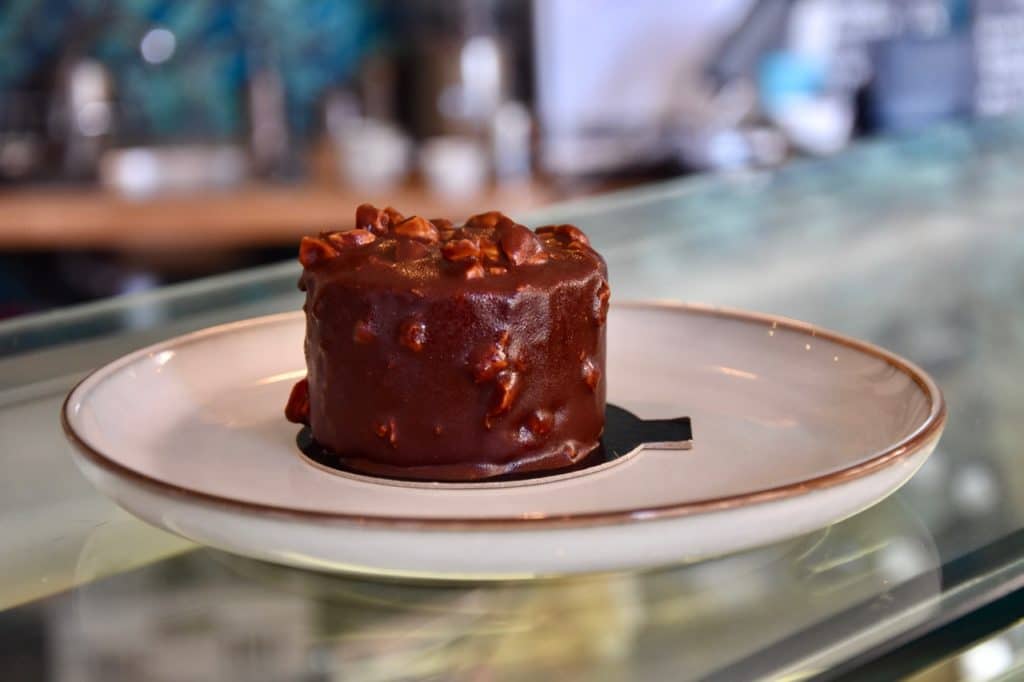 Louise does not hesitate to say it: the portions are generous! Caramel and praline creams are among her favourites in the kitchen.
"It's a bit of the Saturday afternoon guilty pleasure between two shopping trips. We come here to have a snack."
The pastries of the moment
The ball is one of the latest arrivals at Zoï. We never tire of observing this sphere dressed in a white chocolate shell sprinkled with roasted almonds and topped with caramel cream. Inside, we enjoy a coconut mousse while a delicious shortbread sprinkled with grated coconut is housed underneath.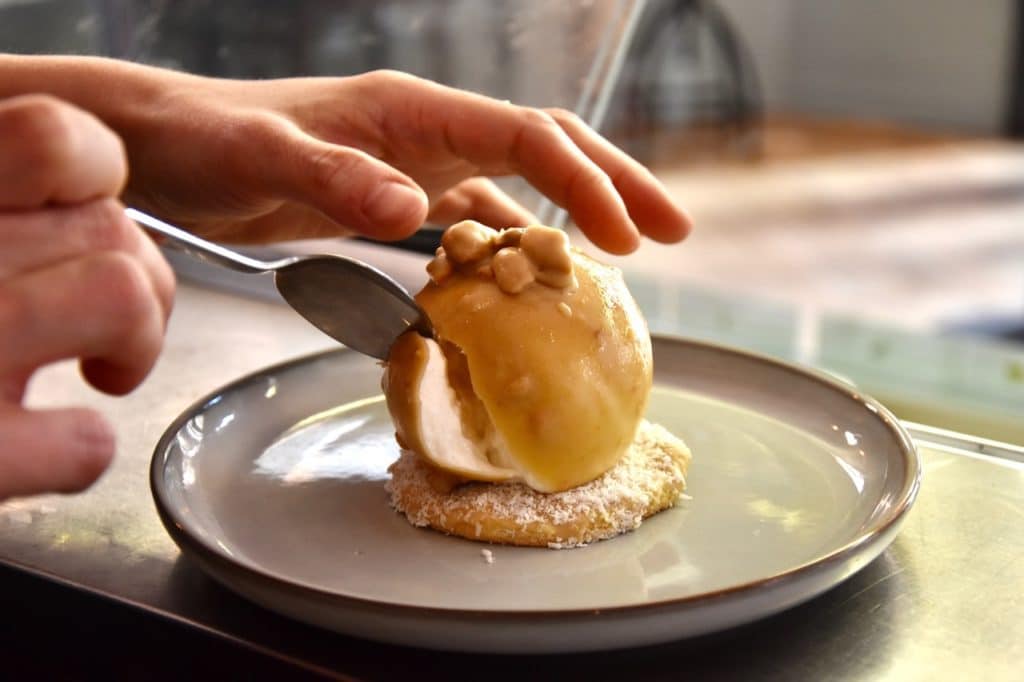 Another neophyte: the pink praline tourbillon tart. This great Lyon classic is somewhat revisited. Gone is the almond colouring with cochineal, as it is traditionally done in this recipe. Louise replaces it with carotene, which is just as aesthetic. For the rest, the praline is cooked in frangipane to make a cream with the texture of salted caramel, slightly runny. The whole is covered with a whipped cream infused with pink praline to obtain a nice swirl.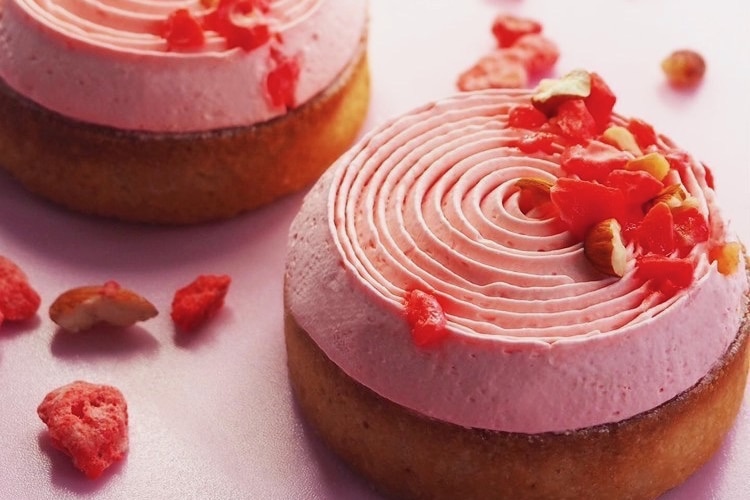 Louise does not intend to stop there! She would like to publish her cookbook devoted to plant-based pastry soon. And as soon as the sanitary conditions allow, the entire Zoï team will be happy to welcome its regulars in the heart of its tea room. Keep your eye out, it may well be that a grocery department will also make its entrance…
Translated by Malvika Kathpal