Chef René Mathieu is known as a master chef specializing in plants. Since he has been working at La Distillerie, his plant-based cuisine has seduced customers all over the world.
Awarded by Gault & Millau, by the Michelin Guide and more recently by the We're Smart® Green Guide, the establishment pays homage to high-end vegetable cuisine without compromise.
Naturalness menu
At the Château de Bourglinster, two restaurants come together: the Michelin-starred restaurant La Distillerie and the Brasserie Côté Cour.
La Distillerie offers an autumn menu with several proposed dishes with evocative names, among which we will find 'The autumn walk in the forest', 'The shades of yellow', 'The wild harvest in our environment' and the 'Fall feeling'.
At La Brasserie Côté Cour, we will be tempted by the variations of these dishes, available in bistronomy, with gourmet desserts such as the summer panna cotta with white chocolate, plum, lemon and oxalis.
The menu gives a place of pride to local products from the Château's garden. The Chef does his pickings there every morning and creates his dishes according to what nature offers.
While the plant-based menu has so far rubbed shoulders with the 'Land & Sea' menu offering a little fish, the menu became 100% plant-based in September 2020.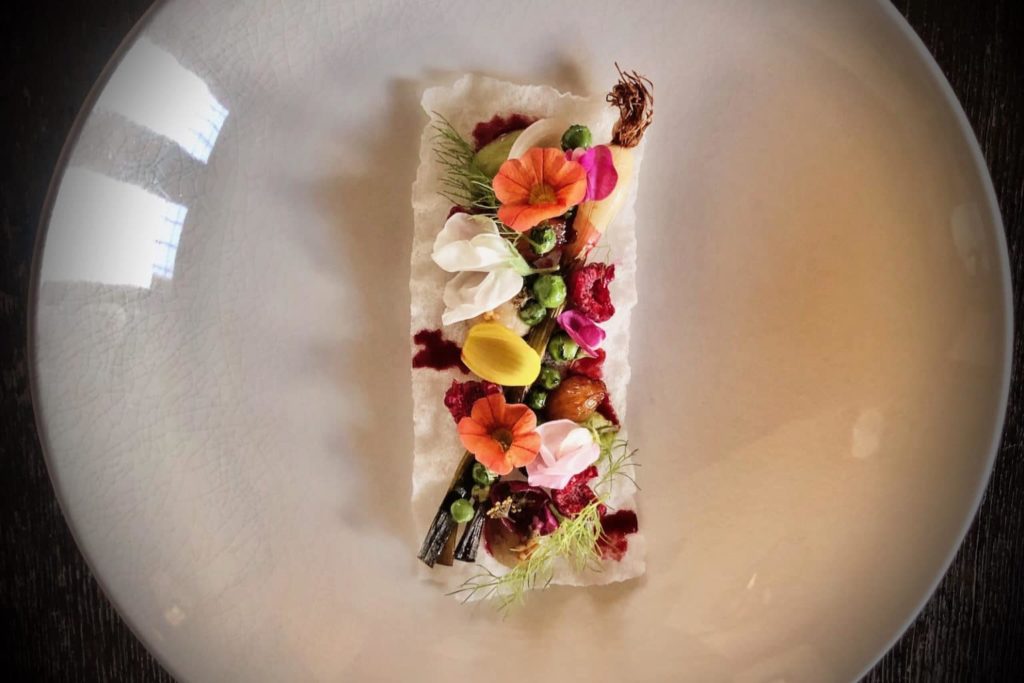 A Chef committed to plants
The Chef has always loved plants. In his career, he wondered whether he should keep doing what he was told or do what he loved. He quickly made his choice. With plants as his inspiration, he added his knowledge of wild plants, and his cuisine today is borrowed from nature.
Sensitive to health aspects, Chef René Mathieu strives to offer gourmet alternatives for people with allergies or intolerance, or who are simply concerned about their health.
The Chef also values ​​the work in permaculture and collaborates with the producers of the region. More and more young people are embarking on this journey and for René Mathieu, it is a sign that they carry within them the desire to change their diets for the better.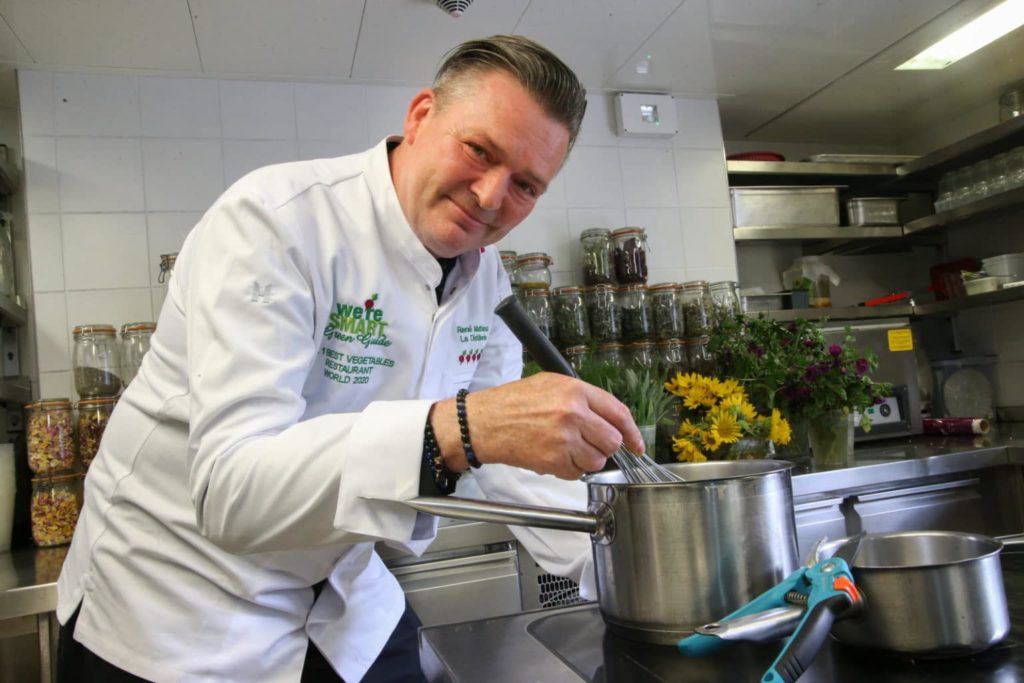 In the heart of nature
For the Chef, knowing the natural rhythms, the seasons and the plants is a way of respecting the environment. It is not enough to have theoretical knowledge. You must also be on the ground to understand.
In recent months, Chef René Mathieu has thought a lot about this work around plants and here he shares some of his insights…
"The idea is not to return to an era of gatherers excluding any production chain! Everything is in the right measure. It is about living a new and fulfilling experience by occasionally including some wild plants on the menu. It is also a good way to recreate a link with nature for those lucky enough to be around it.

The richness of plants is incredible. It is such that I can say that we have no idea how much can be created. Plant-based cuisine is not a substitute cuisine but a fully-fledged cuisine. It cannot be reduced to a single ingredient and it is not a sub-cuisine. Plant-based cuisine can be tasty, colourful, comforting, light, extra gourmet, with pep, finesse, rusticity, etc. Plant-based cuisine does not contain animal products; other than that, it is whatever you want it to be. On the one hand, there is no 'good cuisine' with meat, and on the other, 'less good cuisine' without meat. There is simply a variety of cuisines.

To understand what plant-based cuisine is, all you need is a little imagination, a good dose of open-mindedness, and a lot of gluttony!

We have everything to gain by opening up to discovery. It's the same as for art or travel.

For example, it is simple and reassuring to live in a country whose language and culture are perfectly mastered. However, as great as our country is, it is quite possible that trips to other countries have a lot to offer us. To stay with this analogy, we can say that tasting new dishes would be like learning a language, with a whole universe to understand. Words lead us to discover a civilization, a history – there is a whole vocabulary to learn. If you just translate ideas word for word from one language to another, it will often be difficult to understand and make yourself understood abroad. By assimilating what we can form sentences in different ways, we will really access all the beauty and complexity of a culture, as well as different ways of reasoning.

In the same way, in the kitchen, our palate can learn to perceive new flavours and must accept to combine them in an unusual way to fully enjoy an original universal taste. Over time, our senses sharpen and become more receptive. It may seem confusing, but in the end, our references widen, our minds open and the icing on the cake is – our pleasure is increased tenfold!

My advice – Imagine plant-based cooking from this angle, without blinders – you will see that anything is possible. And then… enjoy!"

René Mathieu
Translated by Malvika Kathpal