Originally from Bretagne, David Royer studied cooking at the Lycée Hôtelier in Dinard before going to Scotland and then to England to make his debut in starred restaurants.
He met his wife who took him to Finland and it was in Helsinki that he opened his first restaurant (La Place). Open at lunchtime, the place had a single large table which brought conviviality; in the evening, it opened for cooking classes or private meals. The Chef works with French cuisine, using the products of the season. It was in this environment that he realised the importance of seasonality.
When he returned to France, he first worked at Unilever as a product manager. Then he took over Les Orangeries in Lussac-les-Châteaux, the first French hotel to have obtained the European eco-label. There he cooked local, organic and seasonal cuisine while promoting the work of local producers.
In 2018, he was called to the restaurant Le Castel Ac'h in Finistère. A takeover of an establishment that allowed him to rebuild everything, with the mission of redoing the menu and creating a network with local producers.
The plant-based menu of Castel Ac'h
At Castel Ac'h, David Royer offers an organic and natural menu, with a daily changing menu 'L'Ardoise du marché', and à la carte options consisting of three starters, three main courses and three desserts.
The restaurant offers a daily vegetarian offer, visible thanks to the V symbol. These dishes are requested at least once a week and are very popular.
Customers also have the possibility of requesting a 100% plant-based menu, and in this case, the Chef adapts. This fall, he created a plant-based menu consisting of pumpkin cream with spelt 'milk' and pumpkin seeds, a buckwheat risotto with mushrooms, a 'little vegetable garden' with hemp oil, and for dessert, a poached pear, pumpkin, pear sorbet and rice tuile.
A menu composed only of seaweed is also offered. From starter to dessert, this 'seaweed' menu surprises customers while referring to the sea, a filigree element of the restaurant.
As for wines, the Castel Ac'h cellar offers a tasting formula by the glass and soon food & wine pairings with plant-based wine from Ampelidaé.
Finally, the youngest are not left out since the Chef proposes a special menu for children, with portions adapted according to age (from 0 to 5 years old, from 7 to 15 years old, and for teenagers).
The Castel Ac'h is above all a place of sharing, with the desire to please everyone. Customers are delighted to see a different card and to see that things are moving in the right direction.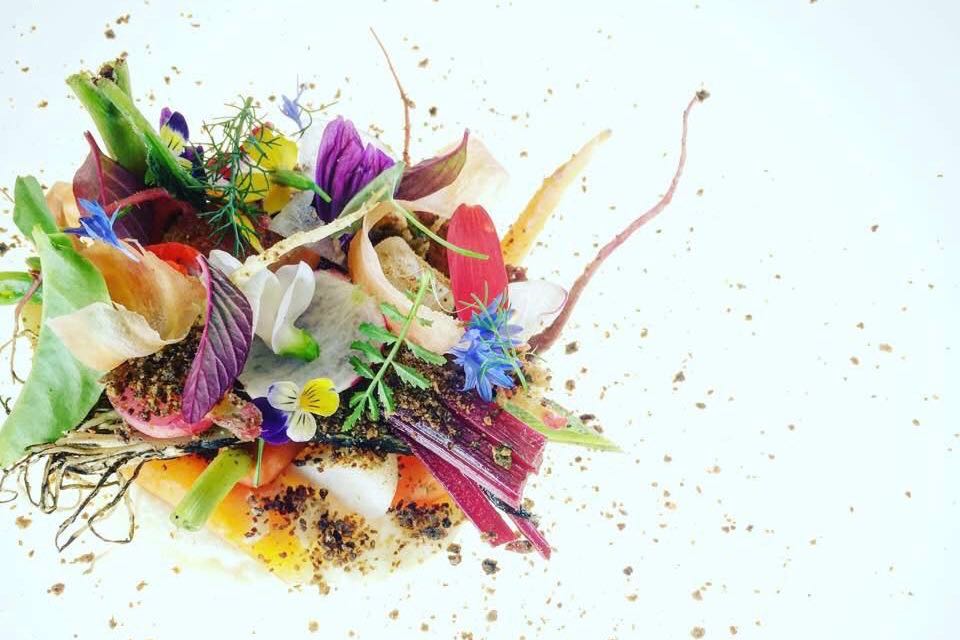 Local and seasonal cuisine
David Royer's cuisine celebrates fresh, local produce.
The Chef particularly enjoys working with peasant seeds, including buckwheat seeds.
He also uses hydrosols, essential oils, flowers and plants, which brought in little by little, bring a new taste.
Seaweeds are of course essential. They are very accessible in this region rich in this product and bring a marine sweetness to the dishes.
As for vegetables, the Chef gets his supplies from organic and permaculture market gardeners in Plougastel Daoulas or on the island of Molène.
Stéphane, Vincent, Julien… all the local producers that David Royer works with on a daily basis, contribute to the embellishment of the menu offered at Castel Ac'h. More than a team effort, what drives the Chef is to work on a particular product and to draw inspiration from the moment, depending on what he has in his hands.
A committed chef
David Royer has received several awards including the title of the International Sustainable Restaurant of the Year (The Sustainable Restaurant Association), the title of Gault and Millau Young Talent in 2016 and the Naturalité Gault et Millau trophy in 2018. He is also a member. of the Slow Food France alliance and Vice-President of the L'R Durable association.
What motivates the Chef above all is to be able to offer something other than meat and gradually bring people to realize that with less meat products, we can eat just as well. A veggie dish can indeed be as good as a traditional one.
As for the challenge of creativity, he likes to say that "the constraint of the unknown is not an obstacle for the curious mind".
Through his inventive, fine and elegant cuisine which puts the plant-forward, David Royer hopes to create awareness. He encourages his peers to give out as much information as possible, to keep an open mind and to not forget that the choices we make have an impact on the environment. No matter what the type of catering you do, every action counts. What we do daily helps to make a difference and that's already good.
Translated by Malvika Kathpal