With the exploration of taste and emotions as his only guide, Pierre Hermé leads us into another dimension, that of his unique plant-based creations and the Fééries Célestes by artist Philippe Baudelocque.
A magical collection
The seven-pointed star, an occult heptagram carrying the magic number par excellence, is part of this unprecedented collaboration as the point of convergence of these two arts that nothing called to meet. La Féérie Céleste invites us into a new universe to lead us until Christmas.
The collection can be discovered with our eyes riveted on the sky, illuminated by a Milky Way dotted with magical logs, constellations of macaroons, mystical stars and luminous galettes.
In this collection, one log stands out. It is recognisable by its colours and its pageantry. The Fleur de Cassis is back to compose the 100% vegetable log of the collection.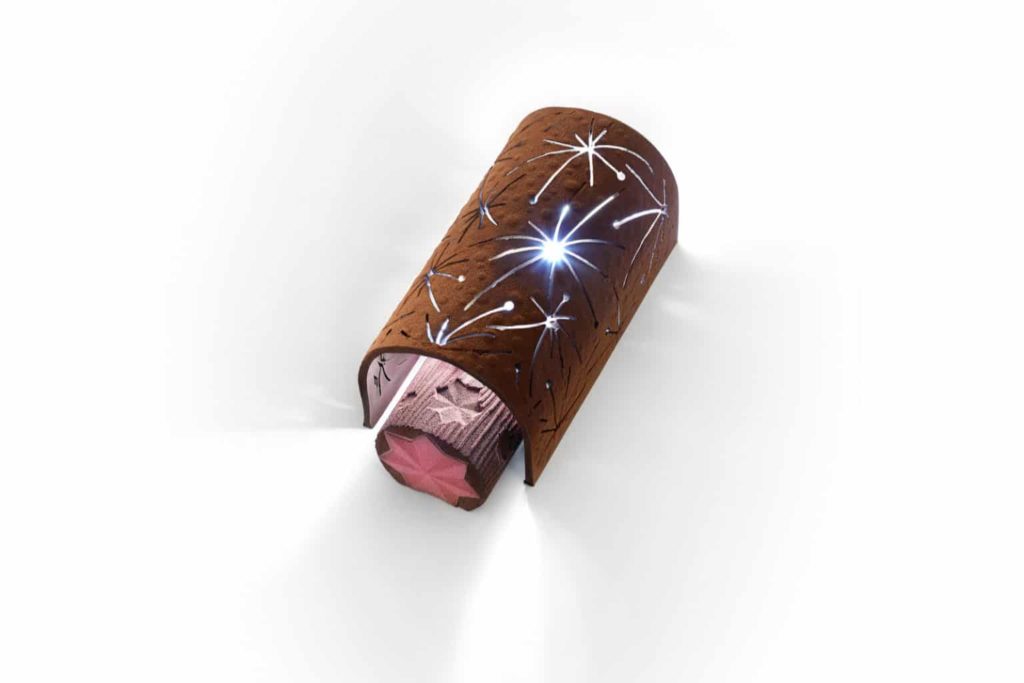 The Fleur de Cassis turns into a log for Christmas
Last March, Pierre Hermé surprised everyone with two plant-based creations, made in collaboration with La Maison du Chocolat. Alongside the Rose des Sables, the Fleur de Cassis was already proudly enthroned with its chocolate petals in a 100% plant-based and gluten-free dessert.
It is therefore natural that the Chef has taken these flavours to create a Christmas version.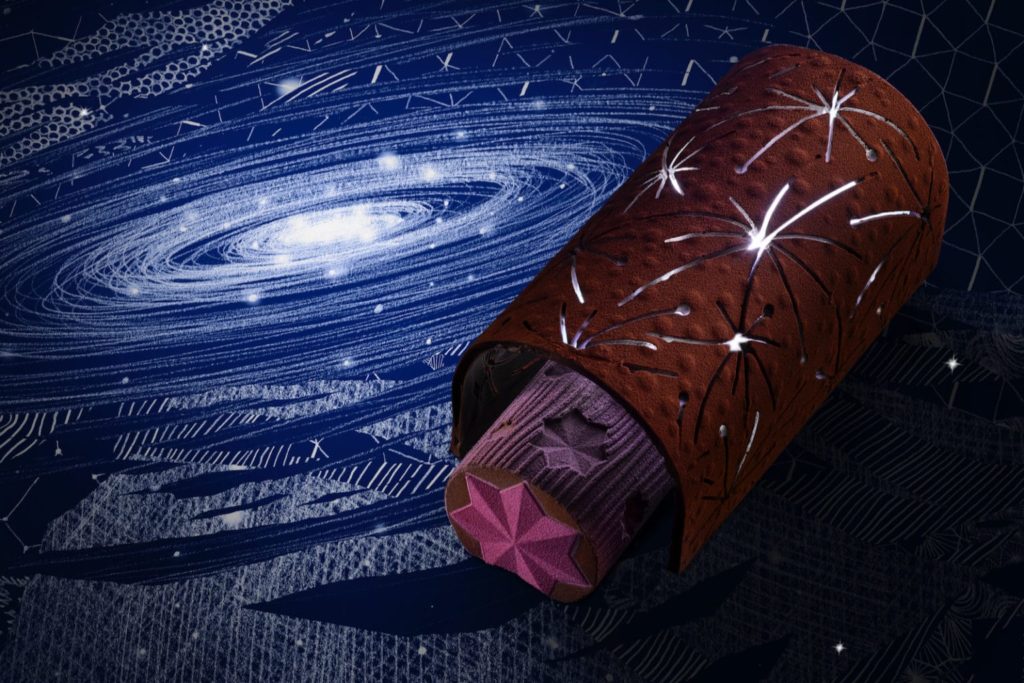 A plant-based and gluten-free log
The Fleur de Cassis log is a creation made from a blackcurrant pepper crumble, a soft chocolate biscuit, a Pure Origin Belize chocolate ganache, Cayo district, Xibun blackcurrant and blackcurrant pepper plantation, and dark chocolate chips with fleur de sel.
From the aromatic notes of blackcurrant pepper crumble, we glide towards the bitterness of a blackcurrant compote tamed by a touch of redcurrant while the lemon juice exacerbates its acidity. Its chocolate shell is adorned with a constellation of shooting stars inviting you to a journey to the heavens.
For its limited edition, the log is presented in a luminous case recreating the glittering imprint left by these stardust.
Plant-based, gluten-free but above all very good, this exceptional log will suit all palates and will bring a little sweetness to this Christmas 2020.
Translated by Malvika Kathpal