In tune with the times, the two Chefs believe in a need for new and different expression. In this desire for the unexpected, Nicolas Cloiseau suggests to his guest to reconsider the matter with chocolate as a starting point.
Pierre Hermé responds to the invitation with elegance and refinement. He takes us into a new entirely plant-based universe, where everything intertwined in a perfect balance, offering us new emotions during the tasting.
Two creations with floral notes, 100% chocolate, 100% plant-based, emerge from this high-end collaboration.
Blackcurrant flower
This unique plant-based and gluten-free dessert is an ode to chocolate and blackcurrant, interpreted in different ways.
Elegant chocolate petals give movement into this delicate Fleur de Cassis, where the small blueberry plays its variations of textures and tastes. From the aromatic notes of blackcurrant pepper shortbread, we slide towards the bitterness of a blackcurrant compote tamed by a touch of redcurrant, while the lemon juice exacerbates its acidity.
This creates a complicit duo with the pure dark chocolate from Belize, Xibun plantation, and a soft biscuit completed by the ganache with mineral water, blackcurrant pulp and blackcurrant pepper to highlight the pure taste of this 64% cocoa dark chocolate.
The flavours respond to each other, the notes of chocolate are revealed, punctuated by the scent of blackcurrant, underlined by the scent of blackcurrant pepper.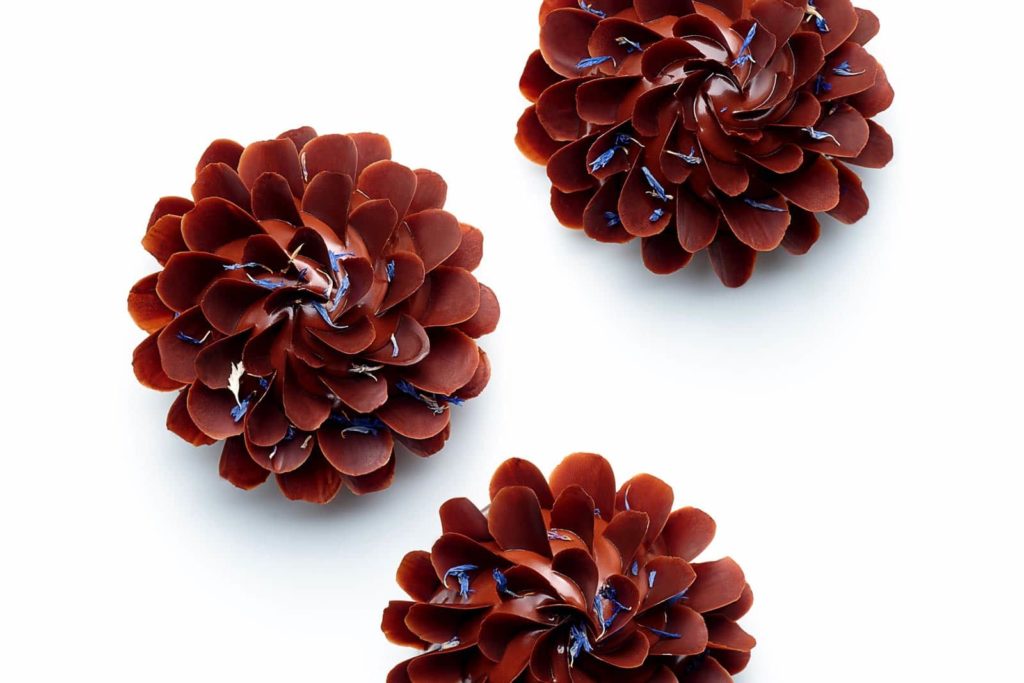 Rose des Sables
This plant-based and gluten-free dessert is a creation based on vegetable milk chocolate, rose and almond praline.
The flavours with subtle oriental accents intermingle and then harmonize to become one.
The roasted almonds become praline to flavour a melting cream prepared with mineral water and cocoa butter.
As a backdrop, the almond milk chocolate ganache is enhanced by the rose before mingling with the aromas of the almond praline cream.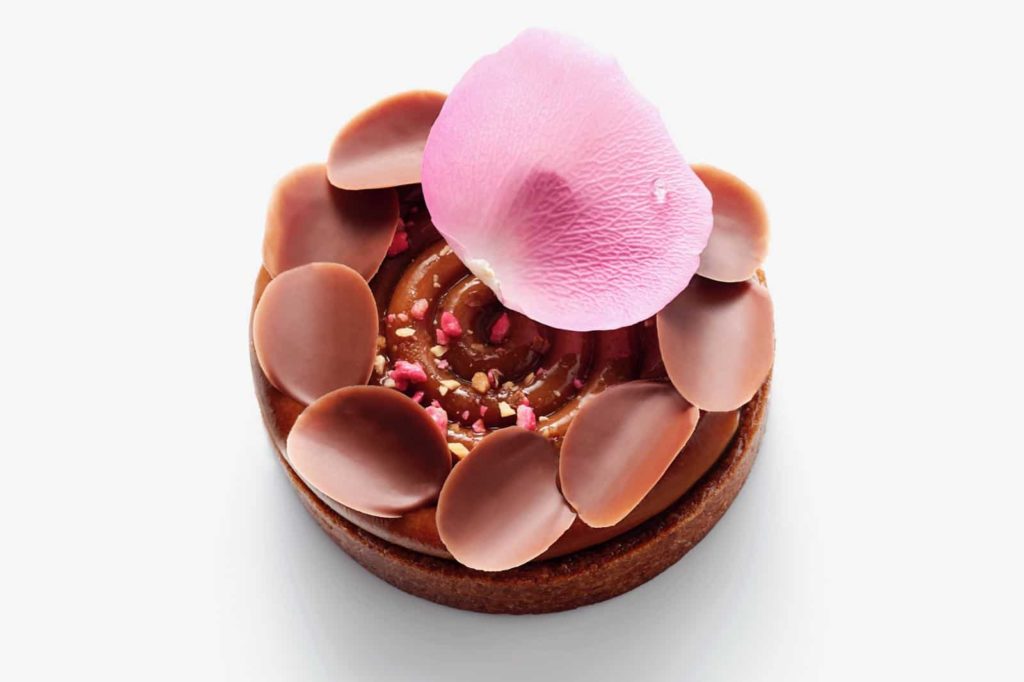 For Pierre Hermé, working with other ingredients to imagine a plant-based pastry is a great opportunity. It brings an additional dimension to the pastry-making profession, encourages us to think differently, implement new techniques and opens up the field of possibilities.
To arouse emotion, to create surprise, to take you elsewhere, this is what we do every day. These two pastries allowed me to go to new territory in terms of ingredients and creation. They differ from what we usually do in terms of ingredients used, but they still keep the appearance of classic pastries, which are inseparable from taste and pleasure. They are plant-based. (Pierre Hermé)
Translated by Malvika Kathpal