For this Easter season, chocolates are transformed into little garden creatures. This year, Maison Lenôtre is offering a new and original collection in homage to nature, celebrating the return of spring.
Ladybugs, bees, butterflies, robins and hedgehogs appear. True allies of the gardener, they protect and maintain crops. And after months of hibernation, it is time to let them reclaim our gardens for the pleasure of young and old alike.
This immersion in the world of the garden takes us to unique creations and allows Lenôtre to unveil two original 100% plant-based creations.
The plant-based chocolate Tree
In this fairy garden, the Chef of Lenôtre creation, Guy Krenzer, has indeed imagined a tree of a new kind.
This tree proudly wears the colours of chocolate, but not only… Made from plant-based grand cru chocolate, it combines the sweetness and smoothness of almonds with the aromatic power of pure cocoa from Madagascar. Pistachio chips decorate the base of the tree, and it is garnished with vegan chocolate fries.
A 100% vegetable tree to discover from March 11th at the price of 55 € (275g).
Sweetness of the Strawberry-Almond Garden, by Maison Lenôtre
Set on a base of dark chocolate with three origins, this 100% plant-based dessert takes us on a journey between Ghana, Sao Tome and Tanzania.
The bitterness of the chocolate goes well with a compote of two strawberries (strawberries and wild strawberries), an almond biscuit and a vegetable mousse with Bourbon vanilla from Madagascar. All decorated with fresh strawberries and a hazelnut-almond crumble.
A plant-based and gluten-free dessert to discover from March 31st at the price of 10 € (160g)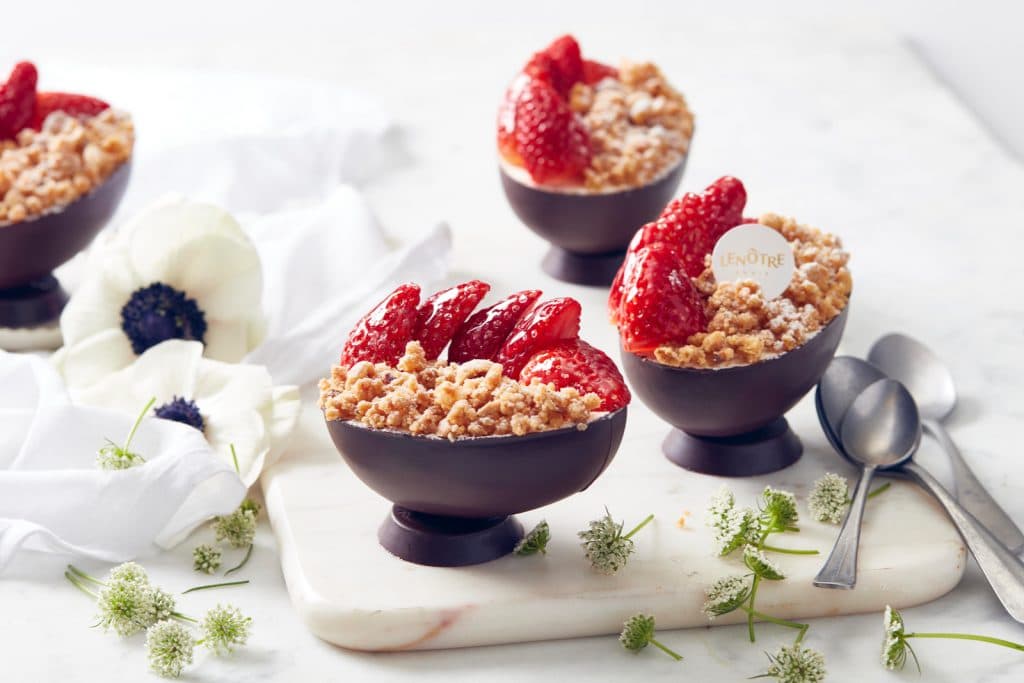 Celebrating Easter now becomes a delight for everyone. These new 100% plant-based creations bring novelty to everyone and allow everyone to find their happiness in the garden!
Translated by Malvika Kathpal