Laury remembers her childhood breakfasts, made with crispy, crunchy cereal that sticks in the milk.
Passionate about nature and gastronomy, Laury grew up in the South West of France. After a career in an agricultural environment, she became an agricultural engineer and then became aware that ultra-processed foods and sugar have invaded our daily lives, with the observation that we do not really know what we are eating, nor where it comes from!
Convinced that it is possible to eat differently, Laury decided to act for a better diet.
Loumaë was born from this desire to create something new, with the ambition to rethink food processing models, to recreate the link between our environment, our plate and our health.
And it starts with breakfast! After two years of research and development, Laury launched Loumaë in February 2020, to offer breakfast in the form of a cookie. A child's memory becomes an innovative product, for the pleasure of young and old alike.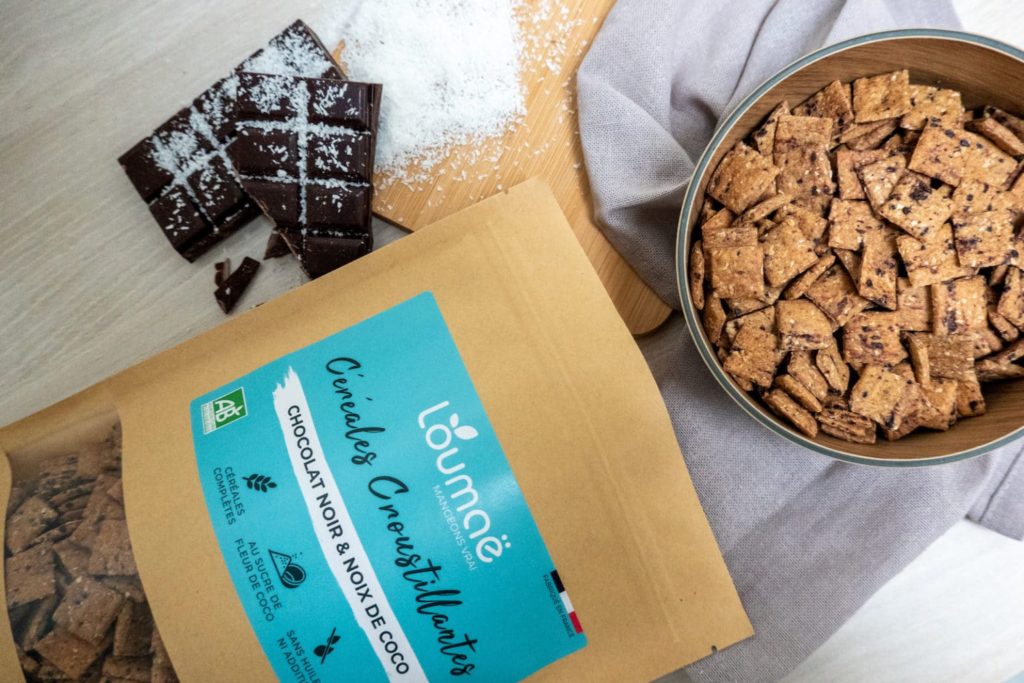 Healthy and delicious recipes
At Loumaë, all recipes are composed of four whole grains (wheat, rye, spelled and buckwheat), oilseed purees made from almonds or hazelnuts and coconut blossom sugar (an unrefined sugar, rich in minerals and low glycemic index).
The ingredients chosen come from organic and responsible sectors. The flours are 100% French, from the Gilles Matignon Château Landon mill, and are crushed with a stone grindstone to preserve all their nutritional qualities. The almonds come from Italy or Spain. Chocolate, meanwhile, comes from fair trade channels.
Laury is based in a bakery in Noisy-le-Sec, in the Paris region, where she makes the cereals herself. This makes it possible to guarantee the quality of the products by controlling all the stages of manufacture.
The brand, therefore, favours short circuits and proximity with its suppliers to ensure the origin and traceability of ingredients.
With a continuous improvement approach, Loumaë wishes to prioritize proximity as much as possible and adapts over time, in a search for balance and transparency.
Today, the range consists of six recipes:
Chocolate – Coconut
Cocoa – Toasted hazelnuts
Apple – Cinnamon
Almond – Lemon
Chocolate – Peanut
Mix Energy
Rethinking the ways of doing and consuming
For Laury, it's time to rethink the way we consume and also how we process food. It is a question of developing existing models by implementing concrete actions, by going back to basics.
Loumaë is mainly distributed in bulk in zero-waste grocery stores and currently being distributed to organic stores, mainly in Ile-de-France but not only…
The brand is already available at Biocoop Dada and distributed at La Ruche qui dit oui, around the manufacturing site: in the two beehives of Montreuil, Vincennes, Neuilly-sur-Marne and St-Maur-des-Fossés.
A new range is about to arrive via a crowdfunding campaign. Stay tuned to support Loumaë in the coming days!
Because our actions today shape the world in which we will live tomorrow, Loumaë has chosen people, craftsmanship and proximity. Because these are the essential conditions to preserve what we have of more precious.
Translated by Malvika Kathpal