A new Healthy & Vegan space
The Mandarin Oriental is located at 251 rue Saint Honoré. The lobby is the starting point. The chairs welcome customers in transit. On the right, we find the "Cake Shop" and the "Camélia" restaurant. On the left, is the entrance to "Bar 8" which leads to the starred restaurant "Sur Mesure par Thierry Marx".
The lobby is therefore the heart of the hotel where everything starts and everything is decided. It also offers a central view of the garden of "Bar 8" which brings a touch of nature to this comforting place. However, it was necessary to revitalise this reception point and make it more welcoming. After a few furniture changes and the desire for a new catering offer, the "L'Honoré" space was created.
On the menu of "L'Honoré"
While waiting for lunch, I am served seeds as an aperitif. They are placed there in front of me in a glass dish. As a sign, it seems… Are seeds sown at the Mandarin to germinate new ideas?
On the menu, we will find healthy and tasty dishes in the comfort food trend, with the 100% plant-based corner composed among other things of green vegetable curry, a quinoa with candied lemon, piquillos and fried tofu, a lentil steak burger with sweet potato straw fries, or an avocado toast on Germanic bread.
The classic menu includes the Honoré Poke Bowl, which can be adapted in a plant-based version.
For dessert, hazelnut chocolate cookies and a hazelnut moelleux are offered to us.
Besides lunch, you can also come to "L'Honoré" for breakfast or an afternoon snack. Although no plant-based offer is yet available on the menu, we can ask for the cookies or the moelleux at these different times of the day.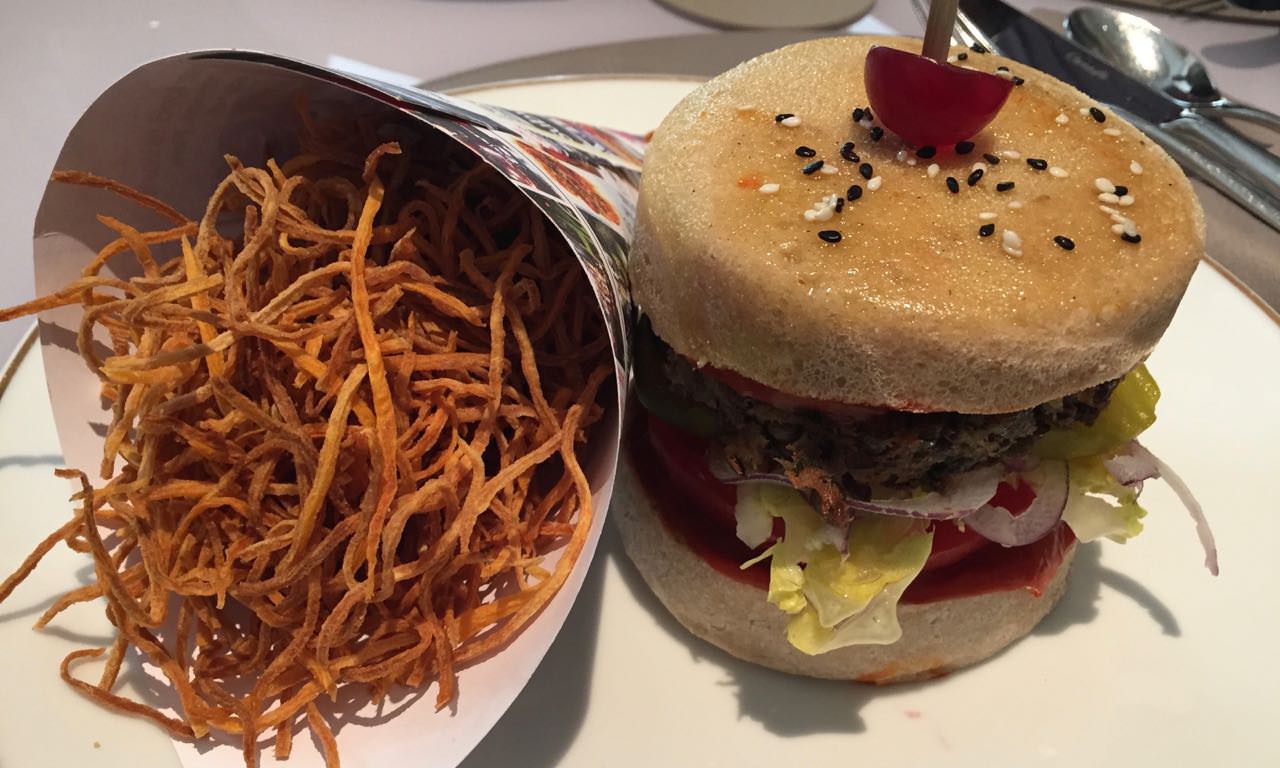 A plant-based menu with great potential
I had the chance to taste a few of the dishes on the plant-based menu.
The avocado toast is quite good. Simple and fresh, we find avocado, radishes and spinach leaves on a Germanic bread. It just deserves a layer of hummus for a little more staying power, but otherwise it's perfect.
The burger is rather classic, without anything surprising. It works well and intrigues customers who discover new flavours around a format that reassures them. However, it could do with some improvements. The bread could be wholemeal or with seeds to better correspond to the "healthy" approach. The steak, made from lentils, crumbles easily, leaving some lost grain on the plate. And the straw fries, a little too thin, gave me a hard time.
The Poke Bowl made with sushi rice, avocado, radish, cucumber and Asian dressing is very interesting. The rice is excellent and all the ingredients go together quite well.
At Thierry Marx, the sauces are quite spicy. It is the personal touch of the Chef. It is therefore better to ask for a little less spiciness if you have a sensitive palate.
As for the desserts, the cookies are served hot, which is not essential in my opinion. They are much better when they are cold. As for the softness, it may seem a bit heavy at the end of a meal. These desserts would be more suited for breakfast and afternoon tea. For dessert, I would prefer a small fresh mousse on a coconut milk base. Even so, if we want to offer a pastry to L'Honoré, I would make the plant-based Saint-Honoré essential, which should be Thierry Marx's signature plant-based pastry.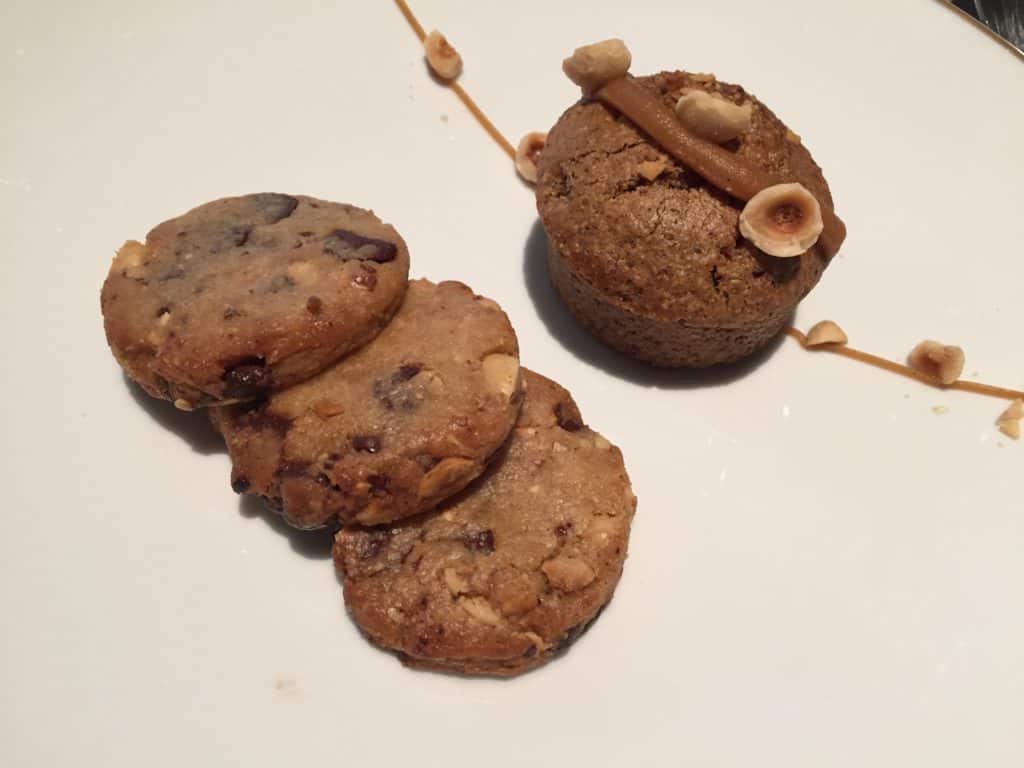 For the end of the meal, the little sweets that accompany the coffee should also be available in a plant-based version, which is not yet the case.
Finally, the menus deserve clear symbols to identify vegetarian and/or plant-based dishes and possible plant-based options.
Today, the concept of L'Honoré leads me to believe that vegans are not targeted by this menu. It is ideal for a business meal or a lunch with colleagues. This place is made above all for a neighbourhood clientele, pressed by office hours, who wish to eat quickly and well.
However, it would take nothing to make this menu accessible to everyone, especially since its potential is enormous. I am not worried, I know this is just the beginning and that improvements will be made in the coming seasons.
Understanding the issues
I am also concerned about the confusion between what is said and not said. We speak about "healthy" and "detox" when we talk about L'Honoré. On the lunch menu, we mention the "plant-based corner", while on the breakfast menu, there is no symbol to identify these dishes or even suggest the possibility of making them an option.
Chefs have a real role to play in explaining to customers what all these notions represent and it is important to use symbols to provide a bit of education to a clientele that is sometimes confused.
I would say that today vegans can't be completely serene about eating at the Mandarin Oriental. This new menu still raises too many questions, especially on the kinds of milk used for breakfast and for snacks (which kind of milks are they? Can we choose the one we want?). Questions that we can certainly ask the staff who are trained and know the subject perfectly well, but questions that may make some vegans uncomfortable.
For Thierry Marx, offering a plant-based menu is absolutely not to surf on the trend. Thus, I am convinced that it can gently get customers to think about a new way of eating. He is the one who could do it the best. But it is also up to us to think about what the Chefs offer us, not to hesitate to question them and encourage exchange, to better understand what we are eating and also to bring our own new ideas.
For sure, Thierry Marx will take us into this new plant-based era. Everything is possible now that the machine is on!
Translated by Malvika Kathpal