Since the arrival of plant-based cuisine at L'Arpège, Chef Alain Passard has rediscovered his artistic soul and given nature and the seasons a prominent place.. The vegetarian menu, which is very present and assertive, shows just how much plant-based gastronomy has to say.
Autumn in the Gardens
This September, the vegetarian menu 'L'Automne des jardins' faces the classic 'Terre et Mer'. A menu in several acts composed of nine courses.
Autumnal sushi flavoured with fig leaves, black Kalamata olive
Fine multicoloured vegetable ravioli, ephemeral consomme
Flowering autumn radish petals with geranium, timut pepper
Beetroot in a grey Guérande salt crust, quince mousseline
Belles de Fontenay potatoes smoked with oak wood, Côtes du Jura
Monarch celery with melting Comice pear, slivers of Pougues-les-Eaux hazelnuts
Onion gratin from Bois Giroult with young shoots, Parmiggiano Reggiano
Arlequin spoon in fine couscous, vegetable merguez with shiso
Purple emotion infused with hibiscus, blood fig
For dessert, we are served with a tomato stuffed with garden flavours and strawberry sorbet. Then comes the famous apple pie Bouquet of roses with 'caramiel', Melrose, Reine des reinettes.
To accompany the meal, organic and biodynamic wines were offered to us: Riesling Grand Cru Hengst 2014 (Domaine Barmès-Buecher), Général de la Révolution 2015 (Comte Abbatucci), Les Petits Cailloux – Châteauneuf du Pape 2011 (Domaine de Marcoux).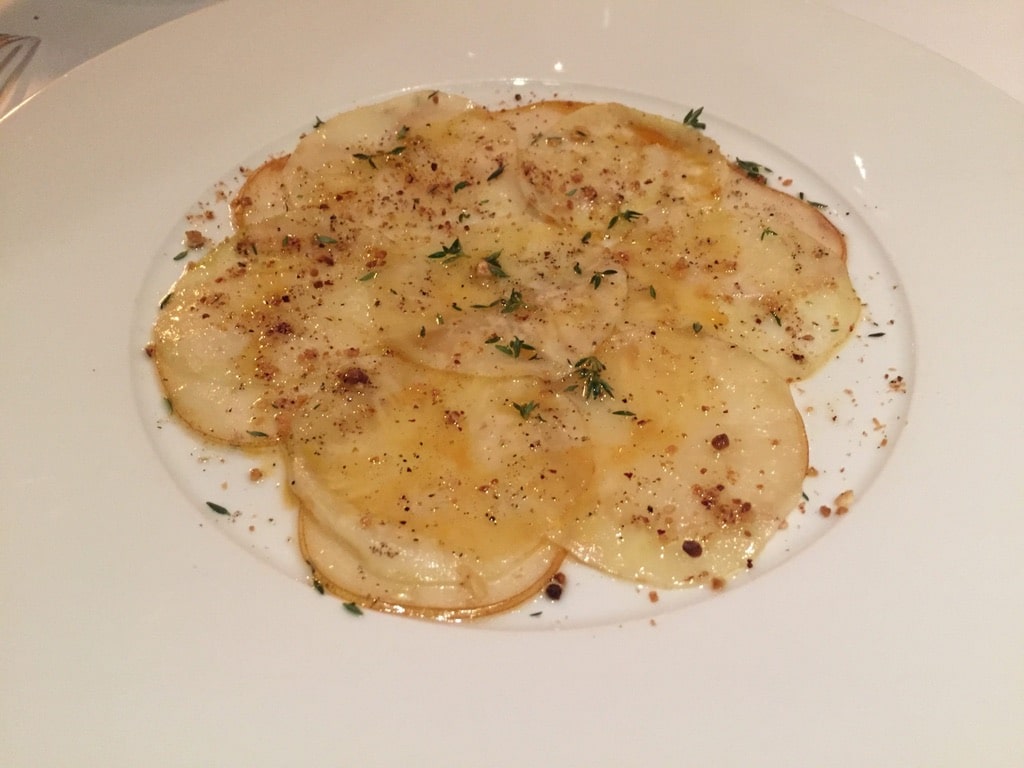 Plant-based haute cuisine
The plants requires a unique work on the texture, the taste and the visual. A new gesture that the Chef has made his own. An intimate embroidery with the product which allows the artist that is Alain Passard to work differently.
With the combination of flavours, colours, the finesse and delicacy of the product, everything is there. 'L'Automne des Jardins' is an invitation to enter the Chef's universe and allows us to discover his passion for nature and the seasons.
For the plant-based version specially requested for the occasion, some dishes have been carefully adapted with equally delicious and colourful options. On other dishes, elements were removed without being replaced. As for the Rose Bouquet, we would have loved to taste it in a plant-based version. Efforts would therefore have to be made to obtain an absolutely perfect 100% plant-based menu.
Despite a few redundancies and sometimes very pronounced flavours (no doubt intended), each dish was delicious, harmonious and very accurate.
Beyond the meal, it is the whole atmosphere of L'Arpège that we feel at every moment. And the Chef, always present, makes this place even warmer and exhilarating.
A return to nature
For Alain Passard, his garden is a source of inspiration. Each vegetable is unique. Worked raw, the vegetable transmits all its purest qualities to the plate.
Alain Passard is leading the way in this transition by instilling this new style of cuisine, and since this return to the earth, Arpège clients have taken a different perspective on plants.
The Chef admits not wanting to make his house a vegetarian restaurant, and yet, by cutting down on meat, he is already shaking things up. Perhaps the next step to take would be to consider even more daring and innovative plant-based creations.
Like a four-handed person Alain Passard combines the hand of the cook with that of the gardener to sublimate his dishes. He entrusts his creativity to nature and cultivates his vegetables to be able to tell a story. His story is not yet finished.
Translated by Malvika Kathpal