A pioneering Chef
Matthew Kenney trained in traditional French cuisine before devoting himself to plant-based cuisine, which he has been practicing for 17 years. A chef specialising in plant-based cuisine in the United States, he now transmits his knowledge throughout the world.
Ladurée called on this renowned Chef to create plant-based dishes, thus leading the House to reinvent itself by offering something new and in tune with the time.
The Matthew Kenney capsule
The new vegetable menu was launched on September 18, 2019, in the Ladurée boutique in Beverly Hills (Los Angeles) with a complete offer including savoury dishes and pastries.
In Paris, the offer made its debut at the Ladurée salon on rue Royale. It is now available in all Parisian tea rooms. Fabrice Rialland, the Executive Chef of Maison Ladurée, orchestrates this new capsule with a menu tailored to the Parisian clientele.
The Matthew Kenney capsule is a series of three savoury dishes made up of the Malibu Mezze (aubergine caviar, crunchy baby vegetables and sesame seed and flaxseed crackers), the Venice Beach Salad (lentils, sweet potato, avocado, oak leaves and vegan 'cheese') and the Californian Daube (jackfruit, vegetables, broth and mashed potatoes).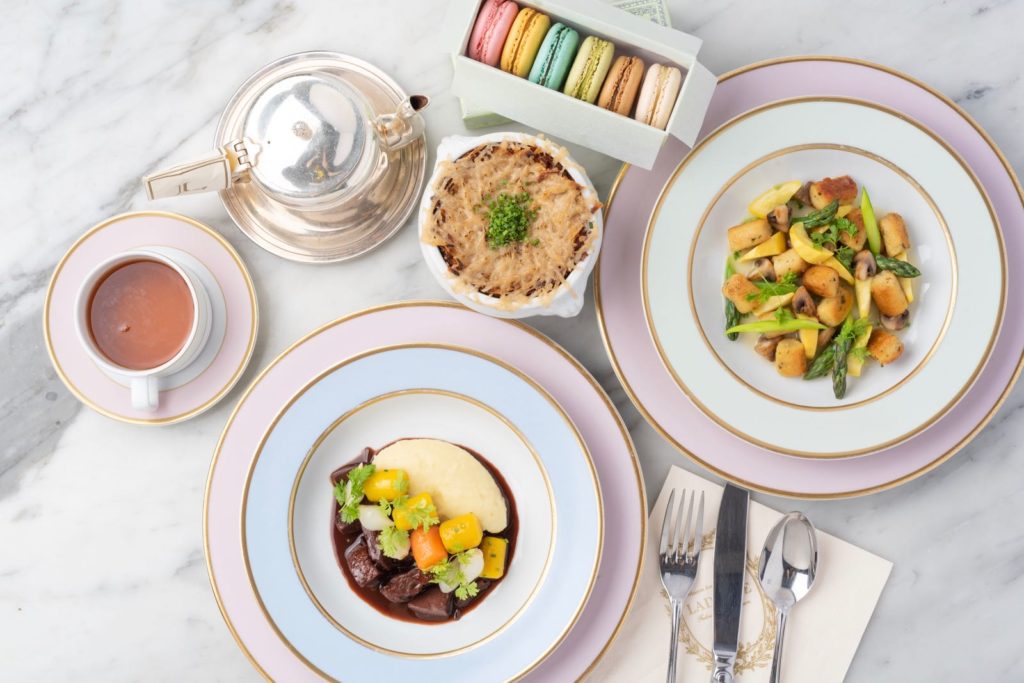 The menu also offers vegetarian dishes, such as soups, poke bowls, salads, avocado toast … These dishes are identified by a V logo, unlike the vegan capsule which is highlighted differently.
On the sweet side, we will find a homemade apple-pear-vanilla compote and two Chia puddings with almond milk.
In parallel to this operation, Ladurée is launching 'super-macarons'. They are not plant-based but made from superfoods, in a healthy approach. Four super-macaroons are available: L'Or Vert (matcha moringa), L'Adoré (chocolate pomegranate), L'Eternal (baobab mango passion) and C'est la vie (almond lucuma). The plant-based macaroons will arrive in France at a later date.
A French ethical approach
To go further in the eco-responsible approach, the boxes of super-macaroons are made of cocoa pod paper, without glue or plastic.
It should also be remembered that Maison Ladurée strives to offer organic, local and seasonal products as much as possible.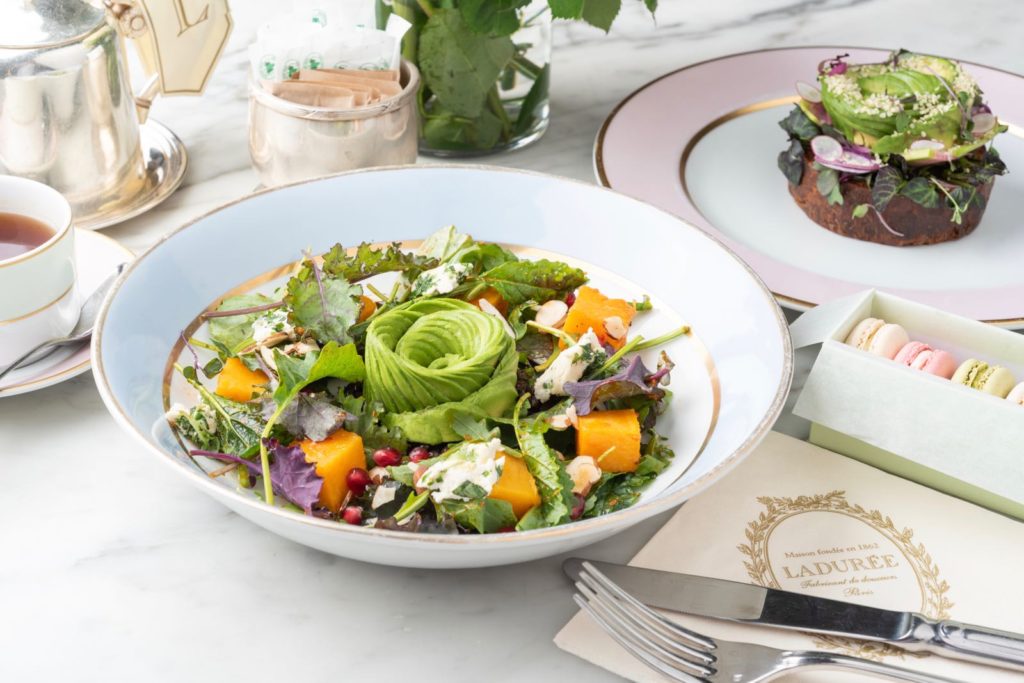 Respect for tradition combined with the cuisine of tomorrow
Matthew Kenney says he has a deep respect for Maison Ladurée and is very honoured to be part of this new chapter. This enthusiasm is shared by the famous brand which wishes, through this operation, to affirm its desire for evolution.
In the United States, Maison Ladurée in Beverly Hills already offers a complete plant-based menu. In France, things are a little different. Mentalities and eating habits take time to change. So it is an adapted menu that Ladurée presents to its customers today while waiting for the first feedback from the operation. A first step that deserves to be saluted.
This new menu brings a new breath of fresh air to Parisian gastronomy without changing the reputation of the House. It is about providing healthier alternatives adapted to new eating habits. An in-depth work that touches on the classics of French cuisine, without losing the soul of Maison Ladurée.
Translated by Malvika Kathpal