At Olivier's, we feel good, a bit 'at home'. I was welcomed with a cup of tea and a few cookies, whose recipe he was reworking. I discovered his world through a new culinary experience. A beautiful meeting rich in exchanges and ideas to explore.
Creating the bridge …
From his childhood, Olivier has kept the memory of his father making homemade seitan and a family sensitivity to organic and vegetarian food. This fertile ground has left its mark on him, making today him a Vegetarian Chef.
After a business school, Olivier first turned to photography. He contributes to the writing of the book 'Les algues au naturel' by proposing research work and personal culinary photos.
Little by little, he naturally turned towards plant-based cuisine, based from the observation that there was a lack of technical know-how in this field. On the one hand, there is the traditional world of French gastronomy, rich in know-how but using animal products. On the other hand, there is the world of plant-based cuisine which uses organic and natural ingredients but lacks technical knowledge.
Olivier realizes the lack of communication between these two worlds, he is sure that there are things to do and wants to create the bridge between the two universes.
Learning the techniques …
To begin his career as a Chef, Olivier wanted to work with Chefs who had started to make this connection.
His first professional choice was 'Arpège', and from Chef Alain Passard he learned techniques from animals, applied to plants. He also experimented with the mandolin, an instrument widely used in plant-based dishes.
A second experience with Chef Stéphane Froidevaux at the restaurant 'Le Fantin Latour' taught Olivier speed, rigour, precision… Experiences which marked his way of cooking and which will leave him with strong technical knowledge.
Knowing wild plants …
The other side of Olivier's journey is botanical identification. He accompanied the ethnobotanist François Couplan on discovery trips to wild plants, which allowed him to acquire a great knowledge of plants.
Olivier reminds us that the plant terroir is not limited to cultivated plants (fruits, vegetables, legumes, seaweed, herbs, etc.). In the kitchen, you can also explore the wild plant terroir.
Mastering botany is indeed an asset to better know and understand plants, and to know how to cook them.
… To feed the culinary land
Creating a personal project quickly became obvious to Olivier. A project where he could bring together his experience and his sensitivity to plants around a warm name, and associate it with the notion of land, locality of products, respect for the seasons, respect for nature and respect for people.
Terra Culinaria is the idea of ​​cooking plant-based, local, organic, seasonal dishes with the professional knowledge of Chefs. At Terra Culinaria, people come to learn about plant-based gastronomy and cooking techniques, which are useful to everyone daily.
In his offer, Olivier offers plant-based cooking classes for the general public, people in retraining and professionals, as well as botanical outings with tasting of recipes made from wild plants.
Olivier's advice
Talking about plants with Olivier is fascinating.
Speaking of legumes, he tells me that it is better to use lentil juice to make a foam and chickpea juice for a more dense foam (the latter releasing more expanding agents).
These tips seem obvious to a Vegan Chef, so Olivier wonders if we can consider these to be "new ingredients". Indeed, there is nothing innovative at first glance, but today what Top Chef is really doing it? … For Olivier, it would be interesting to help Chefs to list these "new ingredients" and work on the associated techniques, in order to gently accompany them to vegetate their offer.
From l'Arpège, Olivier has kept a sensitivity to monochrome creations. Products of the same colour go well in terms of scents, and especially if they are from the same season. Thus, he likes to work all the senses and create a coherence of scents, textures, tastes and colours. For the dressing of plant-based dishes, he advises playing on the diversity of cuts, colour tones, and volumes.
It is always about using the technique to awaken of the senses and create emotion around a unique experience.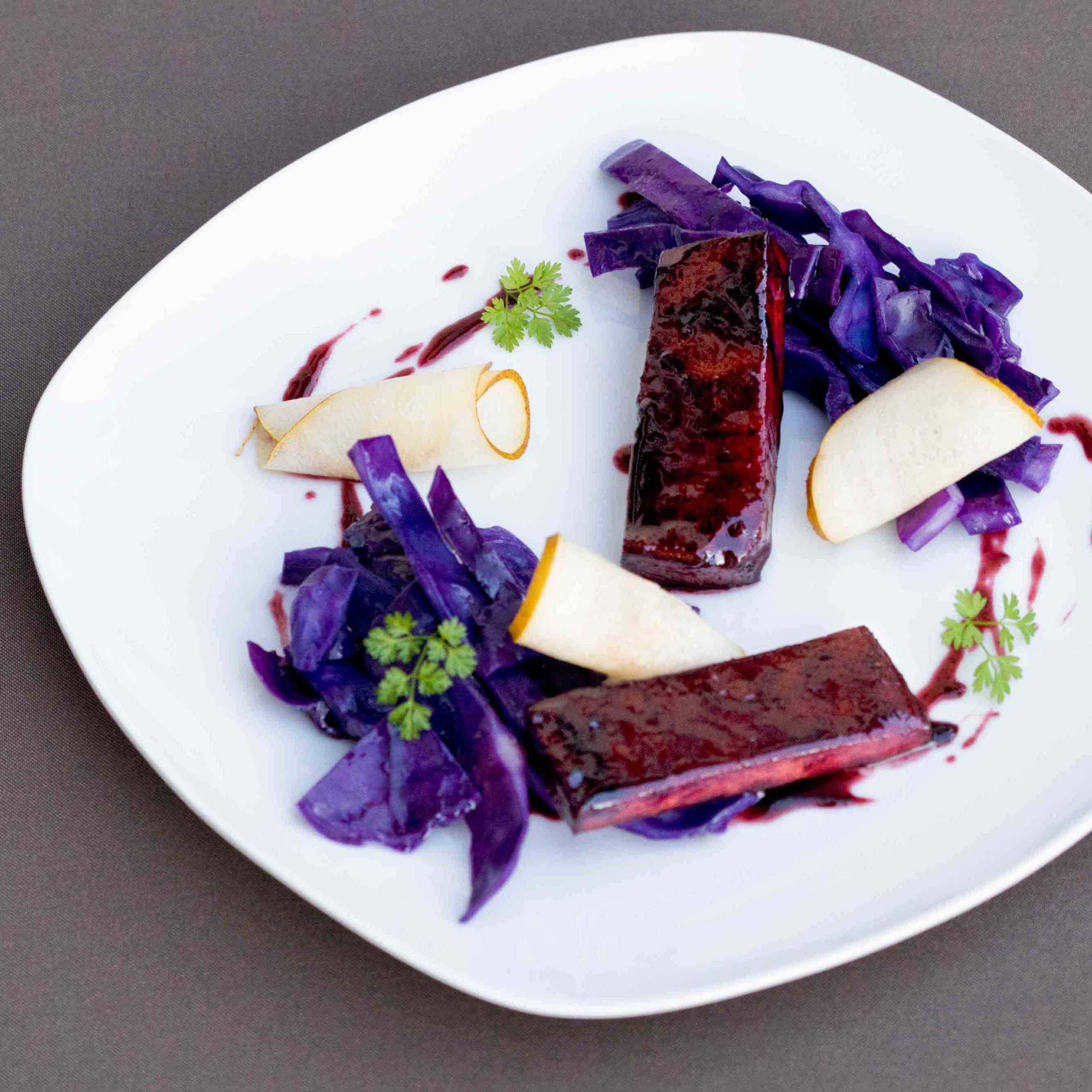 Olivier loves to research, explore and transmit. From the richness of plant ingredients, the discovery of new ways of doing things and the creation of recipes, he likes to nourish and feed on new knowledge. His main aim is to open up to what nature gives us and to trust, with closed eyes, our mother earth. With Terra Culinaria, his challenge is launched. The bridge is already being built…
Translated by Malvika Kathpal