When we talk about pastry, we imagine it with less sugar and less fat. Pastry Chefs are working to give it a new meaning and to make it more reasonable, more responsible.
But why should we make gourmet food reasonable ? Gluttony and reason. These are two words that we like to oppose while they go so well together.
Frédéric Bau, Artisan Pâtissier, committed creator
Head of the creation at Valrhona, Frédéric Bau is above all a talented French pastry chef, trained alongside the greatest. Born in 1965 in Lorraine, he discovered pastry-making with his family and then began an apprenticeship with Pierre Koenig in Metz. At the age of 17, he won the title of Best Apprentice of France and the following year, he realised his dream of working with Claude Bourguignon. The renowned pastry chef from Metz became his mentor and introduced him to Pierre Hermé two years later. Frédéric Bau joined the master of modern pastry in Paris and discovered a different vision of his profession: "Before I was making cakes, with Pierre Hermé, I became a pastry chef", says Frédéric Bau.
In 1987, he joined Valrhona and refined his knowledge of chocolate. In 1989, he founded l'École du Grand Chocolat and ran it for 20 years, making it a reference in technical chocolate know-how. The greatest names in international pastry-making still share their ideas and techniques in this pioneering training centre, which has become a reference for all craftsmen of taste.
"In 2004, I had the pleasure of speaking at a conference alongside the great Pierre Gagnaire. He explained how he had decided to evolve his cooking by using less butter and by imagining other ways of creating pleasure. He reminded us that "if we were the guardians of our customers' happiness, we were also the guardians of their well-being". I realised that the pastry industry also had to question itself and dare to develop recipes that had not changed since the 1950s" says Frédéric Bau.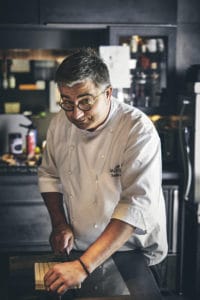 Pioneer of all-chocolate menus, he is one of the few chefs to master the right balance in the interpretation of sweet and savoury chocolate. In 2012, he developed the Blond Dulcey 32% chocolate. In 2017, he set up "De Main de Maître", a cycle of conferences and demonstrations inspired by artistic techniques, to share his vision of the creative process with Valrhona's privileged customers and gastronomy professionals from around the world. Always on the lookout for innovative ideas, he is a driving force in offering Valrhona customers new recipes and advising them on the best ways to use the new couvertures.
Author of numerous books, he participates in several culinary TV shows. He was member of the jury of "Le Meilleur Pâtissier" and host of the semi-final in 2017, jury of "Top Chef" in 2018, presenter of the second season of the show "Les Rois du Gâteau" alongside Cyril Lignac in 2019.
Exploring a pastry delicacy
The pastry chef and creator of the Valrhona School thus became the precursor of the announced pastry (r)evolution. He began to explore the concept of Reasoned Gourmandise with the support of Thierry Hanh, nutritionist, and the Valrhona Research & Development department, convinced that a dessert must now be beautiful, good and healthy. A subtle alchemy where delicacy and restraint must have their place.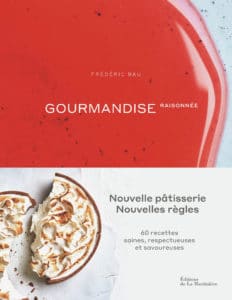 Curious and passionate, Frédéric Bau is also an author of delicious recipes, always inspired when it comes to renewing the repertoire of delicacies. Recipes, techniques, ingredients, tips… his latest book "Gourmandise Raisonnée" is the culmination of 15 years of work and formalises for the first time the founding principles of what is known as Gourmandise Raisonnée.
Lover of taste, Frédéric Bau has retained the enthusiasm of childhood, an incredible capacity to marvel and above all to ask the right question: why?
Why whould we do as we have always done? Why not invent other skills? Why not try, invent, innovate? For him, transgressing the rules is a duty to advance the profession and anticipate changes in society. Impertinent but always relevant, he is renowned for his art of following his little idea, which he develops and cultivates until it becomes a big idea. This is once again the case with his Gourmandise Raisonnée, which could well mark a real turning point both in contemporary pastry-making and at Valrhona.
Pierre Hermé, friend and accomplice of the reasoned pastry
Those who melt at the mention of a lemon tart or a chocolate mousse should be reassured.
"My idea is to find other ways to achieve the same emotional result as with a classic recipe. Gourmandise Raisonnée is a success when the gourmand does not realise that he is enjoying a healthier and lower-calorie dessert," explains Frédéric Bau.
What better way to demonstrate the relevance of the approach than to tackle the icons of contemporary gourmet cuisine signed by his friend, master and accomplice, Pierre Hermé. Blown away by the Gourmandise Raisonnée version of his famous Tarte Infiniment Vanille, the creator of the sublime Orphéo asked Frédéric Bau to develop the Gourmandise Raisonnée version of his favourite desserts. The four recipes are included in the book and will soon be displayed in the windows of Pierre Hermé's Parisian boutiques. "The most beautiful gift I could have dreamed of," adds Frédéric Bau.
A reasonable and sensible gourmet pastry
At the opposite end of the spectrum from the current "no" or "zero" trend, Gourmandise Raisonnée is a philosophy of the best.
"No prohibitions, no taboo ingredients, but a reasonable dosage of quantities. Butter and sugar can be used, but only if they are necessary. Just what is needed, nothing too much. The Gourmandise Raisonnée embodies a pastry based on good seasonal products, it is the pastry of tomorrow in my opinion", says Frédéric Bau.
If the Gourmandise Raisonnée is a reasonable delicacy, this does not prevent it from being irresistible.
"The Gourmandise Raisonnée is a success when the gourmet doesn't realise that he or she is enjoying a healthier, lower-calorie dessert". 
A book of pastry art
If some pastries are true masterpieces of precision and elegance, the book "Gourmandise Raisonnée" is just as sumptuous and will delight professionals as well as gourmet amateurs.  
In this book, the Chef proposes revisited traditional recipes, but also vegan recipes, such as the dessert Sans pour Cent or Le Flamand.
Almond milk, hazelnut oil, rice cream, chia seeds, silky tofu, water-based ganache… the ingredients become sweet.
In Guillaume Czerw's photographs, gourmet materials and textures are revealed like abstract landscapes, sublimated by the printing carried out by the Imprimerie des Deux Ponts, a certified Living Heritage Company. A beautiful edition that lives up to the reputation of the famous publishing company, Éditions de La Martinière. A book to discover for the pleasure of the eyes, for the pleasure of the taste. But above all, to help us design the pastry of tomorrow, reasonable and sensible, for the well-being of all.
---
Learn more
Order the book "Gourmandise Raisonnée" – Éditions de La Martinière