A heritage from the vines
Claire came to vegetarianism for health and well-being reasons. She started to cook differently, with a clear conscience, to better understand the product and better understand what she was eating. Naturally and over time, she turned to plant-based cuisine which has since become a passion.
Wine is a different story. It is a family affair since her winegrower grandparents passed on their love for wine to her.
Proud of her heritage, she decided to combine her passions and her lifestyle by creating Double V, a consultancy company in plant-based food and wine pairings.
A range of wine pairings
With Double V, Claire now offers a range of tailored services to meet the needs of professionals and individuals. Whether you are a curious amateur or committed in the profession, there are many ways to learn more about this field.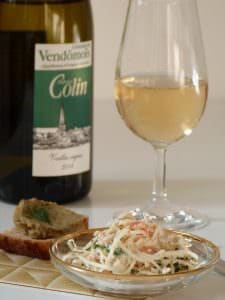 Oenological advice and personalizsd support for restaurateurs who want to green their menu and winegrowers who want to adapt their offer to their ethics.
Oenological events and conferences to allow everyone to discover how to pair wines with plant-based dishes.
Training in plant-based cuisine for professionals and the general public who wish to learn to cook 100% plant-based while matching wines, around weekends in the countryside.
Claire has built a unique knowledge around her project and also shares her knowledge through writing. She participated in the writing of the book Apéro Veggie by Cléa and the Vegan Challenge by Elise Desaulniers. But if there is one book she can be proud of today, it is her Brachet Guide to Vegan and Plant-based Wines!
The guide to vegan and plant-based wines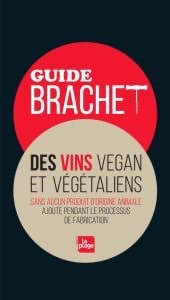 The Brachet Guide is a real treasure, the result of her work and research, this guide is just like Claire, rigorous and precise. It is the new wine bible to keep close to you to better pair your plant-based dishes.
Whether you are a catering professional or a wine lover, you will find new and fascinating information there.
The guide is divided into four parts.
The first part is devoted to the wine-making techniques and how to identify wines that are suitable with a plant-based diet. We learn in particular what a 100% grape wine is, what are the different fining techniques, what is the impact of sulphites, what organic viticulture is, and what labels to consider.
The second part suggests ways to match plant-based cuisine and wines. There are testimonials from restaurateurs who have made wine choices based on their cooking style, as well as advice on pairing wines according to cooking and seasoning methods…
The third part contains the guide to the main French grape varieties where you will find information on Chardonnay, Sauvignon Blanc, Sémillon, Merlot, etc.
The fourth part contains the domain guide. There are listed fifty wineries producing 100% grape wines, with a little word on the history of the winegrowers, their growing methods, their cuvées… and always Claire's advice to match each wine to a plant-based dish.

Her advice on wine matching
Claire's top tip is to always have a bottle of Sauvignon Blanc. It is indeed the best friend of vegetables, especially green vegetables. It is the everyday wine for vegans and vegetarians!
Her second piece of advice is to dare to go for full-bodied red wines (such as Merlot aged in barrels). To better appreciate this wine, it will just be necessary to work the vegetable that will accompany it so that it is grilled, smoked or roasted. An example of a dish could be a beetroot salad in a mixture of smoked tea, coffee, cloves and maple syrup.
Claire is dynamic, precise and full of ideas! With her, we discover a new way of pairing good food!
After reading her guide, I was won over by the potential of plant-based wine and plant-based food pairings. Claire offers us a wealth of information that encourages restaurateurs and sommeliers to enter a new era of innovation. So here's to 100% grape wine!
Translated by Malvika Kathpal