Josselin Marie went through the greatest Chefs. For twenty years, his experience in the kitchen has led him to work in the finest Parisian palaces such as the Plaza Athénée or the Ritz Paris. Today, he is Chef at 1 Place Vendôme, a gastronomic restaurant nestled on the first floor of the Hôtel Vendôme, and is taking this place to a new era.
An eco-responsible approach
Josselin Marie is one of those current and modern Chefs who believe that tomorrow's food will be more plant-based.
A new awareness led him to question how we will consume in the years to come and to ensure that quality food continues to be available. For the Chef, the solution lies in an eco-responsible approach.
And it is with the association Bon pour le Climat that the Chef found answers to develop dishes with low ecological impact. This is an obvious choice for Josselin Marie who believes in this approach. An approach which may seem restrictive but which in reality allows savings to be made on many things, such as water and health.
At 1 Place Vendôme, the Chef offers a refined cuisine with a menu that is 50% organic, changing with the seasons and market products. A winning bet and an approach that customers appreciate.
Real research work
Josselin Marie does not forget where he comes from. Of Breton origin, he created Le Verger et l'Estran, a dish made from vegetables, fruits and seaweed, in homage to his childhood memories. A vegetarian dish (mussels are served with the dish) can be transformed into a plant-based version on request.
For the Chef, knowing where you come from allows you to know where you are going. Culinary literature is a reference for any Chef, but you also have to know how to let go of what you know to be able to innovate.
In the kitchen, it is a real work of research that is required when a Chef works with plants. This implies new knowledge of products, new techniques, different cooking methods, and special attention to vegetables which are not always the same depending on their origin and growing conditions. Permanent research and quality of observation that forces the Chefs to adjust their ways of working.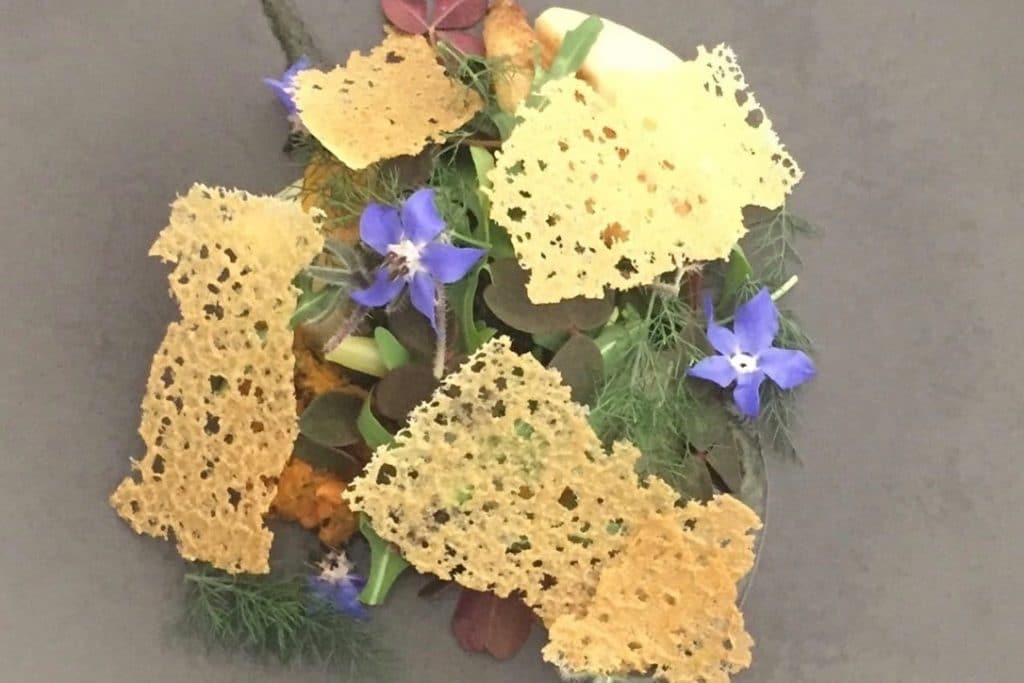 Time and precision
For Josselin Marie, working with plants requires a lot of preparation. Several steps are to be considered. The preparation of vegetables takes time (peeling and cutting), and assembling them is delicate.
The biggest difficulty is to find the right techniques. Chefs are not used to working with certain ingredients and do not always know how to source the cutting-edge products.
Also, for those who ensure that their products have a low carbon footprint, the plant products they use must inevitably meet this criterion.
Chefs do not yet have the right reflexes to create the associations of flavours and textures that make it possible to make a refined and gourmet plant-based dish. With Le Verger et l'Estran, it is the work and creativity transmitted to the plate that makes this vegetable dish so elegant.
The key is to transmit emotion, and the vegetal dish gives each Chef a unique opportunity to express himself in a natural way.
1 place Vendôme is part of a resolutely modern and committed approach.
For the Chef, gastronomic meals as we know them today will not disappear, but our everyday meals will certainly be transformed – a global vision that allows Josselin Marie to design the future of food in a smooth transition.
Translated by Malvika Kathpal