The plant-based plate
While plants are often considered as an accompaniment to a dish, François Pasteau builds his plates from plants – creations where the plant is put forward and where animal protein takes second place.
At Epi Dupin, the dishes therefore all revolve around plants. But in his menu, the Chef also offers a plate of seasonal vegetables, 100% plant-based. A variety of vegetables that can be composed (as here) of zucchini tagliatelle, new carrots with ginger, radish pickles, green beans and Andean horned tomatoes, pan-fried eggplant with sesame, spring onion phanes, yellow zucchini, peppers, wild rocket, celeriac and spinach. The whole thing is sprinkled with organic grain bread crumbs.
These dishes are aimed at a flexitarian clientele, concerned about the impact of food on health and the environment.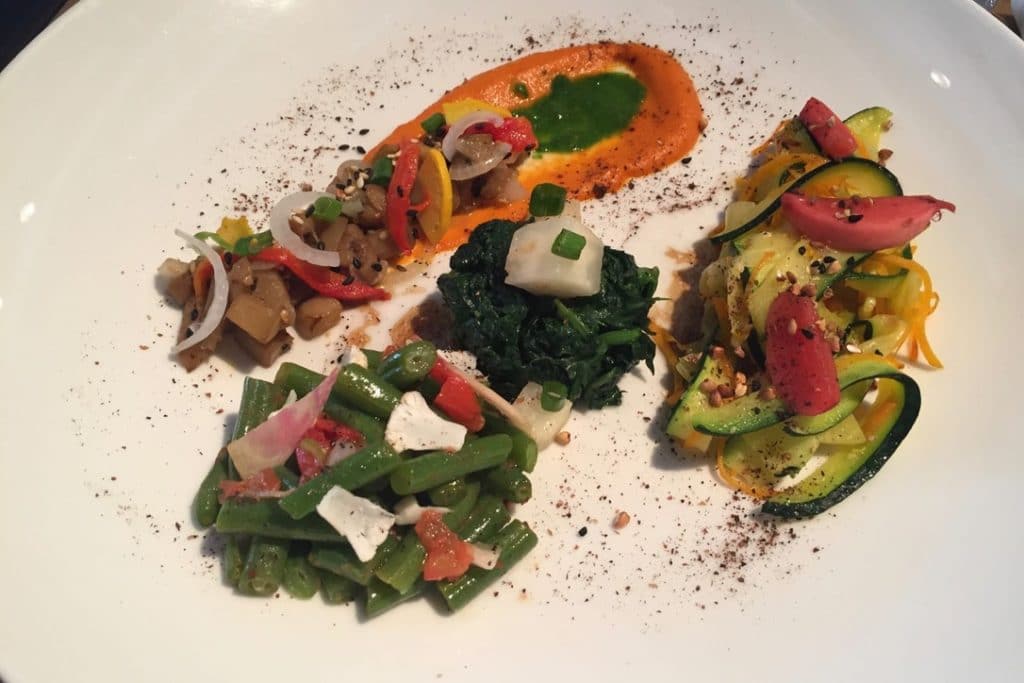 An eco-responsible approach
For François Pasteau, the consumption of meat is far too important when we do not need to eat as much. The Chef uses therefore above all a healthy approach.
But it is also a good approach for the climate. It is about asking the right questions to act for the climate and think about how we can reduce greenhouse gases. This is why François Pasteau got involved with many associations, including Bon pour le Climat, which supports Chefs in an eco-responsible approach.
The Chef offers an environmentally friendly cuisine, with local and seasonal products, fish from sustainable fishing, water from the microfiltered network, sorting of bio-waste, recovery of oils, and use of renewable energy.
It is also the desire to return to the land, to work on his vegetable garden, to grow herbs, plants, vegetables, and to appropriate many plants that Chefs do not think about.
The most important thing for François Pasteau is to save the planet, by being closer to the product and offering quality, while helping those involved in agriculture.
An evolving cuisine
Regarding the 100% plant-based offering, there are still many fears on the part of Chefs, certainly due to a lack of knowledge of the subject and a lack of information.
Traditional Chefs who work with plants do not do so with the aim of making their menu more plant-based but to surprise customers with new products.
For François Pasteau, it is not a question of going towards all plants only for economic reasons, without understanding what it represents and without going all the way with it.
The younger generation has a different attitude to catering. With more time and curiosity to learn, travel and observe, young Chefs are more open to a lot of things. They draw their inspiration from techniques from elsewhere, they rediscover forgotten cooking methods… More connected to social networks, they can bring another dynamic to the catering industry.
To support this change, we should also reverse the trend in hotel schools to offer nutrition courses and integrate more plant-based products into the curriculum.
Cuisine evolves a lot according to the desires and curiosity of consumers. This is why work in the dining room is also important. The waiters are not only the ones who carry the plate, they are the ones who inform and explain – those to whom the customer can turn.
If the staff are well trained, the customer (whoever he may be) will feel understood and heard.
This is not a fad, but a real fundamental movement that is taking place. Consumers today need to be reassured in the evolution of their plate. François Pasteau is convinced that with time, new culinary discoveries, the Chef's freedom and if everyone feels responsible for what they eat, we can gradually change things together.
Translated by Malvika Kathpal