Art in the cuisine
In this place steeped in history, Chef Lionel Levy offers a 5-star restaurant combining tradition and modernity. At the Les Fenêtres brasserie, he makes room for plants with a special menu called Arcibiobon.
The Chef was inspired by the famous painter Arcimboldo and his portraits of fruits and vegetables, to create an entirely plant-based menu.
On the menu, we will therefore find avocado-banana-kiwi guacamole accompanied by vegetable chips, a pistou soup and a Veggie Burger.
The Veggie Burger, 5-star street food
To see the burger come first in the veggie menus of palace hotels is quite surprising, especially since these dishes are not always very successful and do not necessarily express all the creativity of Top Chefs. Also, vegan customers do not necessarily go looking for burgers in gourmet restaurants because they know where to find them elsewhere.
However, Chef Lévy's Veggie Burger is interesting. On a bed of whole peas, there is a chickpea steak, accompanied by a thin slice of home-made cashew cheese.
Quite dense in consistency, almost too hard to cut, the steak nevertheless has a fine and delicate taste, while remaining crunchy. The lightly browned bread also gives a touch of originality to this dish. The burger is accompanied by homemade sweet potato fries, bringing a light sweet-salty flavour.
Despite some imperfections, this is a rather original and attractive burger that deserves to be known.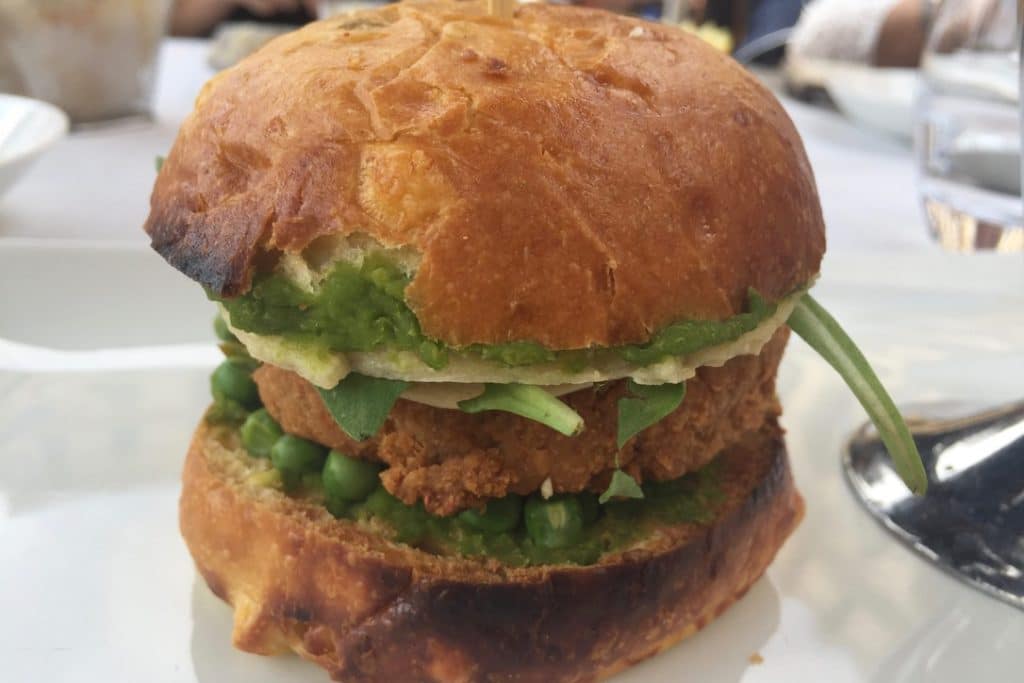 A trendy concept
The Arcibiobon concept is interesting. The main originality lies in the association of art and cuisine. Taking inspiration from the famous Italian painter also brings a playful and colorful touch.
Arcibiobon is in line with the culinary trends of the moment, which are mainly focused on health. The vegetables are organic but we do not know more about the rest of the ingredients. Communication around this menu remains rather vague and limited.
Making 5-star street food may be the necessary step to bring more plant-based food into high-end restaurants, and the veggie burger seems to be the way to go.
For a plant-based menu in a place like this, Arcibiobon still lacks refinement and creativity. It deserves more advanced and luxurious work on plants. However, the Les Fenêtres brasserie is undeniably a place to discover, for the quality of the services, the setting and the tranquillity.
Translated by Malvika Kathpal