Abies Lagrimus means 'fir tears' in Latin and Catalan. Through this brand, Claude Sarda wishes to promote the benefits and flavours of nature.
An ancestral recipe from the Pyrenees
"It is in summer that we harvest the cones of Abies Alba (white fir) gorged with sap and resin that grow at the top of the trees, about 35 meters high, in the middle of the forest…".
Claude Sarda's voice is warm and enveloping like the fir syrup that his ancestors used to prevent winter ailments.
Claude obtains this traditional fir syrup after a slow maceration of several months in his workshop. A unique syrup of its kind with recognized benefits, due among other things to the presence of essential oils and polyphenols.
Claude is committed to enhancing the natural resources of his territory, according to sustainable and responsible practices.
"If I don't harvest the fir cones, they will return to the earth without anyone doing anything with them. In my own way, I participate in the maintenance of our forests", explains the Catalan entrepreneur, who has developed a partnership with the National Forestry Office.
The promotion of this territory also involves collaboration with local artisans including Sylvain Vives from the Vinaigrerie des Domaines, in Corbère, for the creation and preparation of two 'sweet-fruity' and 'extra dry' fir vinegars.
It is also a collaboration with Thierry Omnes, liquorist in Corbère-les-Cabanes, for the creation and preparation of two fir liqueurs. Claude specifies that "everything is developed in our workshop with 100% of our products".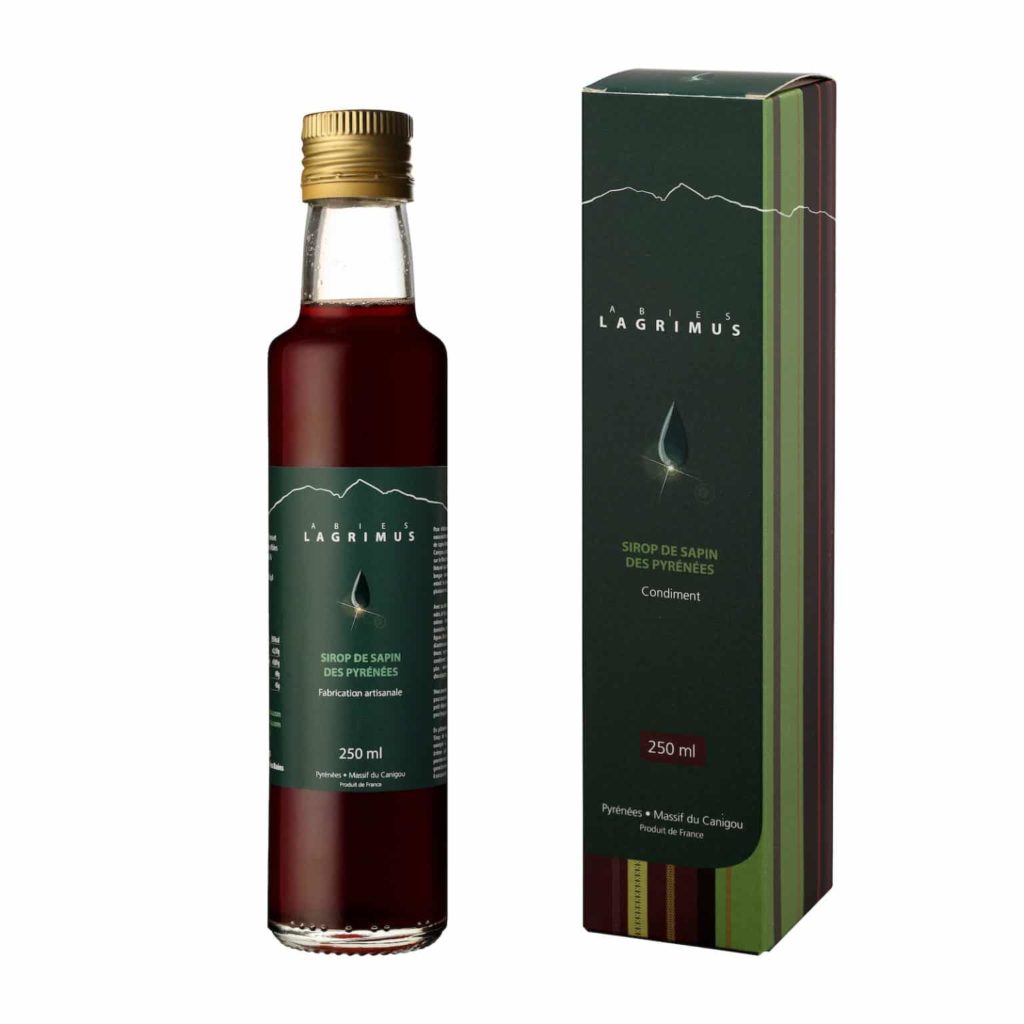 The first clients of Claude Sarda were pharmaceutical pharmacies, followed since by Chefs and restaurateurs. Among the latter are a few Michelin-starred Chefs and establishments emblematic of our gastronomic heritage (1).
The art of mixing tradition and innovation
Certified organic since 2015 and labeled 'Valeurs Parc Naturel Régional', the Abies Lagrimus brand now has a range of exceptional syrups.
Abies Lagrimus also have vinegars, liqueurs, floral pearls, and a surprising pepper, all from the firs of the Catalan Pyrenees. To those who wonder how to use them, the talkative business manager replies "in the simplest way possible".
In order to make your mouth water, Claude tells us greedily about his balsamic cream of Canigou fir.
"Exceptional and unique, this balsamic cream is obtained from the maceration of pine cones and young shoots of fir with the addition of organic vinegar from Jerez. We are on the sweet and sour. The sweetness of the fir syrup, in attack, is offset by the acidity of the vinegar. Ideal for deglazing!".
As for the sweet-fruity Pyrenean fir vinegar, "imagine intense aromas of red and black fruits mingling with the delicate scents of fir".
Its sidekick, in an extra-dry version, adorned with a golden robe, is a marriage of delicate notes of fir followed by the freshness of tangy fruits of red fruits and wild resin. And about fir pepper … fine, delicate, made from dried fir buds, fir pepper develops subtle aromas of forest and resin as well as notes of red fruits. Its light bitterness in the final note gives it an exceptional taste. It can be used for both savory and sweet recipes.
"On a vanilla ice cream, its crunchiness blends harmoniously with the melting of the ice cream… Just as it will go wonderfully with fruit sorbets or fine pies".
A diversified offer
From the outset, the company wanted to diversify its markets and its targets, declining its offer and its packaging in two distinct versions depending on the clientele concerned (pharmacies, herbalists / gastronomy professionals, caterers, delicatessens, individuals, etc.). The brand is therefore aimed at professionals as well as individuals.
Abies Lagrimus is also a great commercial dynamic which ensures a strong presence on the local and regional market. The French market does indeed have a large number of prospects and renowned customers.
As for international development, the brand is already exported to Belgium, Spain, Switzerland, Germany, Canada, USA, Singapore, Japan … which will help to accelerate the development and ensure the durability of the small "Food-up" .
For Claude Sarda, Abies Lagrimus is a unique proposition that combines tradition and innovation, with the pride of having developed a unique range in the world, combining Gastronomy, Health and Well-Being.
(1) Lionel Giraud**, Maison Saint Crescent (Narbonne); Laurent Lemal*, Restaurant la Balette (Collioure); Albert Boronat, L'Ambassade (Llivia, Spain). This Chef has just represented Spain at the Bocuse d'Or in Tallinn and used Abies Lagrimus products during the same competition; Thomas Moulin, Alain Ducasse's pastry Chef in Tokyo, who has recently started using Abies Lagrimus products.
Translated by Malvika Kathpal