Jérôme Clavel started his career as a cooker in 2001 on the Côte d'Azur, with a first experience at the Eden Roc restaurant at the Hôtel du Cap in Antibes, then at the Oasis in Mandelieu-la-Napoule.
He then moved to Switzerland where he worked at Domaine de Chateauvieux (2* Michelin), then to Ireland where he joined the restaurant Patrick Guilbaud (2* Michelin).
In 2015, back in France, he worked for two seasons as sous-Chef at the Maison des Pêcheurs in Cap of Antibes (1* Michelin) and then joined the restaurant La Grand'Vigne (2* Michelin) at the Sources de Caudalie in Martillac.
A year later, he returned to Antibes and opened his own restaurant Le 44 on July 4, 2016.
Lover of French gastronomy and his native French Riviera, Jérôme Clavel draws inspiration from his environment to offer a menu with revisited flavours.
Three months after the opening of his restaurant, he received the title of Maitre-Restaurateur, which gave Le 44 a new dimension.
Meeting of Chefs
It was during the Les Etoiles de Mougins festival that Jérôme Clavel met Willy Berton, Chef of the Vegan Gorilla restaurant in Nice. It was a decisive meeting.
Using four hands to create a plant-based mayonnaise, the young Chefs challenged each other and had fun. The challenge carried by Willy was the trigger. The two men became friends and continued to chat after the event.
In 2017, Jérôme decided to offer a plant-based menu in his restaurant, a unique menu at 44 euros composed of a starter, a main course and a dessert that he composed according to the seasons. In autumn, you can find a celery tartare, granny smith apple, walnuts and mesclun for the starter, a pumpkin soup with pan-fried ceps and hazelnuts for the main course, and a verrine of coconut and exotic fruits for dessert.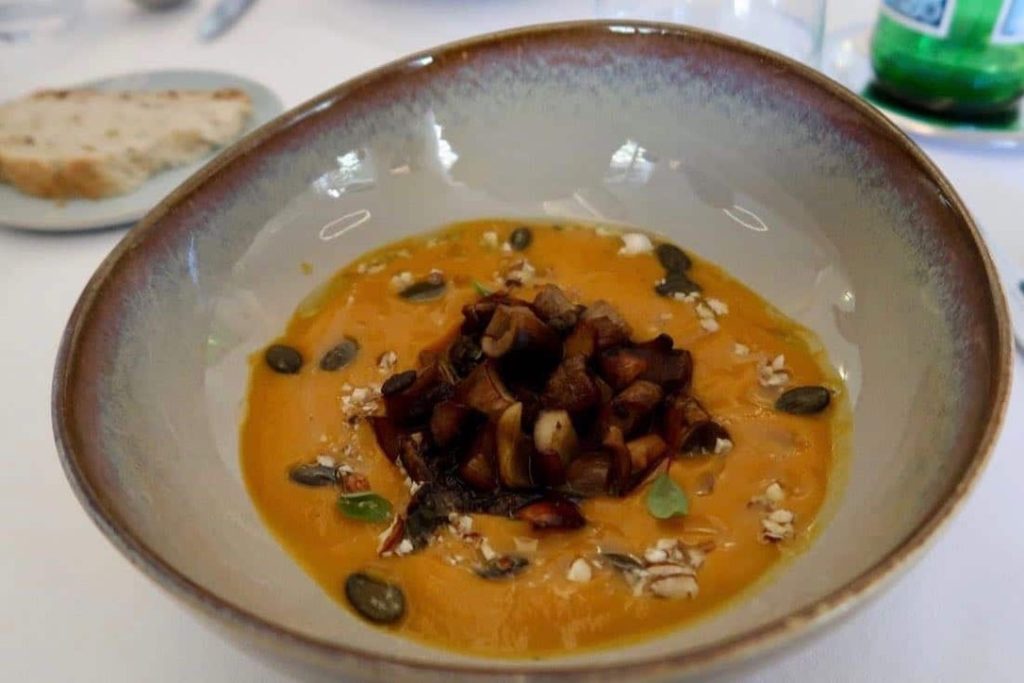 A clientele in demand
Jérôme tells us that the demand is indeed there. In Antibes, it is more of a foreign clientele, especially in summer. But since the restaurant was referenced by Vegoresto, French vegan customers are coming more and more to the restaurant.
Many customers take the plant-based menu out of curiosity or a desire for something new. Without necessarily being vegan, they want above all to discover a new way of cooking and are generally surprised by the new tastes.
For Jérôme, as a restaurateur, the result is very positive. Over a week, ten to fifteen plant-based menus are requested, which is 5 to 10% more customers. This new cuisine brings him a clientele that he would not have imagined.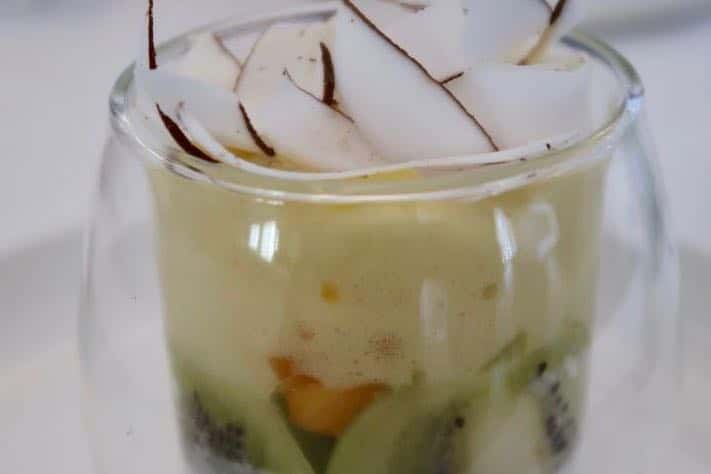 Think differently about cooking
Working in plant-based cuisine is a challenge that Jérôme accepts to take up with pleasure and passion. This brings him new creativity and makes him think differently about cooking.
However, he wonders why restaurant owners do not cook more plant-based, especially since plant-based cuisine carried out by a high-level traditional Chef gives confidence and reassures customers.
This effectively requires the Chefs to question themselves, to liberate themselves, and to be able to try new things. It also means accepting what is most fair and natural, respecting the seasons and giving back to nature what belongs to it.
What particularly interests Jérôme in all of this is the exchange between Chefs, which allows him to learn new techniques and ways of doing things. It is about filling the knowledge gap that exists today in plant-based cooking and remaining curious enough to go further.
Jérôme Clavel is a modern and committed Chef. His years of experience working with Top Michelin-starred Chefs have taught him a love for fresh, seasonal products, a blend of flavours and top-of-the-range dressage. With his plant-based menu, he brings plant-based cuisine to the future while giving it a gastronomic dimension that everyone can appreciate. Le 44 is a reflection of his authenticity and a place that demonstrates the extent to which there is "no need for pomp and circumstance when you have the taste".
Translated by Malvika Kathpal