Josselin Marie worked with the greatest. In twenty years of his profession, he has worked in the finest Parisian palaces such as the Plaza Athénée or the Ritz Paris. His last experience at the gastronomic restaurant of the Hôtel de Vendôme led him to take a new look at responsible cuisine. Today, with his restaurant La Table de Colette, Josselin Marie contributes more than ever to eco-responsible cuisine.
An eco-responsible gastronomy
For Josselin Marie, eating can also be a militant act, so for La Table De Colette, he wanted this act to have no negative impact on the planet.
As the first eco-responsible and zero-carbon French gourmet restaurant, La Table de Colette turns to the food transition with tact and coherence, around seven commitments.
Select products and producers according to four criteria: respect for the seasons, a maximum of peasant seeds, irreproachable quality and environmental awareness
Offer an exclusively homemade cuisine that is regularly renewed
Choose products, recipes and combinations of ingredients that consume less carbon, via the eco-calculator of the Association Bon pour le Climat
Use exclusively renewable 'green' electricity, via the supplier Enercoop and low consumption kitchen equipment
Limit food waste by offering a reasoned choice of dishes
Limit and recover all waste by sorting and composting it
Offset the carbon produced by the restaurant, by financing the planting of trees via the company Ecotree
A 100% plant-based menu
During an autumn meal, the Chef accepted the challenge of a 100% plant-based menu.
In five dishes, Josselin Marie has been able to put the vegetables divinely forward, as he now does systematically. A gentle and delicate journey that confuses the senses as much as it creates emotion.
On a rock in front of the ocean
Originally from Brittany, Josselin Marie tells us his story through his cuisine. This appetiser is an invitation into the Chef's universe and marks the identity of the House.
Tapioca chips available in three versions, with an apple compote, a pear compote, a vegetable 'oyster' with horseradish and a borage flower for the iodine side. One can easily imagine the interstices of a rock where crunchiness and freshness mingle. The sea is not far away.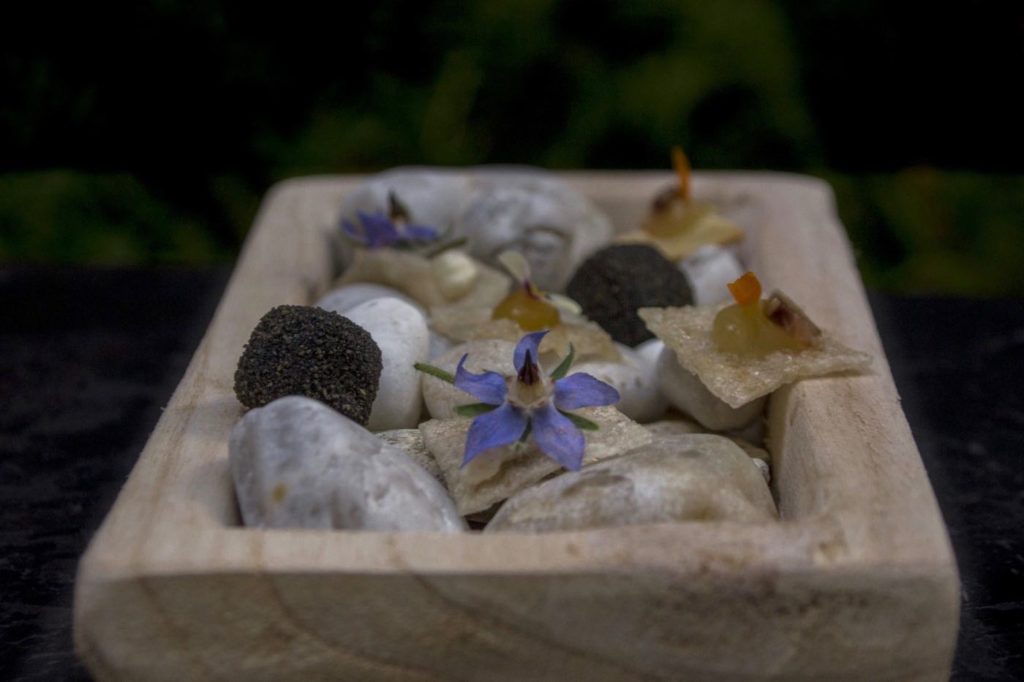 The Compote
This comforting first dish brings warmth to this seasonal menu. The onion compote with red wine goes perfectly with the pan-fried salsify with parsley and the creamy watercress.
The Orchard and the Foreshore
Here we find the signature dish that Josselin Marie already offered at the Hôtel de Vendôme and that he is developing at La Table de Colette – a dish created in homage to his grandfather, which tells the story of the Sunday afternoon stroll to discover the nature.
On the orchard side, there is a paste of dried fruits, apples and seasonal vegetables (cauliflower, carrots). Arugula herbs, bronze fennel, oxalis and sea fennel all refer to the cliff that Josselin remembers.
On the foreshore side, we can see the sea at high tide, and its opposite at low tide, which leaves room for many algae. This plant-based dish offers a seaweed tartare seasoned with seaweed juice, a lemon paste, a buckwheat tile and roasted buckwheat seeds.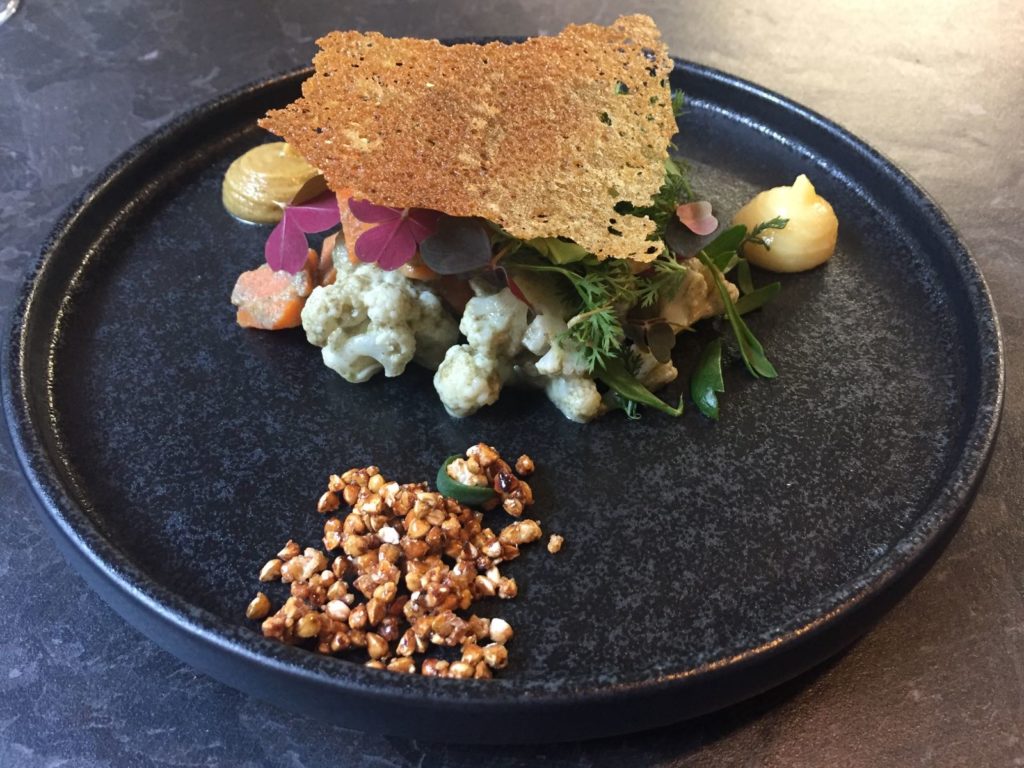 A duo of carrots and beets
For Josselin Marie, the very essence of gluttony lies in the marriage of natural sugars offered by vegetables. It is therefore logical that he offers us this duo made of sesame carrot sweets, roasted beetroot in coarse salt, carrot puree, carrot compote in vinegar, all covered with bergamot tiles.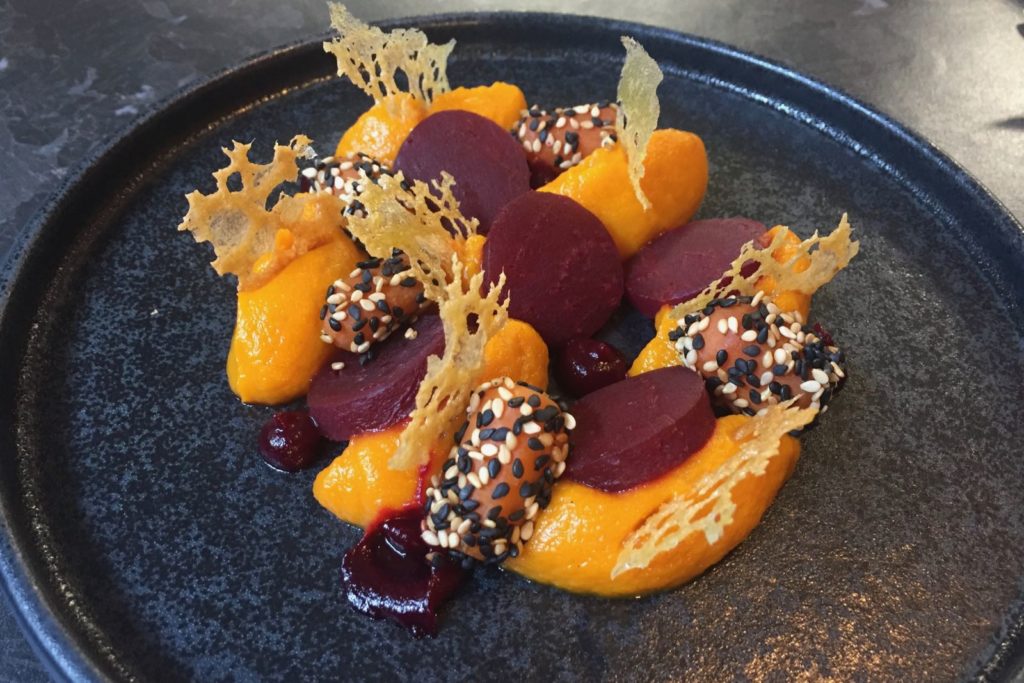 The Pear-Walnut
The Poire-Noix is ​​a creation of the Pastry Chef Louise Wolmer, composed of a pear jelly, a nut chouchou, a walnut praline, a pear confit and infused fresh pear. This pre-dessert brings a sweet and delicate flavour to the end of the meal.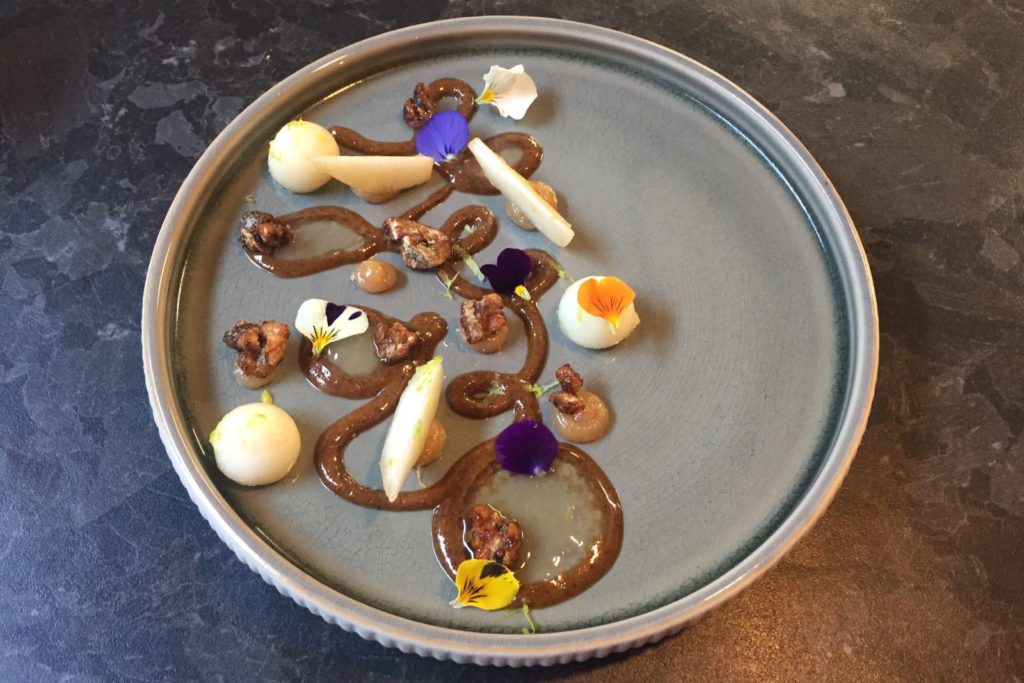 All chocolate
To end this menu, a final explosive dessert is offered in an all-chocolate version. Made with a Streusel of bitter cocoa and fleur de sel, crunchy discs, a cocoa jelly and a chocolate moelleux accompanied with a chocolate sauce, this dessert is made from a 64% dark chocolate from Valhrona.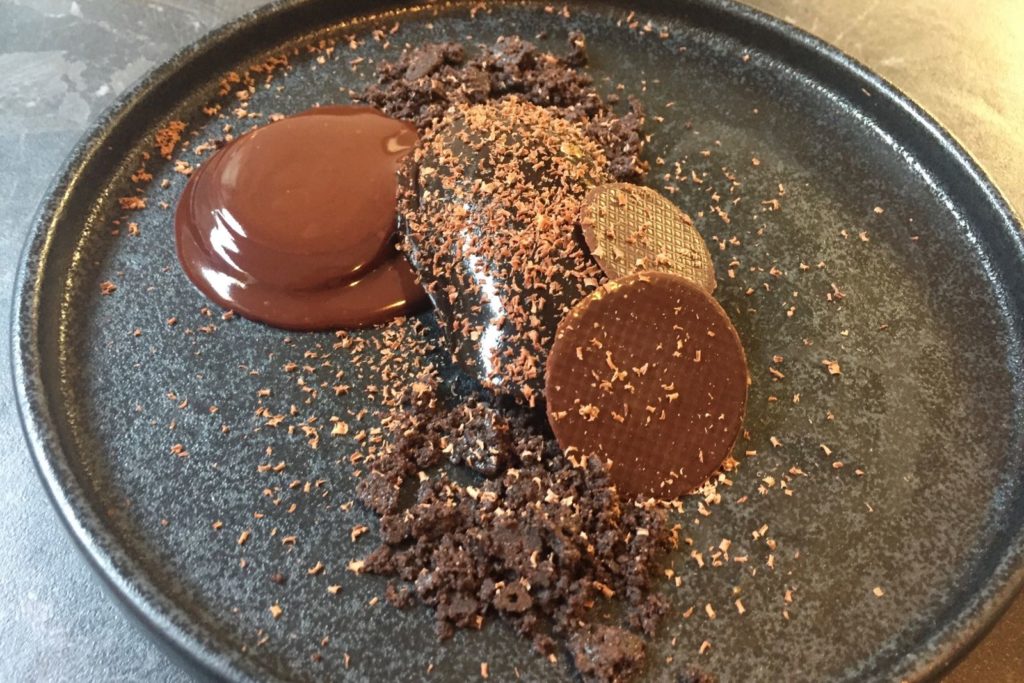 Food and wine pairings are developed by Franck Emmanuel and offered in the dining room by Vincent Thay. Possible pairings in two, three or four stages, at the convenience of the customer. For this meal, it is a Poiré Granit Eric Bordelet that accompanied us. A soft and cidery wine, just sweet.
At La Table de Colette, you can see the sea in the distance. Josselin Marie tells us a family story, his story. The tree, symbol of nature and family branches, reminds us of the intensity of memories that a dish can bring.
What makes this place unique is a human depth that can be felt here. It is the people who live here, this close-knit and caring team, which does a tremendous job with the greatest possible respect for nature and mankind.
With the recent awarding of two Gault & Millau toques and a score of 14.5/20, La Table de Colette is resolutely showing the way to a new French luxury. From the elegance of the dishes to the respect for nature, haute cuisine could well become that of a cuisine that is more respectful of everything.
Translated by Malvika Kathpal