A contest of circumstance(s)
Sometimes all it takes is a competition to show what a pastry Chef is capable of. A suitable theme is also sufficient to show another side of the story. And all it takes is a good pastry Chef convinced by his ideas to revolutionise the world of pastry.
While living in London, Quentin Béchard decided to participate in the 'UK Junior Chocolate Masters' competition launched in England in 2015, the theme of which was 'Inspiration from Nature'. Quentin created a sculpture entitled 'Nature reborn' and won the competition.
He decided to continue his momentum and to attempt the 'World Chocolate Master'. The competition theme was 'Futuropolis' and gave the participants the opportunity to express their vision of the future and of what the pastry profession will be like. For Quentin, it was a plant-based and eco-responsible pastry.
For the selection of the competition, he composed an artistic piece (Tomorrowpolis) made of dark chocolate, accompanied by a take-away cake (Cake Oddity) and a dessert on the plate (A future to Cherrysh).
The packaging of its creations is adapted from an ecological perspective of waste reduction. Quentin collects the aquafaba (chickpea water) to make his pastries and uses the chickpeas to make a chocolate brioche. 'Cake Oddity' is placed on a paper made from recycled cocoa pods.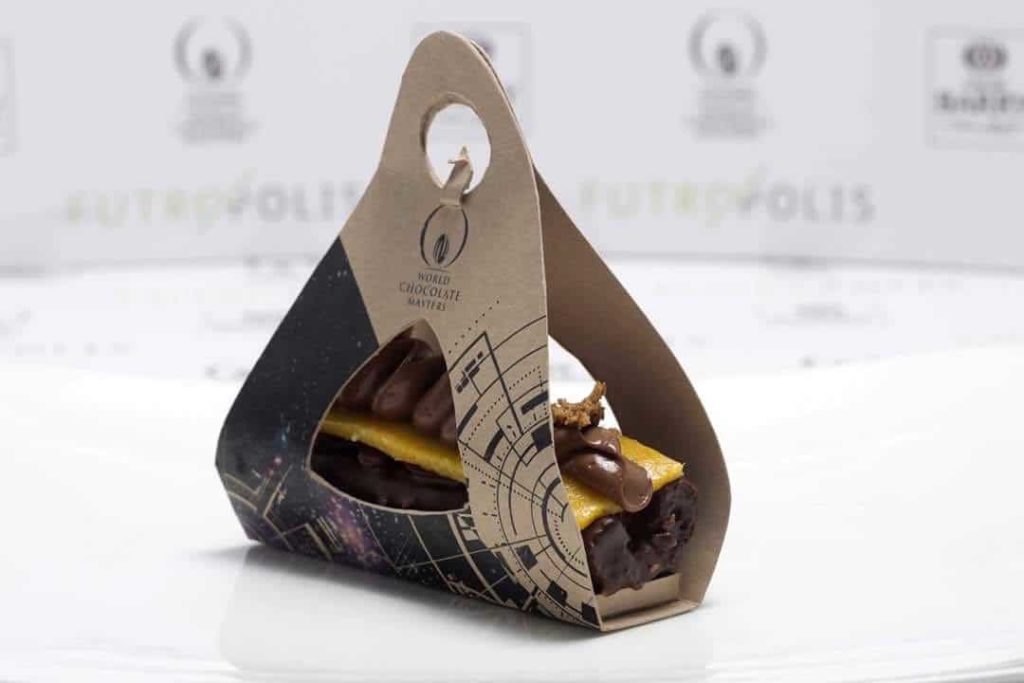 Quentin is unfortunately not retained for the 'World Chocolate Master', but it is only partly postponed. His work has aroused real interest from professionals. His artistic piece was exhibited at the Salon du Chocolat in London the same year and the door is now open for him to position himself with the best pastry Chefs.
Instant V Pâtisserie
In spring 2018, Quentin left England with Mathilde, his partner. They decided to return to France with the project of opening a pastry shop in Aix en Provence.
After a few months of work, Instant V was born.
Opened in February 2019, Instant V is a fully plant-based and mostly organic pastry-chocolate shop and tea room. Quentin manages the production and Mathilde the tea room.
To eat on the spot or to take away, Instant V offers French sweets worked with elegance. Fine pastries, desserts, macaroons, pastries…
The pastries are unique creations with bold flavours, such as the sesame-grapefruit tart, the lemon-verbena meringue financier, the chocolate-caramel or hazelnut-tangerine chocolate cake (the latter having been presented by Quentin in the 2015 competition).
As for the macaroons, they are made with ube jam, orange and chocolate Pims style, yuzu, matcha green tea, classic chocolate, fleur de sel caramel, praline and pina colada.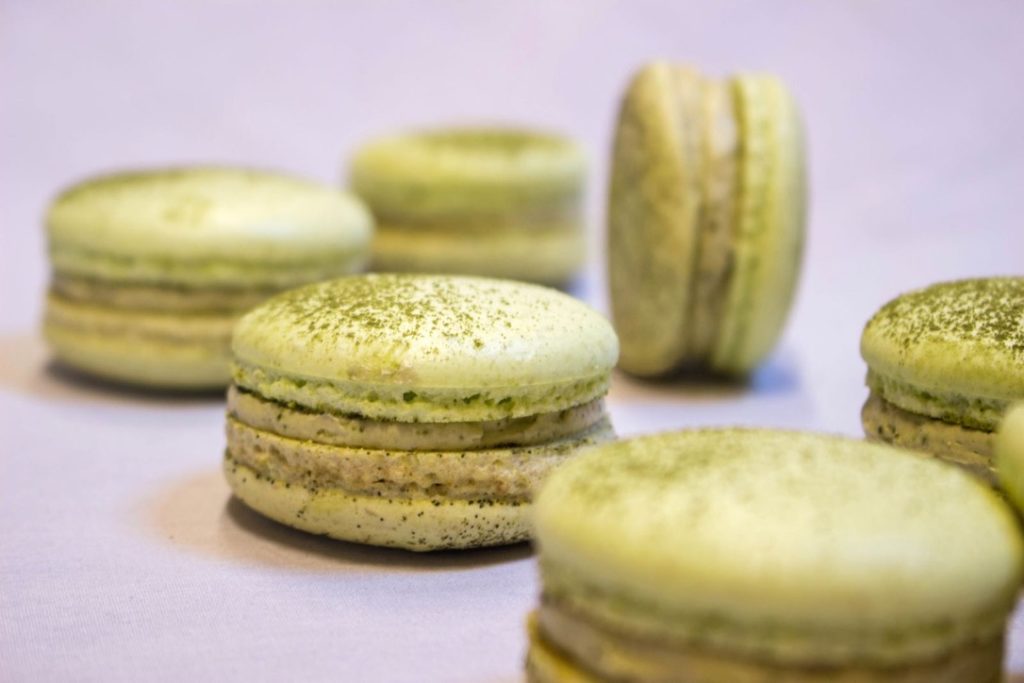 The viennoiserie is 100% organic, and on the confectionery side, you will find caramel chocolate, Earl Grey chocolate and old-fashioned praline chocolate.
Original associations, with new and spicy flavours, make up a launch menu with winter flavours, which will change regularly, according to the desires and the seasons.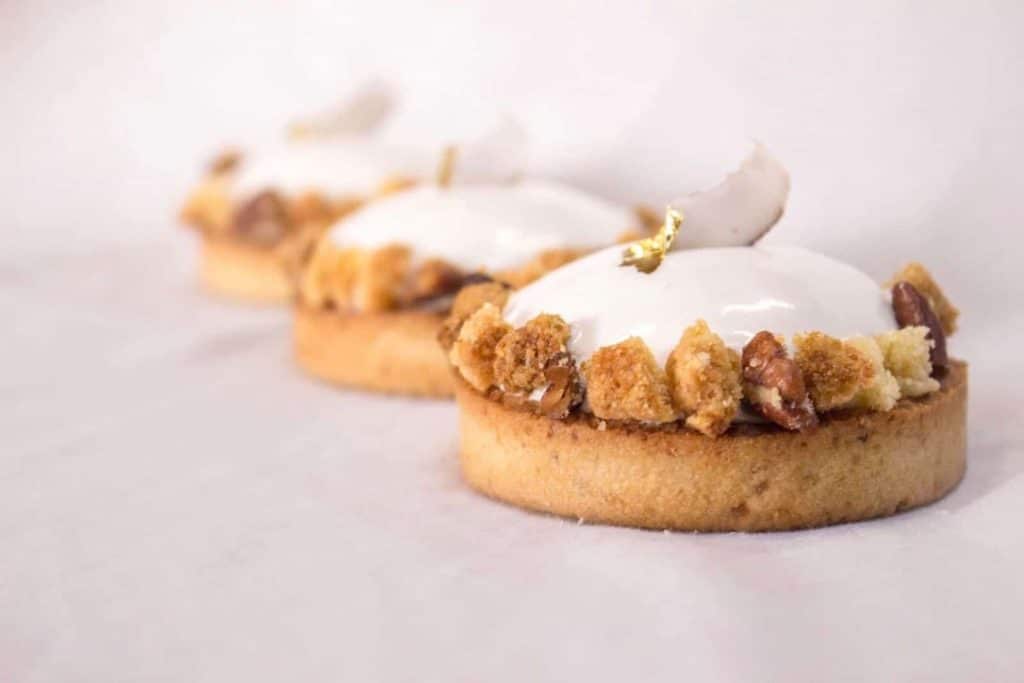 Chocolate Passion
The great passion of Quentin is chocolate. And what he likes above all is to sculpt it.
He knows this subject well, which has become his specialty. For Quentin, chocolate is like wine, it has different properties depending on where it comes from. Combining chocolate with other ingredients is therefore quite an art.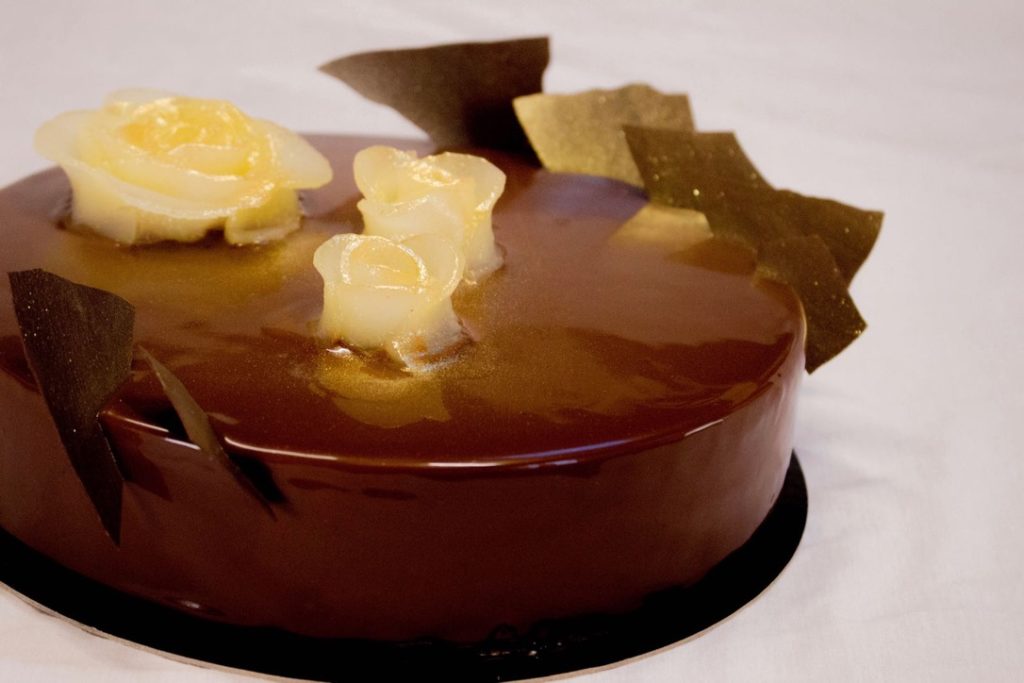 Quentin wonders why the Chefs have not yet taken a serious interest in the subject. He likes to offer challenges to Maîtres Chocolatiers and major chocolate brands; he especially encourages them to renew themselves. The chocolate used by vegan pastry Chefs must be plant-based, and in this respect, brands will have to propose an adapted offer.
Offering new things to arouse curiosity and create demand, is the key to the future of plant-based cuisine.
Instant V invites us to take a new look at pastry. Modern and innovative, it resolutely takes us towards a pastry of the future, one that will surely meet the evolutions and challenges of tomorrow.
Translated by Malvika Kathpal